The Draped in Diamonds Poncho is a show-stopping crochet garment! As a seamless project, you'll love the texture created by post stitches and wanting to find a reason to wear it every chance you can.
This crochet poncho was inspired by a poncho I saw on Pinterest. I love finding inspiration in fashion to translate it with yarn for a truly unique design.
There were several swatches and sketches to find the right stitches. I wanted something that looked dramatic and complicated but is relatively easy to do.
I considered a large cable going horizontal from one side to the other, and after learning Live Loop Cables with Sue Perez, I was ready to give you a new technique to learn. But I chose not to experiment with cables for the first time on a such a large project.
I definitely considered the Lemon Peel Stitch, which is a favorite of mine (Only 6 designs with that stitch so far…), but decided to choose something different but also with texture.
The Waffle Stitch was a close runner up to be used for this poncho, as it creates a fun dense fabric, but it didn't have the right pizazz that I was looking for. So after searching the Internet (meaning Ravelry and Pinterest), I was reacquainted with the Diamond Trellis Stitch.
It has been years since I made this stitch and I had never completed a project with it. Of course it made great sense to create a poncho with a ton of post stitches. ?
But seriously, you'll enjoy making this pattern as much as you will enjoy wearing it, and receiving oodles of compliments. This is a show-stopping piece!
Also, this is my first crochet garment that includes children sizes! ?
Why did I include children sizing on a short, dramatic poncho? Why not?!? I know that my twin girls are fashionistas in the making, especially after walking in Strands 2021. Once I have the chance to make ponchos for my girls, there will be a few fun videos of them walking and spinning.
YARN
The folks at WeCrochet are awesome, and truly believe in supporting independent designers and crocheters. They graciously provided the yarn for this project.
I chose Brava Worsted in Hunter, as it's a gorgeous color and it's a great acrylic yarn. As my first time working with it, I enjoyed the softness and consistency in color. The only point I would take away from the yarn is random tufts of fuzzy white fiber in one skein out of 14 that I used.
This is a yarn eater project, but totally worth all of the yarn. You're going to love the Draped in Diamonds Poncho for transitional weather in the fall and spring.
*Disclosure: This post may contain affiliate links to products that I use, and think you will enjoy using too. Should you decide to use any such link, I will earn a small commission at no cost to you. Thank you for supporting this small business.

MATERIALS
Knitpicks Brava Worsted (100% premium acrylic, 218 yds / 199 m; 3.5 oz/ 100 g skein): 8 (10, 11, 13, 14, 19) skeins
Hook US J-10 / 6.00 mm or hook needed to obtain gauge
Stitch Marker, 2
Scissors
Yarn needle
Tape Measure
GAUGE
13 dc sts = 4 in. [10 cm], 11.2 pattern rows = 4 in. [10 cm]
SIZES
Children
Size 2-4: 36 in. wide x 8 in. length, when folded in half
Size 6-8: 42 in. wide x 10 in. length, when folded in half
Size 10-12: 52 in. wide x 14 in. length, when folded in half
Size 14-16: 56 in. wide x 16 in. length, when folded in half
Adult
XS-XL: 64 in. wide x 20 in. length, when folded in half
2XL-5XL: 70 in. wide x 24 in. length, when folded in half
PATTERN KEY
Btw: between
Ch: chain
Cnr: corner
CSDC: chainless starting double crochet
Dc: double crochet
Fdc: foundation double crochet
FO: fasten off
FPtr: front post treble crochet
FPtr2tog: front post treble 2 together 
Fsc: foundation single crochet
Hdc: half double crochet
M: stitch marker 
Sl st: slip stitch
Sc: single crochet
St(s): stitch(es)
Sk: skip
WS: wrong side
YO: yarn over
SPECIAL STITCHES & TECHNIQUES
CSDC: pull up a loop, holding loop in place and wrap yarn around hook (YO), insert hook in first st, YO, pull up a loop, [YO, pull through 2 loops] twice
Fptr2tog: YO twice, insert hook in back bump of 2nd ch from hook, pull up a loop, *[YO, pull up a loop in next st]; repeat from * to end 
Attach last fdc to continue pattern: YO, insert hook in foundation ch of last fdc made (pic. 7), YO, pull up a loop (pic. 8), insert in next st after M (pic. 9), YO, pull through st and 1 loop on hook (pic. 10), YO, pull through 2 loops (pic. 11); continue to dc to end of row (pic. 12)
EXPERIENCE LEVEL
Intermediate
NOTES
Pattern is written US terms.
Read the entire pattern before beginning.
The foundation row can be substituted by making a ch in the number of sts as the fsc +1  listed.
The CSDC of each row is included in the total st count. 
Be sure to sk the st behind each FPtr and FPtr2tog.
All FPtr2tog have 3 skipped sts btw each leg of the st to create half of the diamond shape.
All FPtr2tog are linked to create the diamond shape.
Any changes in length are not listed in the yarn amounts.
You may like these patterns too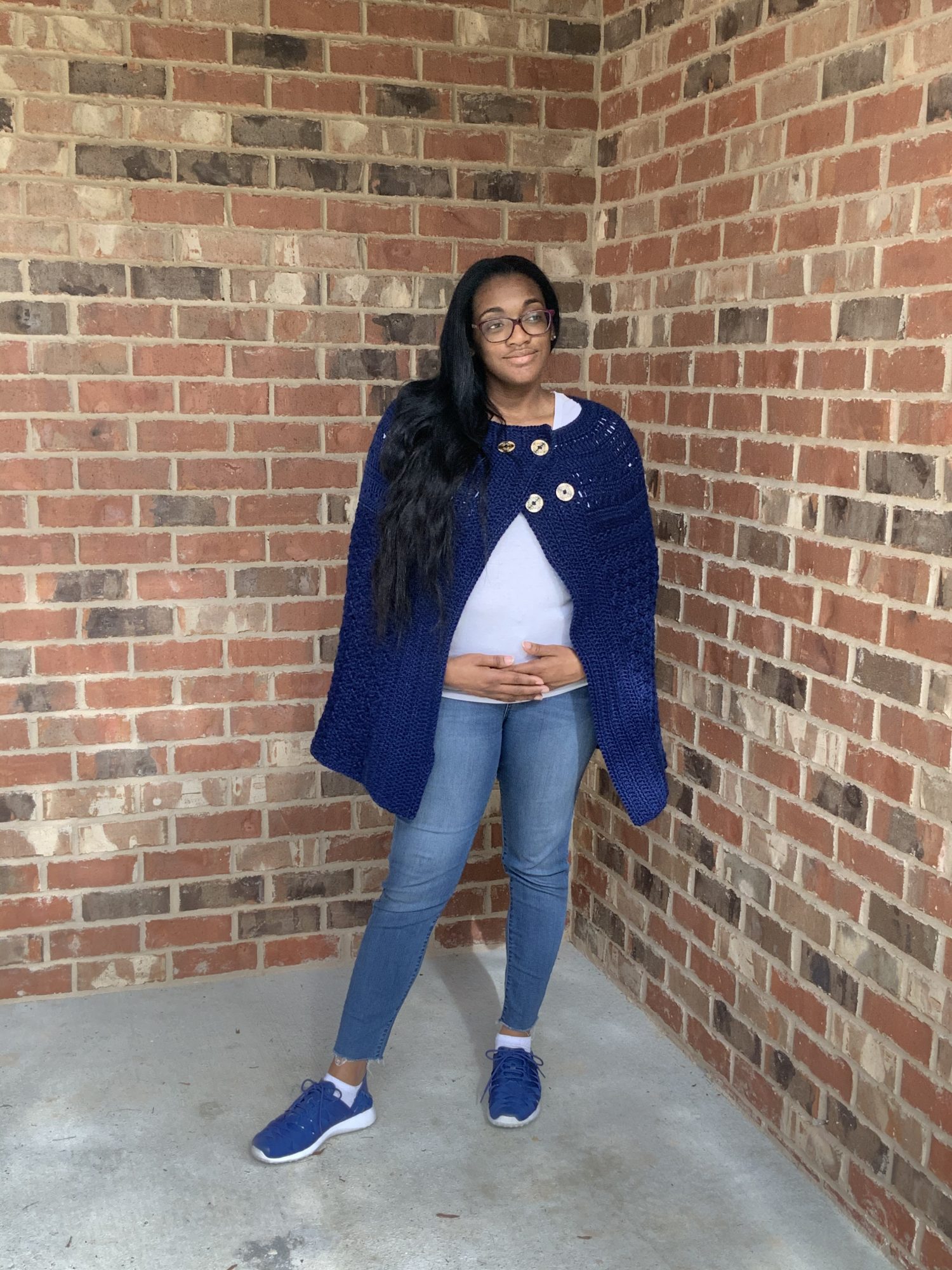 Need help with the stitches?
Check out the following tutorials:
Spring Exclusives, curated by Cosy Rosie UK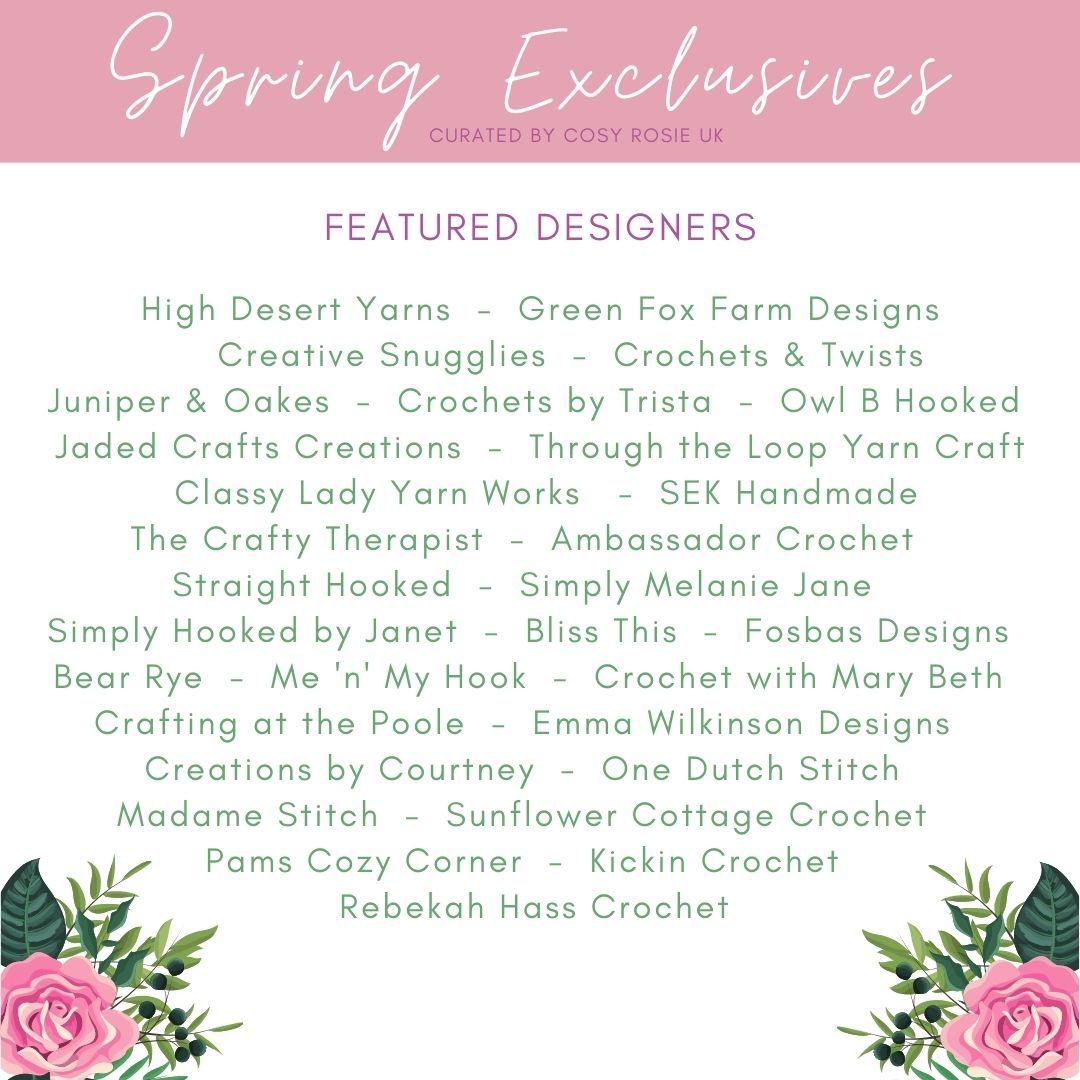 I'm today's featured designer in the Spring Exclusives, curated by Cosy Rosie UK blog hop! It's exciting to participate in this first of it's kind event.
If you're just catching up with the event, there is a BRAND NEW crochet pattern released each day in April. Each pattern is 50% off for 24 hours only. Head over to Cosy Rosie UK to get all of the details and the coupon code to get the Draped in Diamonds Poncho for 50% off. Coupon code expires at 8AM GMT (Check out a time converter for your time zone).
Got the code? Grab your copy from your favorite pattern site below
Did you miss some of the crochet patterns?
Great news! If you're like me and get so busy to only remember 10 minutes too late, you can get all 31 patterns for less than 60¢ each by grabbing the Spring Exclusives Pattern Bundle. Also, you'll get a bonus pattern from Creations by Courtney, if you use my affiliate link below. *Bonus patterns will be sent
Just click on the Buy the Bundle button to grab your copy today!
Pin it for Later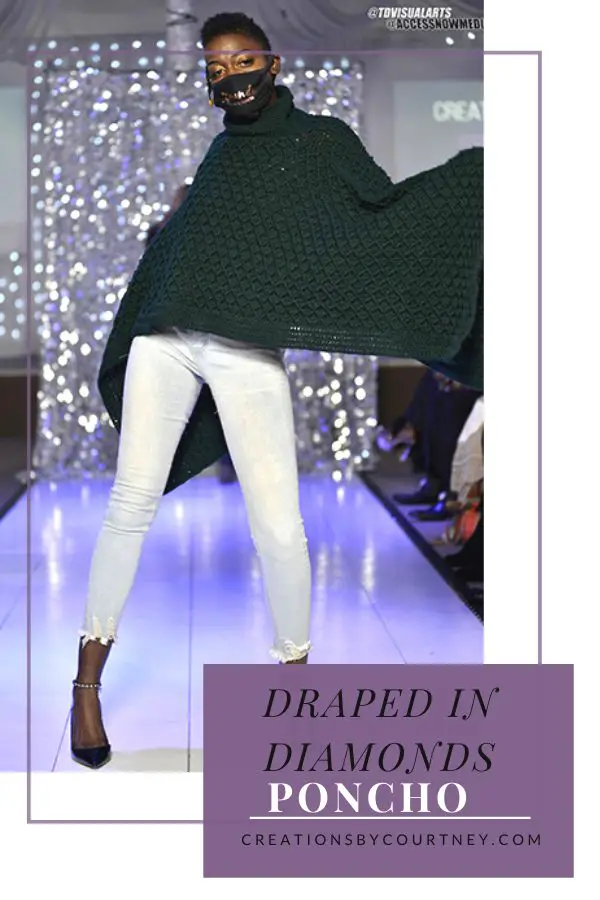 If we're not hanging out on social media yet, come check me out on Facebook, Instagram and Pinterest.
Want to talk about yarn goodness, crochet tips, and exclusive weekly deals? Join my Facebook Group, Creations By Courtney Community.
Join my newsletter for sneak peeks, crochet tips, and more. HERE
Please use #CreationsByCourtney on social media when sharing your projects.
This pattern is not to be duplicated or resold, and not to be reproduced commercially. You may sell finished products on Etsy, at farmers markets, and craft fairs, but please credit Creations By Courtney as the pattern's author.