The X-capade Collection features 15+ crochet patterns from hats to size-inclusive women's garments. Each crochet pattern showcases the x-stitch, which some may refer to as crossed treble stitches. The difference between the x-stitch and a crossed treble stitch is the x-stitch is connected.
You are sure to find a few patterns that you'll love to make!
Don't forget to check out the x-stitch tutorial. Each pattern features one of two options, with and without a treble stitch. If you're inspired by any of these crochet patterns, and there will be more to come, don't forget to tag #creationsbycourtney, so you can be shouted out on social media.
*Disclosure: This post may contain affiliate links to products that I use, and think you will enjoy using too. Should you decide to use any such link, I will earn a small commission at no cost to you. Thank you for supporting this small business.
X-capade Crochet Collection
From garments to accessories, each pattern features the x-stitch.
Have to have 5 of these patterns?
I'm hoping by this point that you are fascinated and enamored by the x-stitch like I am! If you love just 5 of the 16 patterns (and counting), then you can purchase the Complete X-capade Collection.
Yep, I have combined all of the patterns into an "interactive" ebook. If you participated in the X-capade Cardigan Crochet Along, then you know that the pattern format was updated into an "interactive" ebook. "Interactive" means that there is a Table of Contents that tells you what page each pattern starts on, and you can jump to the page when accessing the patterns from the computer, phone or tablet. The table of contents is also helpful if you prefer to print a crochet pattern to follow.
"Courtney, you haven't told me how much the Complete X-capade Collection is."
With a total of over 100 pages combined, including picture tutorials, and valued at $67, if each pattern were purchased separately, this bundle is a savings of over 60%!
By the way, this amazing pattern collection can only be purchased from My Shop. You will find the individual patterns in my Ravelry and Etsy shops though…
Pin it for Later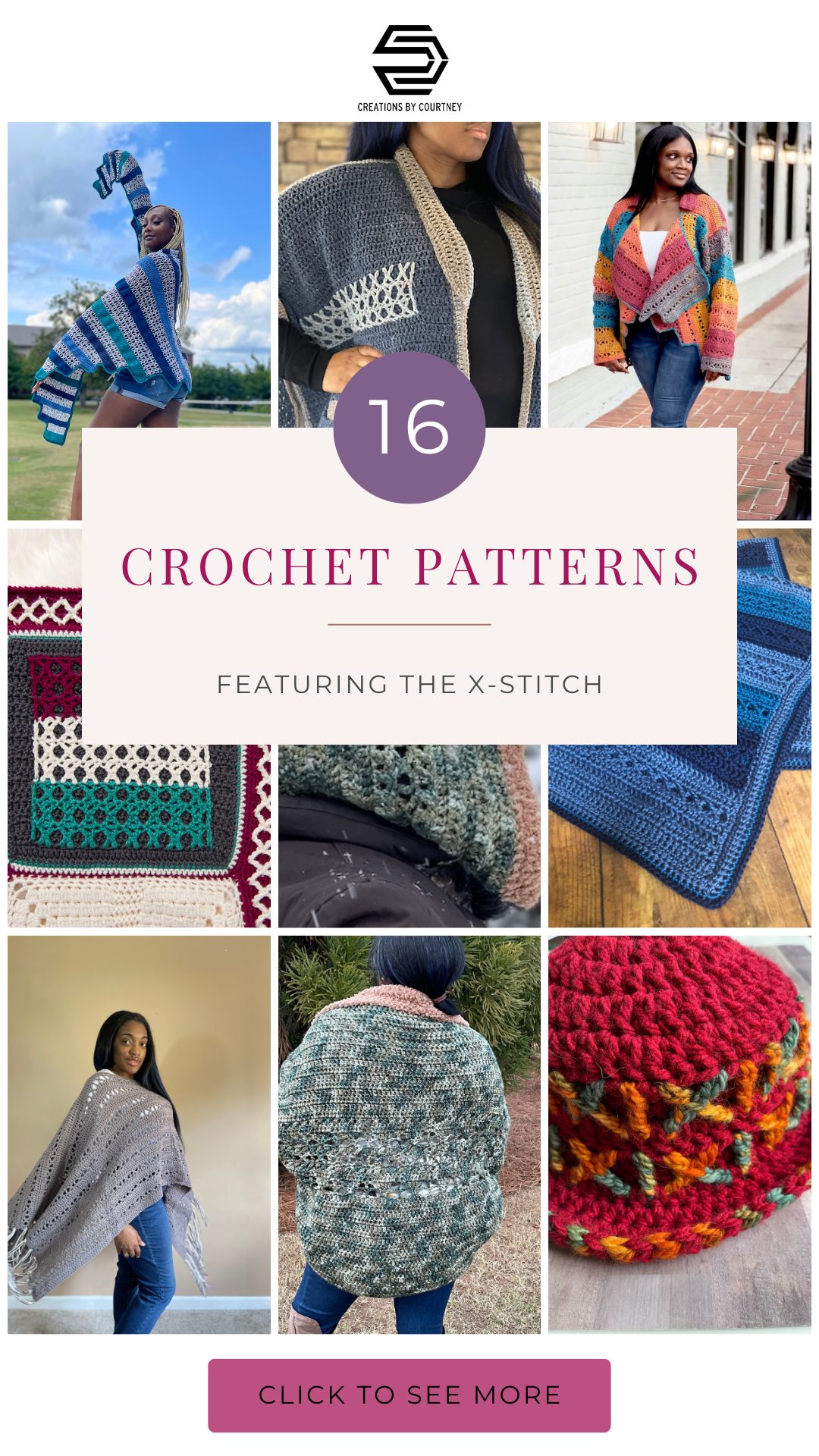 Want to talk about yarn goodness, crochet tips, and exclusive weekly deals? Join my Facebook Group, Creations By Courtney Community.
If we're not hanging out on social media yet, come check me out on Facebook, Instagram and Pinterest.
Join my newsletter for sneak peeks, crochet tips, and more. HERE
Use #CreationsByCourtney on social media when sharing your projects.
These patterns are not to be duplicated or resold, and not to be reproduced commercially. You may sell finished products on Etsy, at farmers markets, and craft fairs, but please credit Creations By Courtney as the pattern's author.