Welcome to Creations By Courtney!
The Tunisian Color Block Backpack will become your favorite medium sized bag to carry a WIP and your belongings when running errands.
This tunisian crochet backpack uses the tunisian simple stitch, half double crochet and single crochet to create a stylish crochet bag for everyday use.
In being true to my designing style, this bag can be made seamlessly, which means that the only seaming is attaching the zipper, the handle, and the swivel clasps. Who doesn't want to skip a few seams when making a crochet project?
Crochet in Color
If you've been looking for an easy color work project in tunisian crochet, this is a great option.
It can seem like a mystery to create some color changes in crochet, but tunisian crochet offers an easy way to create neat color changes. With the tunisian crochet backpack, you can create a neat color block look that is hard to create in traditional crochet.
I chose gray, teal and a magenta pink to create a statement backpack that will pair well with many outfits all year long.
Yarn
The yarn used in this crochet pattern was provided by We Crochet.
I chose Knitpicks Dishie on a cone for the project so that there was plenty of yarn and few ends to worry about. I have to say that this yarn was an absolute pleasure to work with! The color is rich, there was only one knot in three cones, and it's soft but sturdy.
You will be surprised by how little yarn was used to make this medius sized bag. This means you can work through your stash, as you only need approximately 145 yards of each color, or add some yarn to your online cart because the stash needs to be fed.
Seamless
As a long time crocheter, I have seamed many projects, especially since I love making garments, but seaming is not my favorite task and most of us don't like weaving in a lot of ends. I work on creative ways to minimize the seams in a crochet project, and that includes this tunisian crochet backpack.
When you start this project, you start with the main color, and add in the other two colors on the second row, and create the side, the body and the second side. Through some creativity and practice, I figured out a way that this backpack can be made in one piece where the two sides are attached while you create the second body piece.
There is a tiny bit of seaming to create the top for adding the zipper, and attaching the handle.
Handle
The handle for this tunisian crochet backpack is made from single crochet that create a textured, slightly stretchy tube method that I learned watching Annoo Crochet Designs that is perfect for tote bags.
The strap to wear this tunisian crochet backpack is also made from single crochet and the length can be easily customized for a great fit. I had the idea to make it adjustable, but changed my mind when I couldn't find enough tiny buttons in my stash. LOL Although many single crochet is not the most fun to make, it's well worth the finished look as a backpack strap.
You may like these tunisian crochet patterns too
*Disclosure: This post may contain affiliate links to products that I use, and think you will enjoy using too. Should you decide to use any such link, I will earn a small commission at no cost to you. Thank you for supporting this small business.
Materials
Knit Picks Dishie, weight #4 yarn (100% Cotton; 760 yds/ ~ 695m; 14 oz/ 400g skein)

Color A: Silver, approx. 75 g, 145 yds
Color B: Kenai, approx. 75 g, 145 yds
Color C: Begonia,  approx. 75 g, 145 yds

US Size K-10.5 (6.50 mm) Tunisian hook with 12 in. cable or hook to meet gauge This is a great set!
US size I-9 (5.50 mm)
1 inch D-ring, 2
10 in. knitwear zipper or regular zipper
1 inch Swivel clasp, 2
12 in. X 18 in. stiffened felt
GAUGE
16 Tss = 4 in. [10 cm], 16 rows = 4 in [10 cm]
SIZES
9.25 in. [23.5 cm] wide x 9.25 in. [23.5 cm] tall x 3.5 in [8.9 cm] deep
PATTERN KEY
A: Color A 
B: Color B
C: Color C 
BL: back loop
Ch: chain
FL: front loop 
FO: fasten off
Fsc: foundation single crochet 
FwP: forward pass
Hdc: half double crochet
M: stitch marker 
RetP: return pass
Sl st: slip stitch
Sc: single crochet
Tss: tunisian simple stitch
St(s): stitch(es)
Sk: skip
YO: yarn over
SPECIAL STITCHES & TECHNIQUES
Attach right side during FwP: Fold the side toward you and with 1 loop on the wrong side of the Side, insert hook through next st of the Side, pick up a loop in each vertical bar across
Attach right side of RetP: YO, pull through second to last loop, st of the Side and last loop
Attach left side during RetP: After pulling up last loop, inserthook in next st of Side, YO, pull through st and 1 loop, continue standard RetP until last loop; follow Attach right side RetP
EXPERIENCE LEVEL
Intermediate
NOTES
Pattern is written US terms.
Read the entire pattern before beginning.
Pattern is written in 6 parts: Body and Sides, Bottom, Second Body, Handle, Strap, Zipper.
Each row of Tunisian is written as the forward pass and return pass. These rows are never turned.
Any rows of single crochet stitches will be turned, unless otherwise noted.
The backpack is made in one piece starting with the Body and Sides, then the Bottom, and then the Second Body.  
The Bottom and Second Body pieces are seamed as they are created. Pieces can be made without attaching at the beginning and end of each row, and then sewn after completed.
The D-rings are attached while working the Second Body piece.
If you would prefer to not make a backpack, skip attaching the D-rings, and skip making the Strap; proceed to making the Handle.
The zipper is attached separately.
The Straps are created separately and then attached.
Pictures are provided at the end of pattern for Special Stitches & Techniques.
Here is a helpful video tutorial for making the purse handle. Here's video that may help. https://youtu.be/bB_mnS6utgg?t=369
Grab your copy today!
Spring Style Blog Hop + Bundle
Can you hear the birds chirping? The breeze blowing through the grass and new leaves? Even it's still cold in your neighborhood, you're sure to feel warmer with the amazing patterns in the Spring Style Blog Hop hosted by Itchin' for some Stitchin' and Ned and Mimi!
I'm excited to share that for today only, March 2, 2021, you can grab the Tunisian Color Block Backpack as the featured pattern. Click the button below to grab your copy, and then check out the roundup post each day for the next pattern all March long!
Don't forget to get the coupon code from the roundup post first!
WeCrochet was awesome for providing yarn support and the grand prize of the giveaway, so use #SpringBlogHopWeC to show your appreciation of their awesome yarns and crochet notions as you share your crochet projects in progress and finished. ?
Want all of the patterns right now??
Rather than waiting each day for the next amazing crochet pattern, you can grab the pattern bundle!
The Spring Style Crochet Pattern Bundle includes all 31 patterns + bonuses! This is such a great deal at only $12.99 for all patterns!! That's over 90% off the retail value if you purchased the patterns individually.
If you're unsure about the bundle, please note that it disappears after the blog hop on April 7, 2021 at 11:59PM EST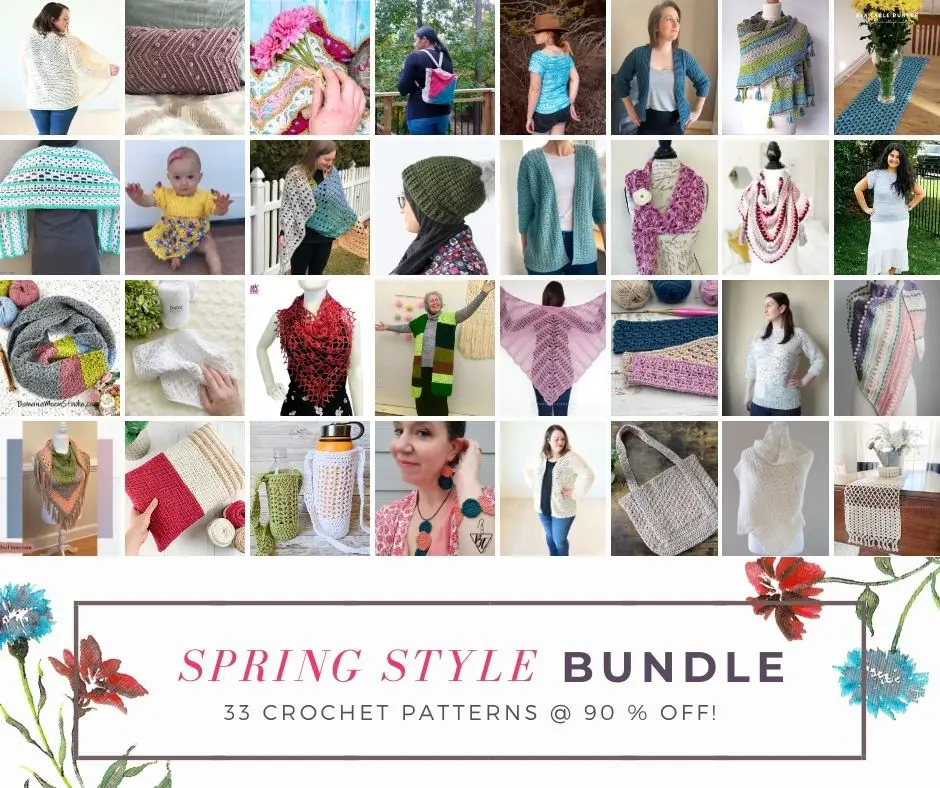 Pin it for later!
If we're not hanging out on social media yet, come check me out on Facebook, Instagram and Pinterest.
Want to talk about yarn goodness, crochet tips, and exclusive weekly deals? Join my Facebook Group, Creations By Courtney Community.
Join my newsletter for sneak peeks, crochet tips, and more. HERE
Please use #CreationsByCourtney on social media when sharing your projects.
This pattern is not to be duplicated or resold, and not to be reproduced commercially. You may sell finished products on Etsy, at farmers markets, and craft fairs, but please credit Creations By Courtney as the pattern's author.