Have you ever experienced a striped hug? You can with the Abrazo Rayado Cocoon! Thanks to my awesome FB community, they helped select this great name that perfectly fits what I wanted to create with this design. In English, Abrazo Rayado translates to striped hug, and how does a cocoon not feel like a hug?
I have been fortunate to connect with numerous crochet and knit designers throughout 2020, and one such time was the Crochet for Me and Knit for Me bundle. Specifically, I came up with a crochet design that I thought captured the idea of making something for yourself after the frenzy of the holiday gift making. A cocoon made with a soft yarn definitely says, "I'm relaxing. Shhh!"
A cocoon is often a loosely fitted garment that can fit many sizes, but I wanted to make sure that anyone can create their preferred fit. This crochet pattern includes instructions to fit Small to 5XL.
Also, I chose to create the Abrazo Rayado Cocoon in a tunisian crochet stitch! I love tunisian crochet, and it has been growing in popularity over the past three years, but is often used for accessory patterns. I wanted to create a wearable garment that would show the awesomeness of tunisian crochet and that it can have drape without using fingering or sport weight yarn.
If you're new to tunisian crochet, take your time to learn where to insert the hook and practice your tension before jumping into the entire project. Often times, the first loop on the hook is looser than the other picked up loops during the forward pass, so it helps to tug it a little bit before picking up the following loops.
For the Abrazo Rayado Cocoon, it uses the tunisian half double crochet stitch. Much like it's cousin, half double crochet, there is a yarn over and pulling through multiple loops, but does not have the height of a traditional half double crochet. I made picture tutorial to help those that are new to tunisian crochet master the tunisian half double crochet stitch.
YARN
I chose Lion Brand Scarfie from my stash, as it was waiting for the perfect pattern. It's such a soft yarn with a slight halo, as it's loosely twisted rather than plied, and the color change is AMAZING! The loose twist and color changes allow the stitches to take center stage. It was by coincidence that the color changes created a striping effect as the cocoon took shape. ( I made the L/XL 🙂
You may like these too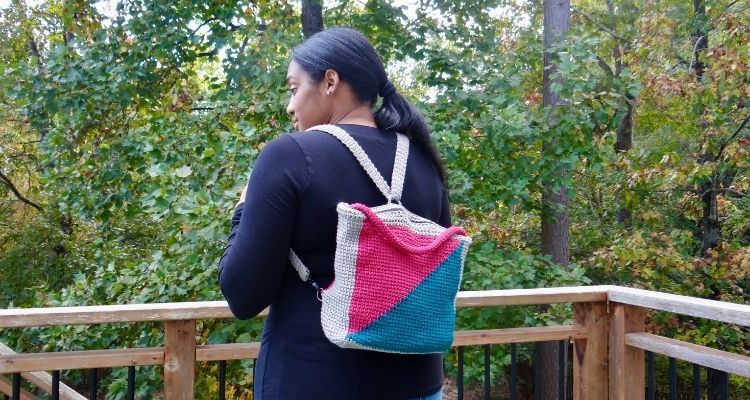 *Disclosure: This post may contain affiliate links to products that I use, and think you will enjoy using too. Should you decide to use any such link, I will earn a small commission at no cost to you. Thank you for supporting this small business.
Materials
GAUGE
9.5 Thdc = 4 in. [10 cm], 10 rows = 4 in [10 cm]
SIZES
S/M: 38 in. wide x 30 in. long
L/XL: 40 in. wide x 30 in. long
2XL/3XL: 42 in. wide x 32 in. long
4XL/5XL: 44 in. wide x 34 in. long
PATTERN KEY
Ch: chain
CSDC: chainless starting double crochet
Bpedc: Back post extended double crochet
Dc: double crochet
Fpedc: front post extended double crochet
FO: fasten off
FwP: forward pass
Hdc: half double crochet
M: stitch marker 
RetP: return pass
Sl st: slip stitch
Sc: single crochet
St(s): stitch(es)
Sk: skip
Thdc: tunisian half double stitch
WS: wrong side
YO: yarn over
SPECIAL STITCHES & TECHNIQUES
All RetP: Ch 1, *(YO, pull through 3 loops); repeat from * to end
Thdc foundation row: Make a ch with an even number of sts, YO, insert hook in back bump of 2nd ch from hook, pull up a loop, *[YO, pull up a loop in next st]; repeat from * to end 
Thdc next rows: Sk first 2 vertical bars, *YO, insert hook under next 2 vertical bars (the vertical bar on the left will be leaning back), YO, pull up a loop; repeat from * until last st, YO, insert hook under 2 loops of the end, YO, pull up a loop
EXPERIENCE LEVEL
Easy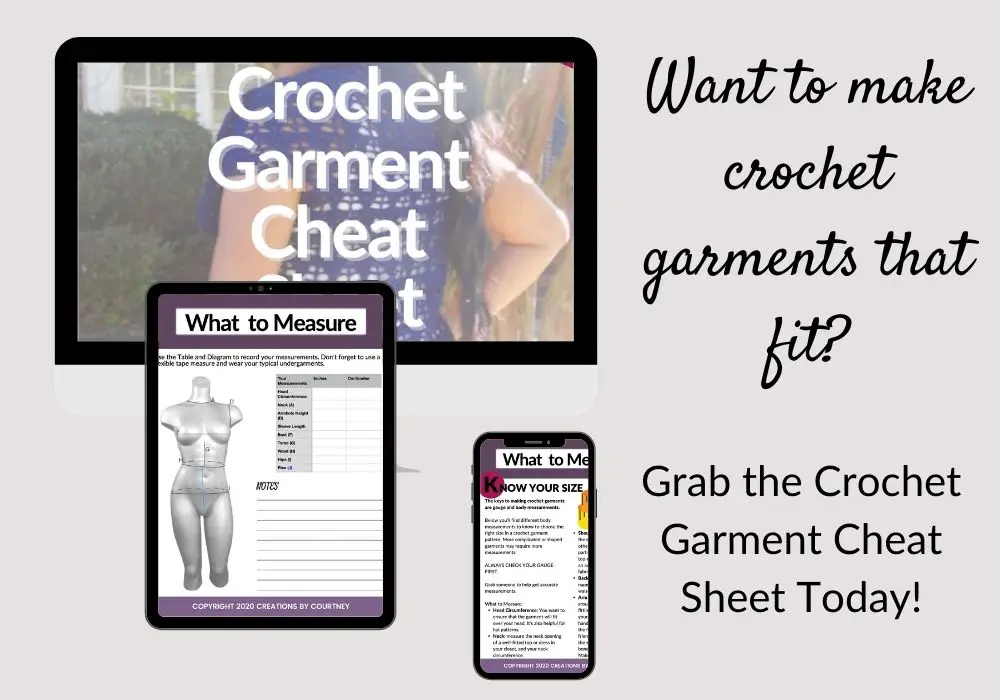 NOTES
Pattern is written in US terms.
Read the entire pattern before beginning.
Pattern is written in 5 parts: Body, Seaming Rectangle, Edging, Arm Edging, Pocket. 
Each row of Tunisian is written as the forward pass and return pass. These rows are never turned.
The final st is always worked under two loops at the end of row.
The Edging is created with turned rows
The Edging is the same width for each size,
The Pocket can be made to your preferred size. The instructions listed create a pocket large enough to hold an iPhone X.
The PDF includes pictures to help with binding off, seaming and creating the edging.
Grab the ad-free PDF from your favorite shop by clicking one of the buttons.
Pin It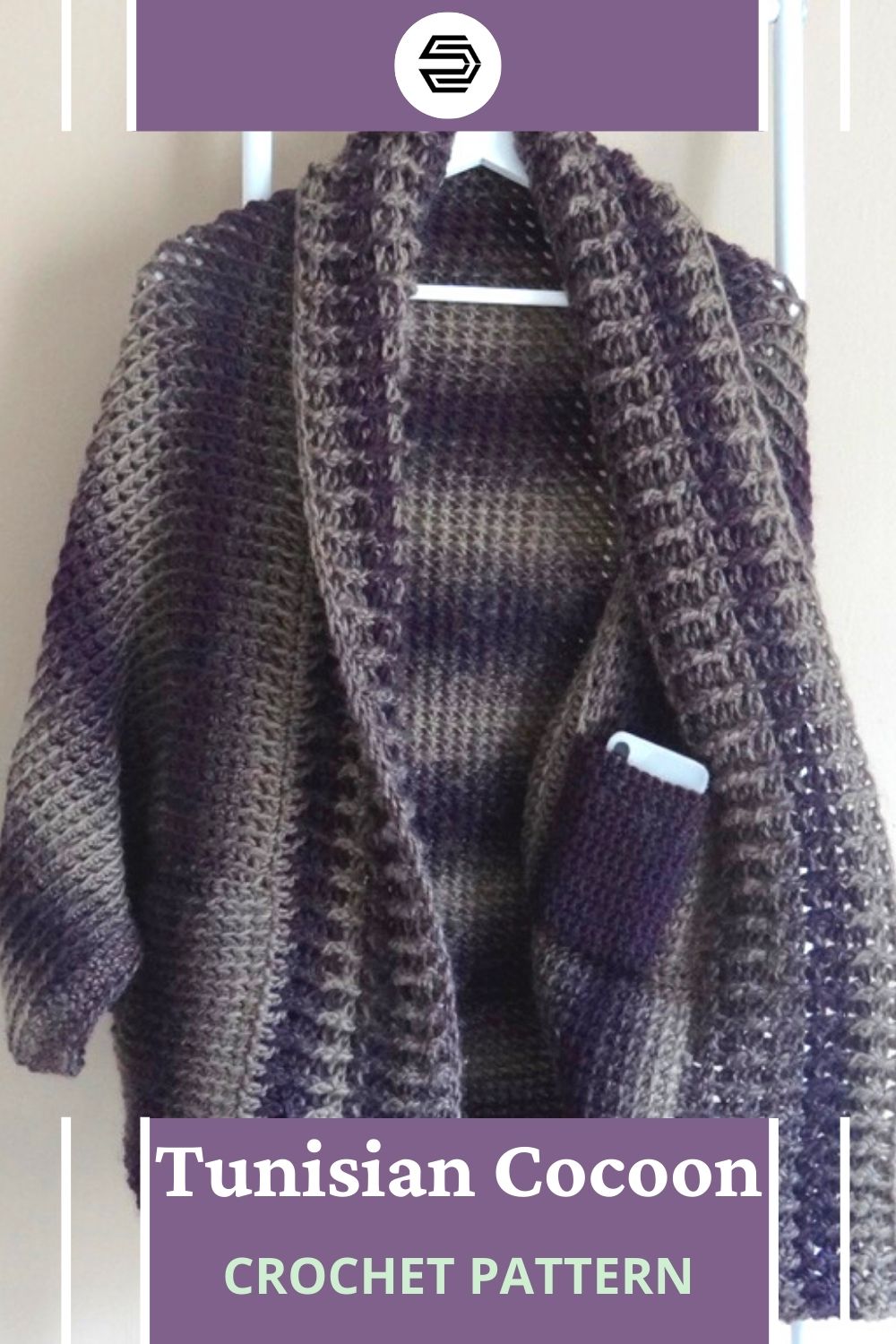 Candy Stripe Sale!
As we round out the year, some of us may feel a bit overwhelmed in trying to find the right crochet gifts to make this holiday season. To make it easier, the Candy Stripe Sale is here to save you the trouble of scouring the internet.

Each day will offer a roundup post in the categories of Sweaters/Jumpers; Shawls, Wraps and Ponchos; One Skein Makes; Blankets and Cushions; and Bags. The patterns will be 50% off with a discount code for 24 hours only. Click on the button below to get the coupon code first before grabbing your PDF from Ravelry and Etsy.
If we're not hanging out on social media yet, come check me out on Facebook, Instagram and Pinterest.
Want to talk about yarn goodness, crochet tips, and exclusive weekly deals? Join my Facebook Group, Creations By Courtney Community.
Join my newsletter for sneak peeks, crochet tips, and more. HERE
Please use #CreationsByCourtney on social media when sharing your projects.
This pattern is not to be duplicated or resold, and not to be reproduced commercially. You may sell finished products on Etsy, at farmers markets, and craft fairs, but please credit Creations By Courtney as the pattern's author.