Stash Diving…
Back in the fall, I went stash diving for this shawl idea (the act of going through the ever-growing collection of yarn to find something suitable for a product, rather than heading to the craft store), and came up with three skeins of Lion Brand Heartland.
Have you used this beautiful yarn?? If you haven't, I hope you head out today to grab some to start this shawl! It's a worsted weight, heather acrylic yarn that has amazing richness in the color. What makes it even better are the names for the yarns! I used Kings Canyon, which is a rich, deep green.
To accompany this lovely green, I grabbed a mustardy yellow in Berrocco Comfort. Of course, once I started the project and was hanging out at the LYS near my office, someone commented that it looked like Wisconsin colors….. Uh no thank you! I am not a Cheesehead, and had to quickly find a complimenting color. Luckily, this LYS had Berrocco Comfort on hand in the same shade of yellow and more gorgeous colors. Unexpectedly, I grabbed a shade of royal purple, or maybe expectedly since purple is my favorite color?. Yes, green, yellow and purple is an unusual color combination that worked out beautifully.
I enjoy looking at the amazing shawl designs on Ravelry, and have only made a few myself, so to design a shawl was a new adventure for me. I found inspiration from two places, one was a simple picture tutorial for creating a triangle shawl, and the other was found flipping through one of many patterns books (Geek Chic Crochet) to discover the crossed double crochet.
After very little thought, I started this shawl with the basic steps of creating a triangle shawl that grows outward from the center with increases at the ends and the point, and I added in the other to colors at various points. I provide row counts below in the pattern, but I hope you have fun with this shawl design to use as many or as few colors as you like, change the widths of each color, and shorten or lengthen to make a truly unique shawl.
What is a shawldigan?
As I like to think outside of the box, I wanted my shawl to do more than wrap around my body, so I had the idea of it also functioning like a cardigan. So I ended up with Shawl + Cardigan = Shawldigan ?  By adding two or more buttons, you can quickly turn the shawl into an open cardigan look. For my shawl, I used two 2″ toggle buttons attached near the ends, and the space between stitches make the perfect button holes.
On a blustery day or a freezing office, wrapping the wings across the body and using the buttons to attach near the point creates a look similar to a wrapped blanket poncho, but without a lot of extra fabric to tie down. It becomes comfy, warm and stylish!
*This pattern was tested by Melissa C. Should you find an error, please contact us.
*Disclosure: This post may contain affiliate links. Should you choose to purchase a product of service that I trust and recommend, I will earn a small commission at no cost to you. Such purchases help Creations by Courtney continue to offer crochet content that you enjoy. Thank you!
Let's get to the pattern!
MATERIALS:
Lion Brand's Heartland, King's Canyon (100% acrylic; 251 yds/230 m; 5 oz / 142 g) — 3 skeins or 753 yds / 690 m (Color A)
Berrocco Comfort (50% Super Fine Nylon, 50% Super Fine Acrylic; 3.5 oz/100 g; 210 yds / 193 m)

Color B: Gold – 2 skeins or 410 yds / 386 m
Color C: Purple – 2 skeins or 410 yds / 386 m

Hook: H/8 (5.5 mm) or size needed to meet gauge
Buttons: 2— 1" circular shaft buttons, or 2 — 1"- 2" toggle buttons
Stitch markers
Scissors
Yarn needle
PATTERN KEY
ch= chain
Cedc = crossed extended double crochet
dc = double crochet
dc-sp = space between double crochets
FO = fasten off
edc = extended double crochet
rsc = reverse single crochet
sc = single crochet
sk = skip
sl st = slip stitch
SPECIAL STITCHES & TECHNIQUES: 
Cedc: skip next dc-sp, edc in next dc-sp, edc in skipped dc-sp (cross made); see photo tutorial
GAUGE
10 rows = 12" wingspan x 6.5" length
FINISHED MEASUREMENTS:
70" wingspan x 35" length
EXPERIENCE LEVEL
Easy
NOTES:
This shawl starts in the center and grows outward.

 

Ch 3 counts as double crochet unless otherwise noted.

 

When using Color A, all dc, except for the point, will be made in the space between each dc.
The Magic Crochet Color Change is the recommended method of changing colors, but you can use your favorite method.
The finished length can be shortened by making fewer rows or lengthened by adding more rows.

 

The color change can be personalized to your liking.
Prior to attaching buttons, use stitch markers to mark where buttons will be attached, and try on the Shawl-digan to ensure placement when wearing as a cardigan

INSTRUCTIONS:

Start with a magic circle
Row 1: Ch 3 (counts as dc), 2dc, ch 2, 3dc (first point made); tighten ring, turn.
Row 2: Ch 3, 2 dc in first dc-sp, dc in next dc-sp, *dc in each dc-sp to the point, (2dc, ch 2, 2dc) around ch-2 of point. Repeat * until last dc-sp, 2dc in last dc-sp, dc in top of ch-3, turn
Rows 3-9: Repeat Row 2, change to Color B, turn
Would you like to crochet this shawl with me?
Row 10: Ch 3, 2dc in first dc-sp, *Cedc over next 2 dc-sp. Repeat from * to point, (2dc, ch 2, 2dc) around ch-2 Repeat from * to last dc-sp, 2dc in last dc-sp, dc in top of ch-3, turn
Row 11: Ch 3, 2dc in first dc-sp, * Cedc until dc-sp before point, make Cedc by placing first edc in point and complete normally. (2dc, ch 2, dc), repeat from * to last 2 dc-sp, Cedc, dc in same and last dc-sp as last Cedc, dc in ch-3, turn.
Rows 12-14: Repeat Rows 10-11, ending on Row 10, change to Color A, turn.
Rows 15-17: Repeat Row 2, change to Color C, turn.
Rows 18-22: Repeat Rows 10-11, change to Color A, turn.
Rows 23-32: Repeat Row 2, change to Color B, turn.
Rows 33-37: Repeat Rows 10-11, change to Color A, turn.
Rows 38-43: Repeat Row 2, change to Color C, turn.
Rows 44-48: Repeat Rows 10-11, change to Color A, turn.
Rows 49-54: Repeat Row 2. Do not FO.
Edging
Row 1: Rotate with the top facing you, ch 1, sc evenly across the wingspan (2 sc in each dc), change to Color B, FO Color A.
Row 2: Rotate to work down side, ch 1, 2sc in first st, sc each st to the point, (sc ch 2, sc) around ch-2, sc in each st to corner, 2sc in the last corner st, rotate to continue along top, sc in each st, change to Color C, FO Color B, sl st to join.
Row 3: Ch 1, rsc in stitch to the right, rsc in each st to the point, 2rsc around ch-2, rsc in each st, sl st to join. FO. Weave in ends.
Finishing
Using stitch marker to determine button placement, cut 2 lengths of yarn to attach buttons where you would like them. Use dc-sp as button holes. Enjoy!
You may enjoy these patterns too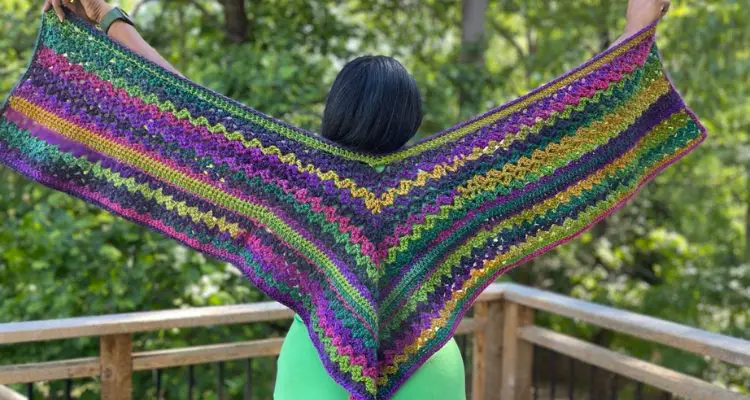 Pin it for Later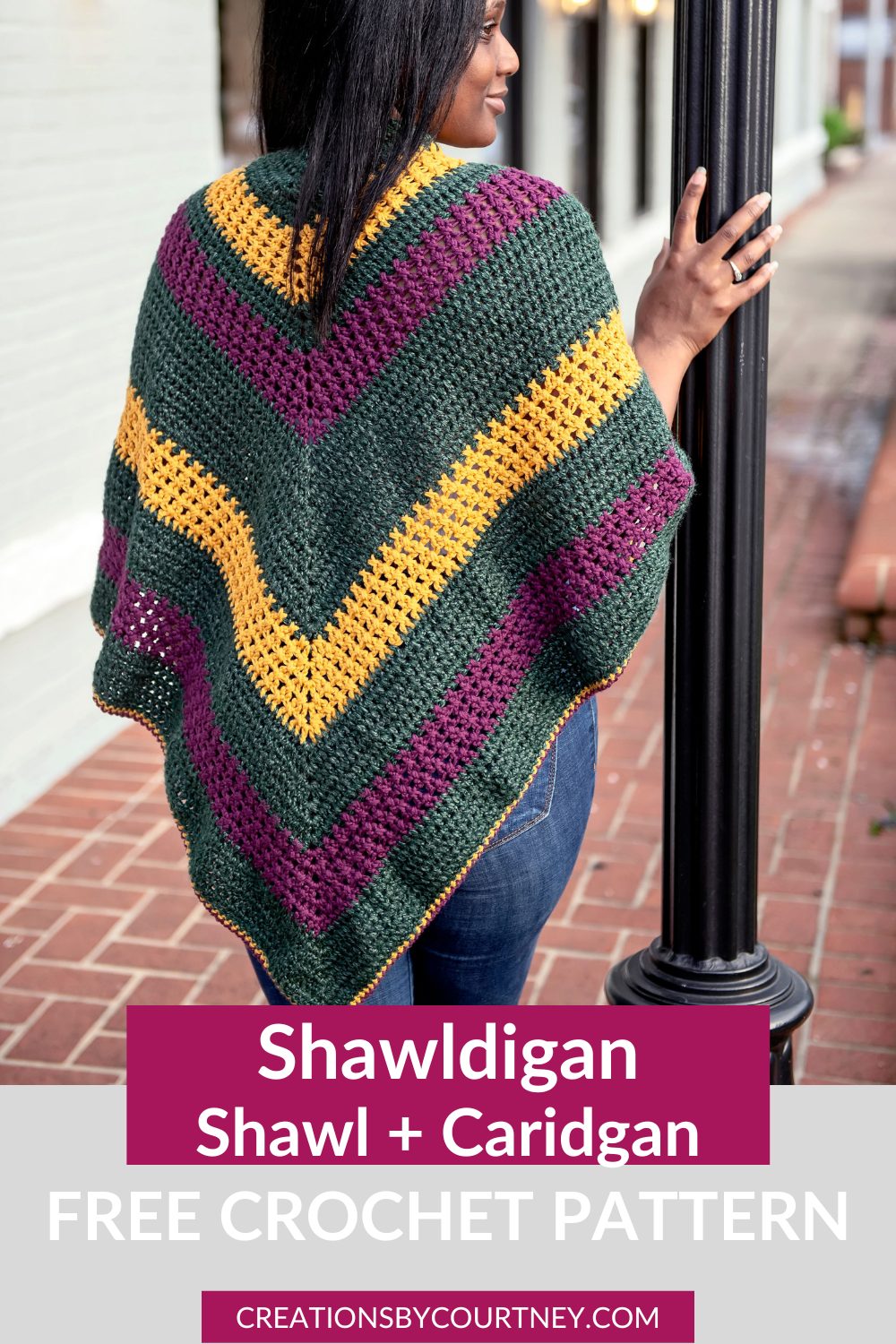 Want to talk about yarn goodness, crochet tips, and exclusive weekly deals? Join my Facebook Group, Creations By Courtney Community.
If we're not hanging out on social media yet, come check me out on Facebook, Instagram and Pinterest.
Join my newsletter for sneak peeks, crochet tips, and more. HERE
Use #CreationsByCourtney and #shawldigan on social media when sharing your projects.
©2018 This pattern is not to be duplicated or resold, and not to be reproduced commercially. You may sell finished products on Etsy, at farmers markets, and craft fairs, but please credit Creations By Courtney as the pattern's author.

SaveSave
SaveSave
SaveSave