The Making Waves Waistcoat was inspired by the yarn! A friend told me about an opportunity to work with an indie dyer back in the spring of this year, and I decided to reach out. I'm so glad that I did! It has been great to create a crochet design specifically for this gorgeous yarn.
What yarn you ask?
Knitcraft and Knittery 100% Sustainable Merino Wool in Lemon Tart ? Morgan is the genius behind this lovely color way and so many more! It was sooo tough to choose which color. It was a tie between Lemon Tart, a warm yellow; Missy Z, a dark dusty rose; and Mother Knows Best, a shade of teal. I mean look at that color and the thoughtful note!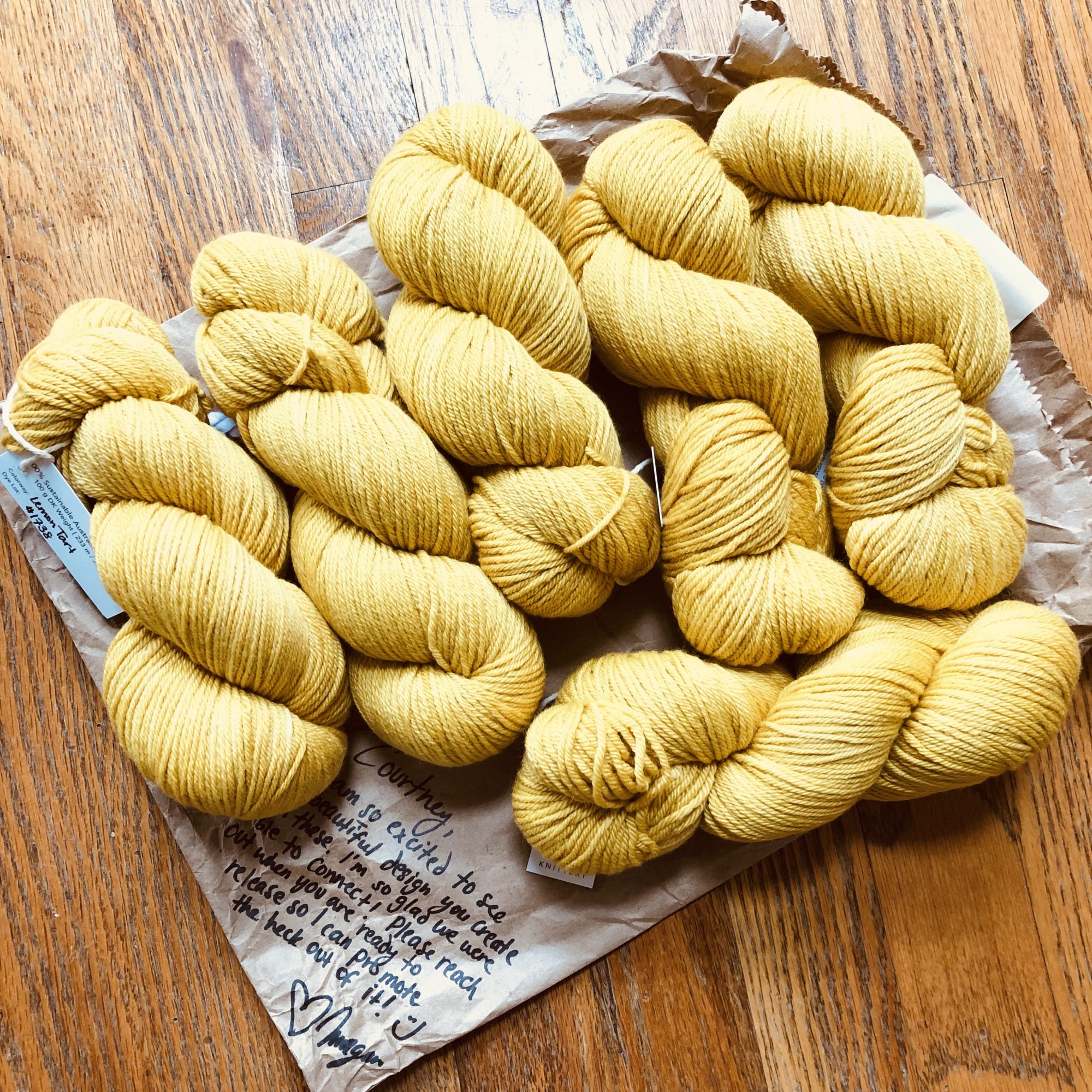 Morgan is such a sweet, patient person! This design took me longer than I thought it would, but I wanted to make sure that it was "perfect." I landed in the world of Pinterest to look for garment inspiration, and then scoured the internet and the books on my shelves for stitch inspiration to finally land on a zig zag texture that just begged to be used with this yarn.
If you're not familiar with my love for color and texture, check out these other designs:
As with most of my designs, I started with a gauge swatch to see how stitches show up with the yarn. I like to let the yarn tell me what stitches it wants to become, especially for a garment. ? This is also my first project working with 100% merino wool, and I now understand why it's so loved.
I tried three different textured stitches that I found on Pinterest. I liked the look of the first two but it wasn't creating a feeling of excitement for me. When I came across a blanket pattern with the zig zags and made a swatch, I knew it was meant to be. Of course I made a change in the zig zags to create a different visual for your eyes to follow than what's in the swatch above.
Collaboration Benefits the Community
As part of the collaboration with Knitcraft & Knittery, there will be kits that you can pre-order! Wahoo! More yarn for you!
The kits will require 1.5-2 weeks to be dyed by Morgan, which means that the color will be consistent, and she offers a sweater kit discount ? If you order a kit of 5 or 6 skeins, you get to save 10% by using code SWEATERQUANTITY10, and 7 or more skeins are eligible to save 15% using code SWEATERQUANTITY15.
Want even more awesomeness?? Of course you do!
Morgan is offering THREE community-funded kits! ? This means that others have made donations to Knitcraft and Knittery, so that crafters experiencing financial hardship can have access to hand dyed yarns. She is graciously offering 1 kit in each sizing group, XS-M, L-2XL and 3XL-5XL, for a total of 3 kits at NO COST to the customer! ? Can you see why I think she's the best??
Learn about the Community-Funded Kits
Ready for Pattern Details?
MATERIALS
Knitcraft & Knittery DK Weight (100% Sustainable Australian Merino Wool; 100g/ 3.5oz; 233 m/ 254 yds): Lemon Tart in 4, 5, 5, 6, 7, 8, 8, 9, 9 skeins or a total of 400 g, 500g, 500g, 600 g, 700 g, 800g, 800g, 900 g, 900 g; 932 m – 1,864 m/ 1,016 yds -2,286 yds of a comparable DK weight yarn
Hook US H8 / 5.00 mm
Scissors
Yarn Needle
4 Stitch Markers
Measuring Tape
Toggle Button or Clasp, optional
GAUGE
1 pattern repeat (RC twice, 2 dc) = 2", 7 pattern rows = 4"
2 rows of dc = 1"
PATTERN KEY
Ch: Chain, sl st: slip stitch, sc: single crochet, dc: double crochet, dc2tog: double crochet 2 together, fsc: foundation single crochet, CSDC: chainless starting double crochet, LC: left leaning 2 over 2 treble cross, RC: right leaning 2 over 2 treble cross, FO: fasten off, M: marker(s)
SPECIAL STITCHES & TECHNIQUES
Chainless Starting Double Crochet: pull up a loop to the height of standard dc, twist yarn around hook (YO made), insert hook in first st, YO, pull up a loop, [YO, pull through 2 loops] twice
LC: left leaning 2 over 2 treble cross – over the next 4 stitches,skip next 2 sts, tr in next 2 sts, working in front of sts just made, tr in each of skipped sts. 
RC: right leaning 2 over 2 treble cross – over the next 4 stitches, skip next 2 sts, tr in next 2 sts, working behind sts just made, tr in each of the skipped sts. 
EXPERIENCE LEVEL
Grab the pattern Now
Pin one of these images for later ⬇️