The Lemon Peel Mobius Cowl is an easy design that utilizes the lemon peel stitch, foundation double crochet and double crochet stitches. That's it!
If you're not familiar with the lemon peel stitch, it's just a simple repeat of single crochet in one stitch and double crochet in the next stitch. Not to be confused with the grit stitch, skip next st, (single crochet, double crochet) in the next stitch.
If you've been hanging out with me for a while, you know that I really enjoy this stitch since it's easy and creates lovely texture.
Here are more patterns that use this stitch combo. It's so versatile!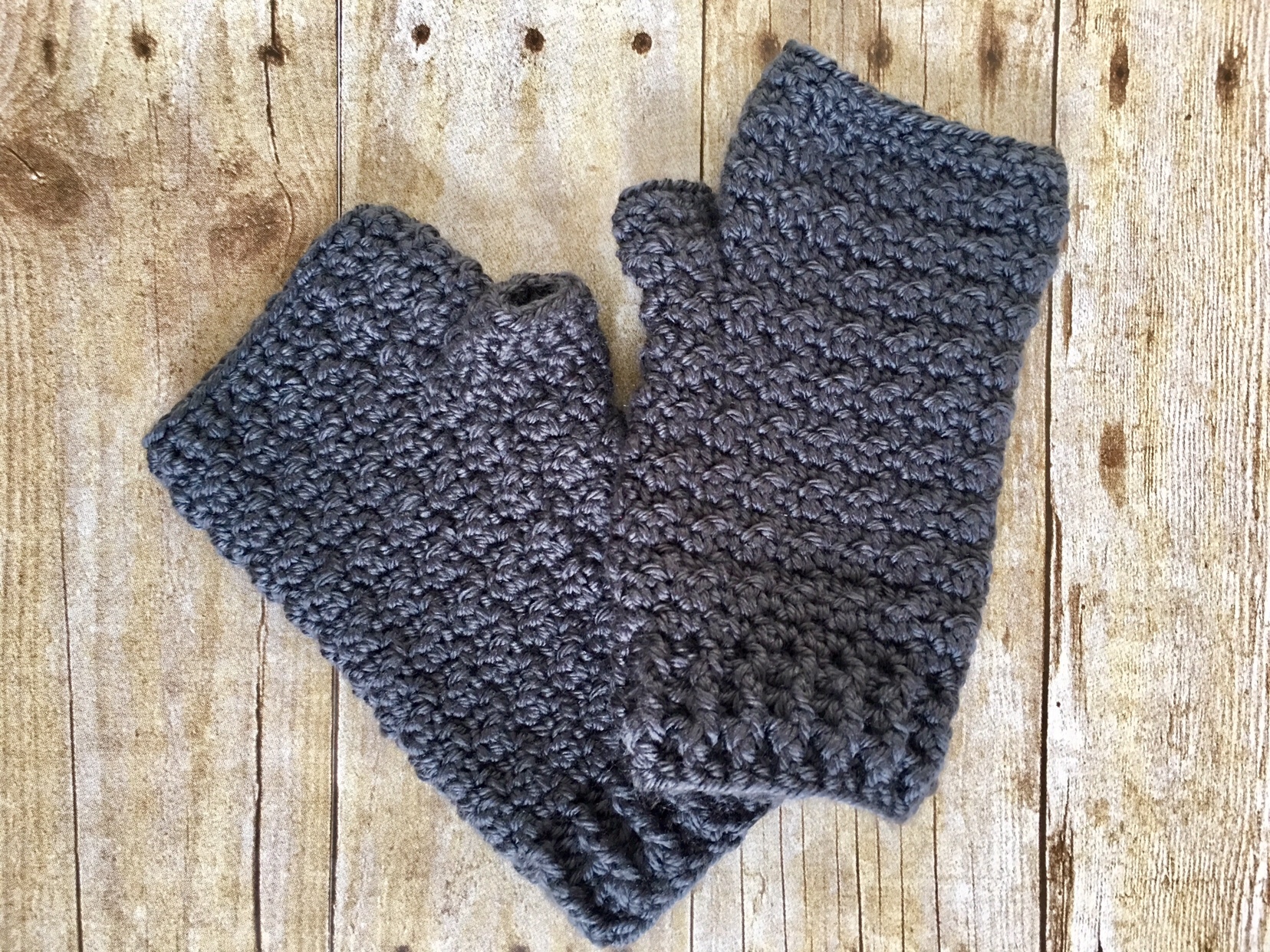 If you're not sure what makes this cowl a mobius, it's the twist. The correct spelling is möbius, which refers to a one-sided surface that is created from a rectangle by holding one end fixed, rotating the other end 180 degrees, and joining it to the first end. In the crafting community, we just refer to the mobius as a twisted infinity scarf.
Okay, fact time over!
*Disclosure: This post may contain affiliate links to products that I use, and think you will enjoy using too. Should you decide to use any such link, I will earn a small commission at no cost to you. Thank you for supporting this small business.
Yarn
The original Lemon Peel Mobius Cowl was made with Loops & Thread Impeccable in Aran Tweed. I love a good tweed yarn, so when I had the chance to receive yarn as a King Cole Yarn North American Brand Ambassador, I chose their Big Value Aran in Honeysuckle.
Big Value Aran is a 100% premium acrylic that comes in a 100 g/ 3.5 oz skein. This offers a generous 257 yards of worsted weight yarn. When compared to US base yarns, it may feel slightly thinner than what you're accustomed to, but matches gauge well.
This was a fun yarn to work with, especially since 14 of the 19 colors are a tweed. This is a great alternative for those that cannot work with or wear wool tweed yarns. At the time of this writing, it's sold out on LoveCrafts for US crafters, but it can be found at Wool Warehouse for approximately $3.32 per skein. That's a deal!
MATERIALS
King Cole Yarn Big Value Aran, Medium weight #4 yarn (100% premium acrylic, 257 yds/ 235 m; 3.5 oz/ 100 g): Honey Suckle x 2 skeins
US Size H 8 (5.00 mm) crochet hook I love this ergonomic grip set
Scissors
Yarn Needle
Stitch Markers
Measuring Tape
GAUGE
13 stitches = 4", 7 rows of dc = 4"
NOT CRITICAL FOR THIS PATTERN
SIZE
48" circumference x 9" wide
PATTERN KEY
BL: back loop 
ch: chain
CSDC: chinless starting double crochet
dc: double crochet
fdc: foundation double crochet
FO: fasten off 
sc: single crochet 
sl st: slip stitch
SPECIAL STITCHES & TECHNIQUES
CSDC: pull up a loop that is row height, holding loop in place and wrap yarn around hook (yarn over), insert hook in first st, YO, pull up a loop, [YO, pull through 2 loops] twice
How to join Fdc in the round: For final fdc, yarn over and insert hook through foundation chain, yarn over and pull up loop (3 loops on hook), insert hook through foundation of first st (starting ch-3), yarn over and pull through two loops (3 loops on hook), [yarn over, pull through two loops] twice, sl st to 3rd ch to join
EXPERIENCE LEVEL
NOTES
Pattern is written in US terms.
Read the entire pattern before beginning.
Be sure to count and use a contrasting color of yarn or stitch markers to place every 10 or 20 stitches, so you don't miss a stitch at the beginning or end of the second round and after making the twist.
Since the twist is made first, each round covers the top and bottom of the previous round, so there are fewer rounds in the pattern than what appears to be created in the final cowl.
Be sure to turn after each round.
CSDC can be replaced with a ch 3.
Cowl can be made thinner or wider by making fewer or more rows; such changes are not accounted for in the yarn total.
Purchase the ad-free PDF from your favorite pattern shop.
Don't forget to join the Creations By Courtney Community for exclusive giveaways, coupons, and CALs.
INSTRUCTIONS
Rnd 1: 169 fdc, twist once, join following special techniques. 
Rnds 2-7: ch 3, dc in BL of each st around, slst to join, turn (338 sts)
Rnd 8: working in each BL, ch 1, sc in first st, dc in next st, *sc in next st, dc in next st; repeat from * around, sl st to join, turn (338 sts) 
Rnds 9-15: working through both loops, ch 1, sc in first st, dc in next st, *sc in next st, dc in next st; repeat from * around, sl st to join, turn (338 sts)
Finishing
Weave in ends
Pin it for Later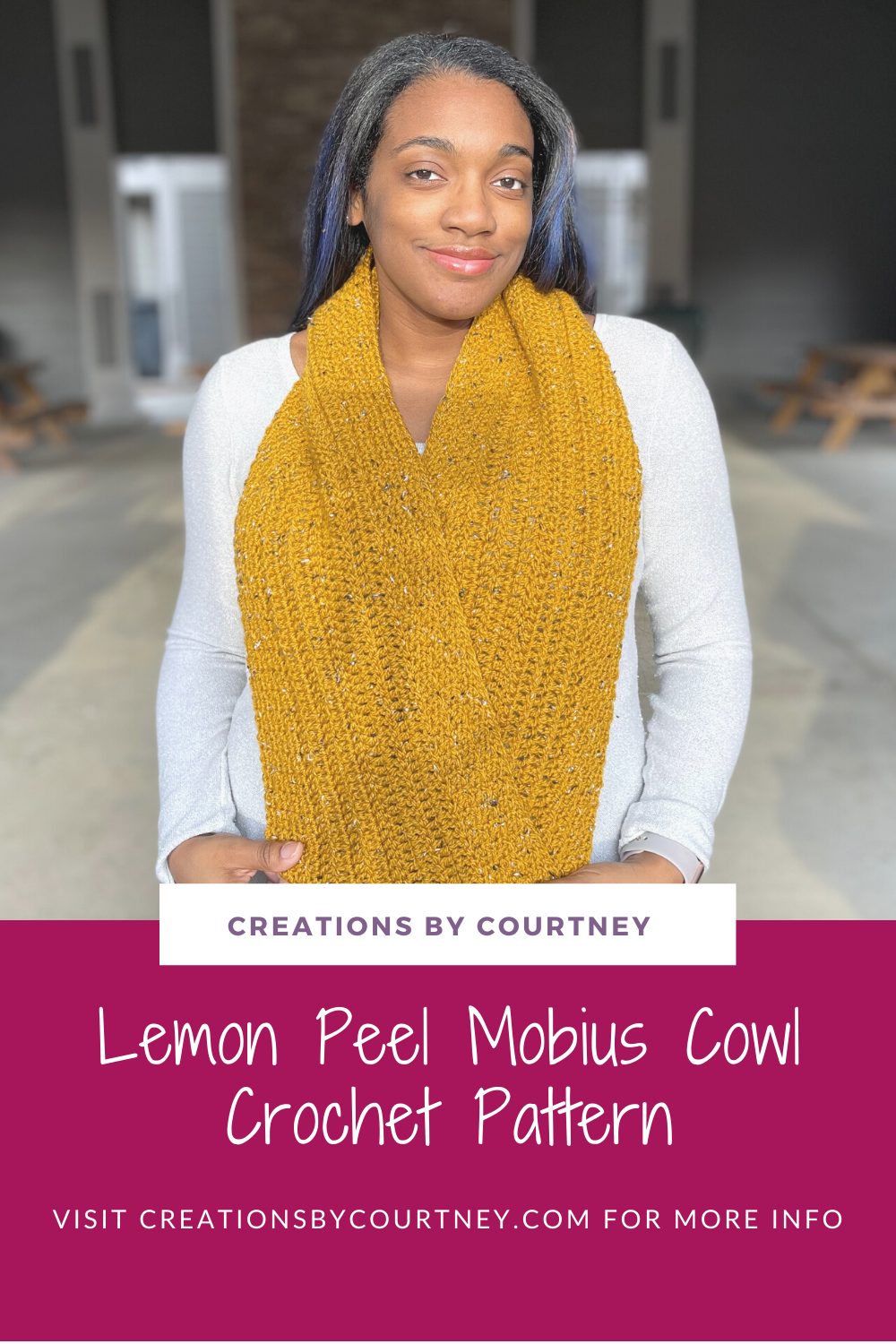 Want to talk about yarn goodness, crochet tips, and exclusive weekly deals? Join my Facebook Group, Creations By Courtney Community.
If we're not hanging out on social media yet, come check me out on Facebook, Instagram and Pinterest.
Join my newsletter for sneak peeks, crochet tips, and more. HERE
Use #CreationsByCourtney on social media when sharing your projects.
This pattern is not to be duplicated or resold, and not to be reproduced commercially. You may sell finished products on Etsy, at farmers markets, and craft fairs, but please credit Creations By Courtney as the pattern's author.