Can you feel the love in the air? Get ready for Valentine's Day or any other expression of love, so join me in learning how to make a crochet heart.
I was determined to create a lacy crochet heart for an idea that I HAD TO MAKE, but I didn't want it be a single heart or a filet mesh. After spending some time on Youtube and Google, I discovered a lovely Crochet Chain of Hearts by Lyza Walters and the crochet heart stitch by Crochet With Samra. I love the shape of each heart, and combined each version to offer a modification for my design idea.
I chose to work the stitches into a treble stitch rather than chains, as chain stitches work great for creating a vertical row of hearts rather than a horizontal row. These heart are created in two steps: the foundation row of treble and chain stitches and hearts, single crochet and slip stitches.
I chose two coordinating colors to use for this tutorial, but you can choose one color to practice. Of course, grab a hook appropriate for the yarn. I choose a 10.00mm hook with a bulky #5 yarn.
Multiples needed for the stitch
This heart stitch doesn't require any specific stitch count, although I recommend skipping several stitches between each heart when working in a row. I first attempted to make a row with hearts at every fourth stitch but they overlapped. Depending on the weight of the yarn, I recommend skipping at least six stitches between each heart.
A stitch multiple will be required if you plan to make multiple hearts within one row for a project, and I found a chain of 4+2/ foundation stitches of 4+1 to work well and skipping chains and a treble crochet between the hearts. This creates a treble stitch at the beginning and end of the row, so the first and last hearts are worked around the second and second to last treble stitches.
Supplies
*Check my disclosure policy about the use of affiliate links.
For this tutorial, I used Lion Brand Wool-ease Thick & Quick in Claret and Fisherman with a Furls Odyssey hook, P / 10.0 mm.
You can use any weight yarn and the appropriate hook size for that yarn to practice. Thinner yarn will likely make the heart lay flatter.
Techniques and Abbreviations Used:
Ch(s): chain(s)
Dc: double crochet
Rep: repeat
RS: right side
Sc: single crochet
Sk: skip
Sl st: slip stitch
Sp: space
St: stitch(es)
Tr: treble crochet
WS: wrong side
Heart: working all sts in the body of a tr or ch-4, ch 2, (4 tr, 2 dc, 2 sc, picot, 2 sc, 2 dc, 4 dc), ch 2, sl st in center, pull tight along center
Picot: ch 2, insert hook in side of last made sc, sl st
Written Instructions
Ch 22, turn
Row 1: Sc in 2nd ch from hook, sc in each ch to end, turn – 21 sts
Note: The foundation ch and Row 1 can be substituted with 21 fsc; change to second color at the end of Row 2, if using 2 colors
Row 2 (WS): Ch 5 (counts as tr + ch 1) here and throughout, sk next st, tr in next st, * ch 3, sk next 3 sts, tr in next st; rep from * to until 2 sts remain, ch 1, sk next st, tr in last st, turn – 7 tr, 14 chs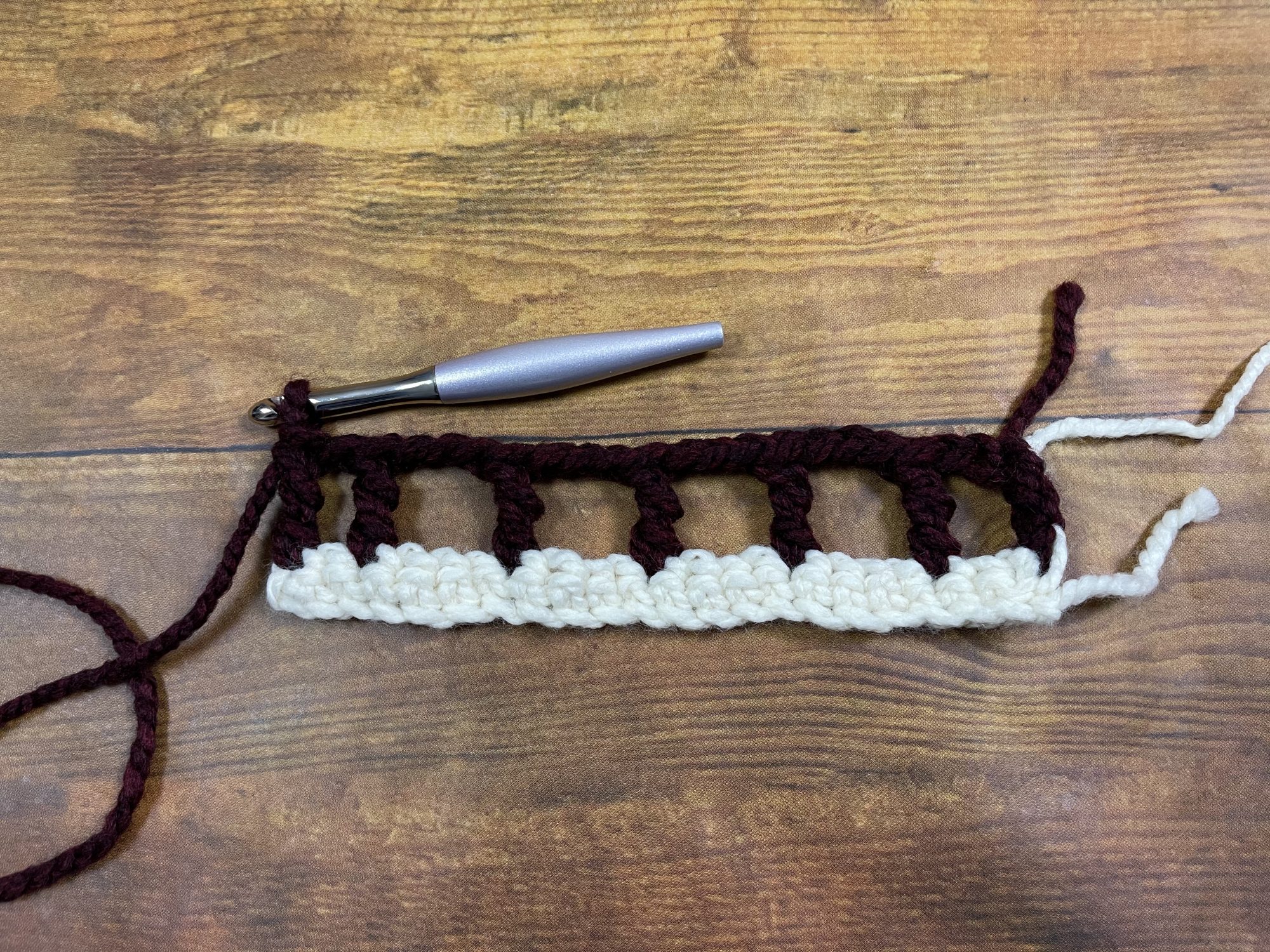 Row 3 (RS): Sc in first st, sc around next ch-sp, sl st in next tr, ch 2, working down the body of the treble, (4 tr, 2 dc, 2 sc, picot), working up the body of the treble, (2 sc, 2 dc, 4 tr), ch 2, sl st in center [first heart made and referred to Heart for the rest of the pattern], *3 sc around next 3 chs, sc in next tr, 3 sc around next 3 chs, sl st in next tr, Heart; rep from * until 2 sts rem, sc around next ch, sc in last st, turn – 3 Hearts, 18 sc, 3 sl st
Note: Change to first color at end of Row 3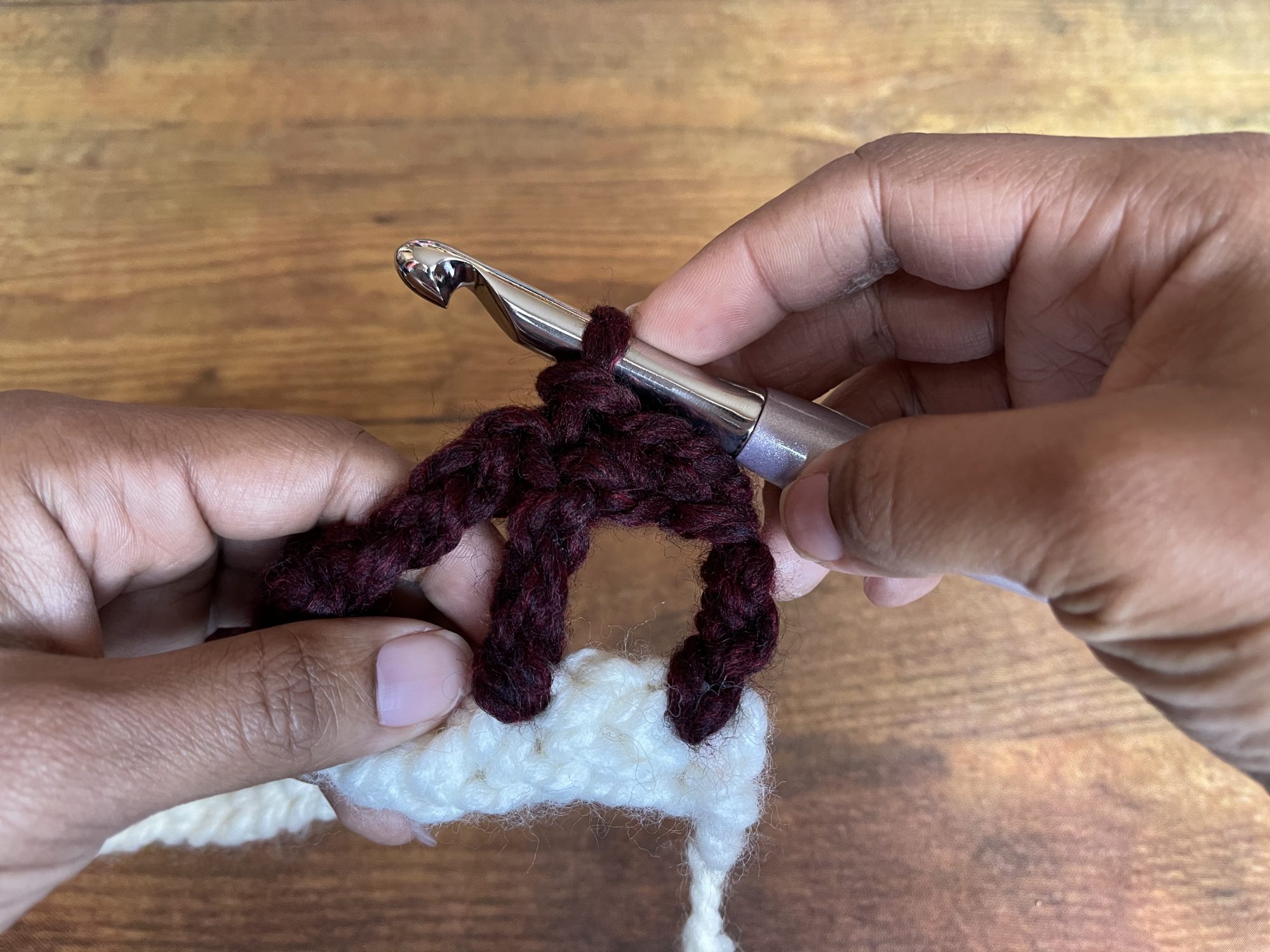 Row 4: Sc in each st and sl st to end, turn – 21 sc
Note: If using 2 colors, complete a second row in the main color, so that you can pick up the colors on the same end of the project. If you're using one color, the row of tr and ch will always be a WS row and the hearts will always be a RS row.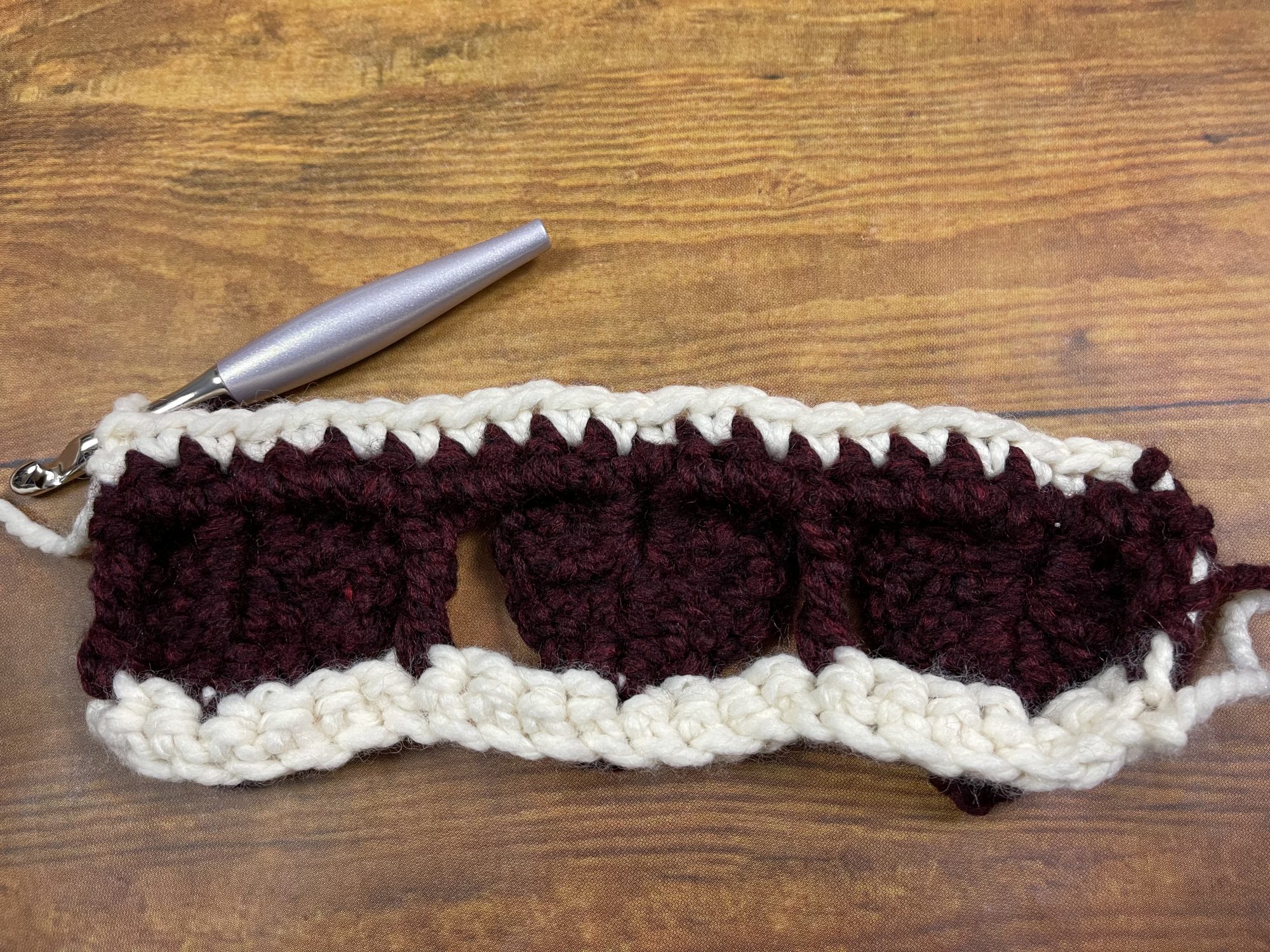 Next Rows: Rep Rows 2-4 until desired length OR rep Row 2-5, when using 2 colors without fastening off at each color change.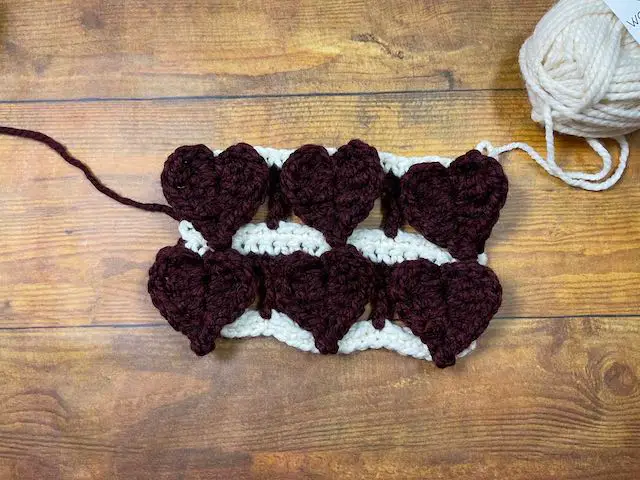 Tips
The use of a thinner yarn will produce a heart that lays flatter.
The use of an inline hook can help with poking the hook through the treble.
The heart size can be made slightly smaller and neater in appearance by making 3 tr, 1 dc and 1 sc on each side.
The chains between the treble stitches can be replaced with more treble stitches. If more treble stitches are added, make sure to fold the fabric out of the way when creating a heart, so the surrounding stitches are not caught and stretched.
Pin It for Later
Want to talk about yarn goodness, crochet tips, and exclusive weekly deals? Join my Facebook Group, Creations By Courtney Community.
If we're not hanging out on social media yet, come check me out on Facebook, Instagram and Pinterest.
Join my newsletter for sneak peeks, crochet tips, and more. HERE
Use #CreationsByCourtney on social media when sharing your projects.
This tutorial is not to be duplicated or resold, and not to be reproduced commercially. You may use this stitch to create original products for personal use or to sell finished products on Etsy, at farmers markets, and craft fairs, but please credit Creations By Courtney for the tutorial.