Fall is here in the northern hemisphere, and temperatures are cooler in the morning and late evening. If you enjoy the drop in temperature, but not ready for a coat, check out the Chunky Cowl and Collar crochet pattern! It's a quick crochet project with chunky yarn and a large hook. You can make one in an evening to wear on the next chilly morning. It looks great as a collar with a long sleeve top, or pair it with your favorite wool coat this winter. Who has time to button that weirdly placed top button to keep the cold out??? The Chunky Cowl and Collar will keep you warm and stylish.
Do you prefer to have a convenient, ad-free PDF copy to save on your phone, tablet or computer?  Check out My Shop, LoveCratfs or Ravelry to purchase a copy today!
*This post contains affiliate links. If you decide to purchase the item, I will be compensated a small amount at no cost to you. Your choice to use such links allow me to share more free patterns.
Chunky Cowl and Collar Crochet Pattern
Difficulty: Easy
Materials Needed:
Stitches Used:
ch: chain

sc: single crochet
hdc: half double crochet
dc: double crochet
dc2tog: double crochet 2 together
sl st: slip stitch
first-dc: first double crochet
st(s): stitch(es)
Additional Terms

First-dc: sc in first st, ch 2 (this replaces ch 3 at the beginning of the row)
Gauge: 7 stitches x 4.5 rows= 4″ x 4″
Finished Size: 31″ circumference at top includes overlap, 32.25″ circumference at the bottom
INSTRUCTIONS :
                                                                                                                                                                           Ch 72, sl st to make a ring. Be careful to not twist the chain
Row 1: ch 1, sc in each ch, sl st to join (72sc)
Row 2: First-dc, dc in each st, sl st to join
Row 3: First-dc, dc in same space, dc in next 4, dc2tog, [dc in next 5, dc2tog] 9 times, dc, sl st to join (62dc)
Row 4: First-dc, dc in next 3, dc2tog, [dc in next 4, dc2tog] 9 times, dc in next 2 sts, sl st to join (52dc)
Row 5: First-dc, dc next 23 sts, dc2tog, dc in next 24 sts, dc2tog, sl st to join. (50dc)
Row 6-10: First-dc, dc in each st around, sl st to join
Row 11: First-dc in back loop, dc in back loop of next 3 sts, dc in each st until 4 stitches remain, dc in the front loop of first 4 dc (overlap created), turn.
Row 12-13: First dc, dc in each st to end, turn
Row 14: ch 1, sc in each st
Row 15: sl st in each st, finish off
Finishing:
Attach button an inch from the edge. Space between dc creates a button hole. Weave in any ends.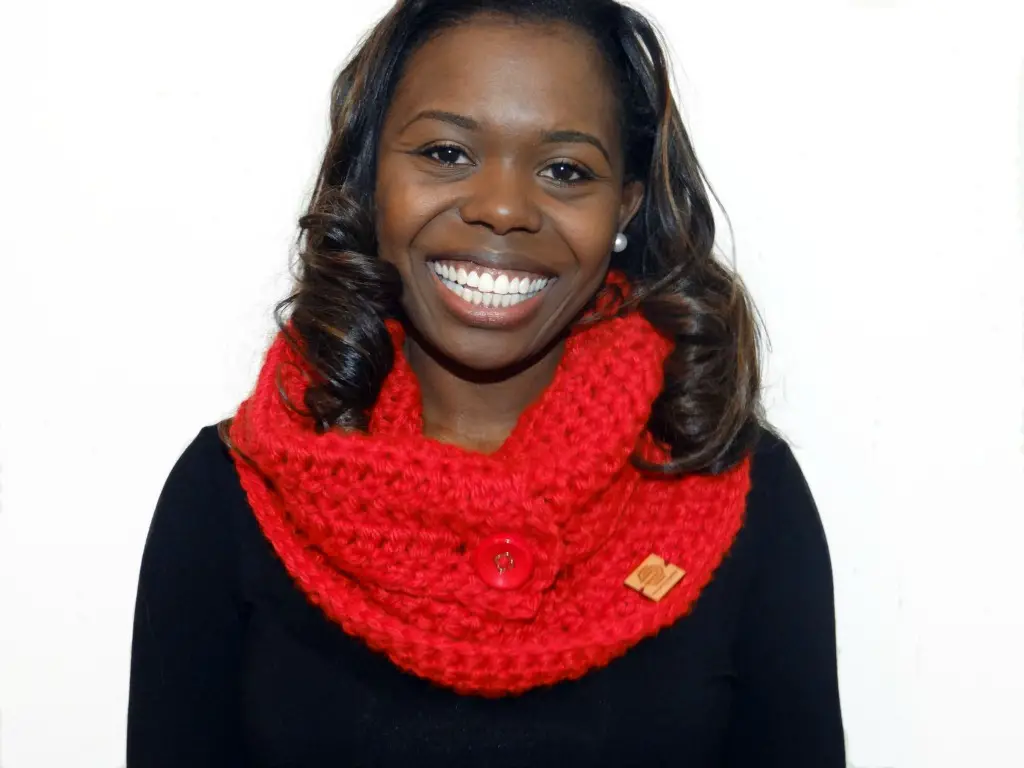 Use #creationsbycourtney when sharing your finished project!
Thank you for your support!
Additionally, if you want to know what's going on with Creations By Courtney, I invite you to sign-up for my email newsletter, and follow me on social media, for more crochet and yarn fun!                                                                                                                          Newsletter
          Facebook           Pinterest          Instagram          
Ravelry     Etsy    LoveCrafts
© 2017 Courtney Whitehead. This pattern is not to be duplicated or resold, and not to be reproduced commercially. You may sell finished products on Etsy, at farmers markets, and craft fairs, but please credit Courtney Whitehead as the pattern's author. Thank you.
SaveSave
SaveSave
SaveSave
SaveSave
SaveSave
SaveSave
SaveSave
SaveSave
SaveSave
SaveSave
SaveSave
SaveSave