The holiday season is here which means making merry, singing, cooking and baking, and crafting. As part of the holiday season, I partnered with Hobbii Yarn for the #HaveYourselfAMerryLittleDIY to bring you the Christmas Crochet Capelet!
This is an easy crochet pattern that uses only single crochet and double crochet with two crochet hook sizes.
"Why two crochet hooks?" you ask.
The larger crochet hook is used for the body of the crochet capelet, and the smaller hook is used for the collar. There are two options for styling your Christmas crochet capelet. One style is like a turtle neck, and the second style is a folded over collar.
If you're new to making a capelet, it is a short cape that fits around the shoulders. This easy Christmas crochet capelet is size-inclusive and can be modified to fit anyone.
You'll enjoy working the Christmas crochet Capelet vertically in the back look only, which creates a fun texture and stretch for the perfect fit. If you want it to be longer, add to the starting chain, or make shorter by making fewer chains.
The use of five colors in a fun alternating pattern creates the holiday vibes for every party, gift swap, and trip out shopping. Don't worry about all of the ends from changing colors every two rows.
To finish off the Christmas crochet capelet, rather than weaving in all of those ends, the tails will be knotted together for a few rounds like macrame, and then trimmed.
*Disclosure: This post may contain affiliate links to products that I use, and think you will enjoy using too. Should you decide to use any such link, I will earn a small commission at no cost to you. Thank you for supporting this small business.
Yarn
OMG!! What says Christmas more than shades of green, red and white?
Hobbii provided the Christmas Acrylic Color Pack that includes five skeins of DK yarn in two shades of green, two shades of red, and off white. This pack makes it super easy to make this crochet capelet and other Christmas crochet patterns. Each skein is 100% acrylic yarn, 100 grams or 383 yards / 350 meters. That's a total of 1915 yards / 1750 meters per pack! That's A LOT off yarn for making lots of crochet projects to spread holiday cheer.
This acrylic yarn is super soft, and easy to crochet. In my opinion, it's a bit thinner than the DK yarns that many find in the US, and feels closer to a sport weight. I took out my WPI (wraps per inch) tool, to check and got 12 wpi which aligns with sport weight, whereas a DK weight is typically 11 wpi. With that being said, using a size G+ and I hook create lots of drape in the Christmas Capelet.
The Christmas Acrylic Color Pack is a limited edition yarn for the season, so if you want to add it to your stash, don't wait. On Hobbii's website, the original price is $31.49, but at the time of this writing, it's only $16.70!
Hobbii also provided the cutest Holiday Stitch Markers! I love the set of four stitch markers to add to my collection. It includes a Christmas tree, a crescent shaped Santa, candy cane, and mitten. They even included a little crystal! If you love having super cute and functional stitch markers, then definitely grab a set.
MATERIALS
Hobbii Christmas Acrylic, #3 DK weight yarn (100% acrylic; 382 yds/ 350 m; 3.5 oz/ 100 g): 164 (168, 176, 180, 184) (192, 196, 200, 208) g or 627 (642, 673, 688, 703) (734, 749, 764, 795) yds total

Color A: Dark Green 
Color B: Red 
Color C: Green 
Color D: Burgundy 
Color E: Cream

US 7 / 4.5 mm hook or hook to meet gauge I chose my Glitter Streamline.
US I-9/ 5.5 mm hook or hook to meet gauge I chose my Emerald Odyssey.
Scissors
Yarn needle
Measuring tape
GAUGE
Approx 20 sc x 21 rows = 4" [10 cm], back loop only
15 dc x 7.5 rows = 4" [10 cm], back loop only 
FINISHED SIZES
Fits XS (S, M, L, XL) (2XL, 3XL, 4XL, 5XL)
Finished Length: aprprox 16" [40 cm]
Finished bottom width: 43 (44.625, 46.2, 47.3, 48.9) (50.5, 51.5, 53.1, 54.7)"
PATTERN KEY
A: Color A
B: Color B
C: Color C
D: Color D
E: Color E
BLO: back loop only
Ch: chain
Dc: double crochet
Rem: remain(s) 
Rep: repeat
Sl st: slip stitch
Sc: single crochet
St(s): stitch(es)
Sk: skip
YO: yarn over
SPECIAL STITCHES & TECHNIQUES
Color change: Remove hook from active loop, take end of next color and pull through the active loop; leaving a long tail, knot once around the loop; insert hook in loop for first color, ch 1 with next color, tighten previous color, continue in new color
EXPERIENCE LEVEL
Easy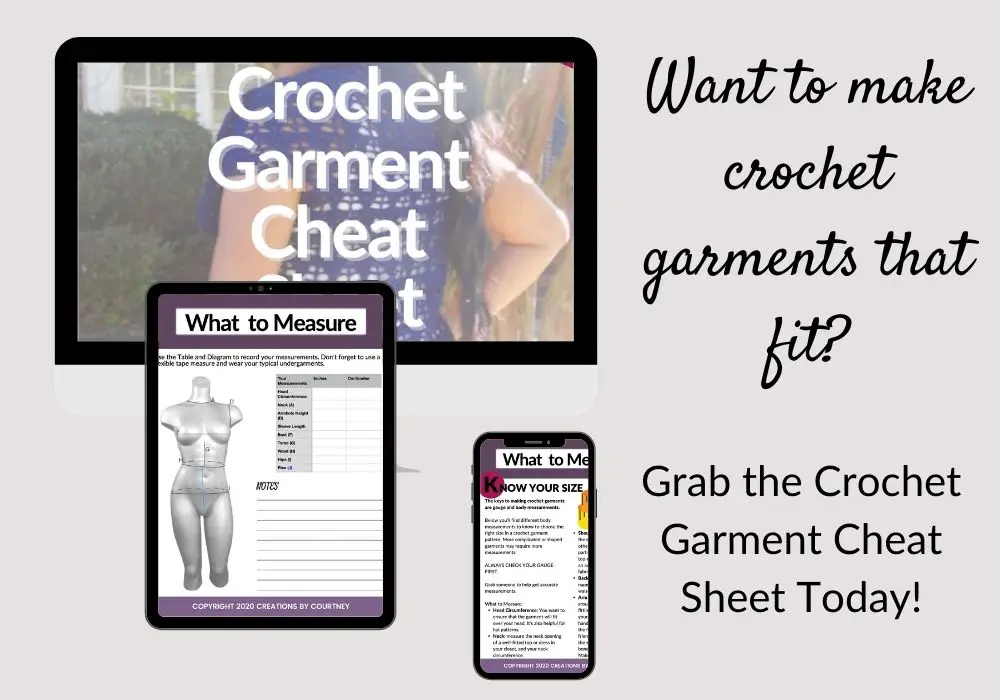 NOTES
Pattern is written in US terms.
Read entire pattern before beginning.
Ch 3 counts as dc throughout pattern. 
Ch 1 does not count as a stitch. 
Each row is worked in the BLO unless otherwise indicated. 
Each row will be made with both hook sizes. 
Change color every 2 rows leaving a long tail for finishing.
Purchase the ad-free PDF from your favorite pattern shop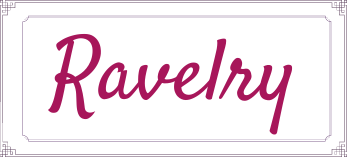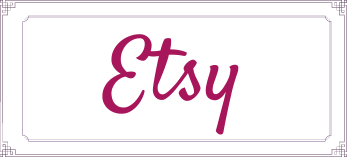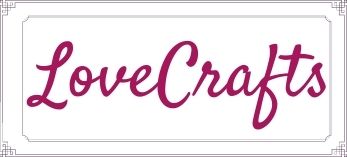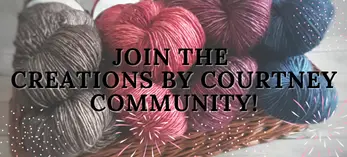 INSTRUCTIONS
With A and smaller hook, ch 20; with larger hook, ch 47, turn. 67 ch
Row 1: With larger hook, starting in 4th ch, dc in next 44 ch; with smaller hook, sc in next 20 chs, turn.  20 sc, 45 dc, 65 sts 
Row 2: With smaller hook, ch 1, sc BLO in next 20 sts; with larger hook, dc BLO in next 45 sts, FO A, turn. 
Row 3: With E and larger hook, ch 3, dc BLO in next 44 sts; with smaller hook, sc BLO in next 20 sts, turn.
Row 4: With smaller hook, ch 1, sc BLO in next 20 sts; with larger hook, dc BLO in next 45 sts, FO E, turn. 
Rows 5-82 (84, 88, 90, 92) (96, 98, 100, 104): Changing the color at start of Row 3 rep and FO previous color, Rep Rows 3-4, turn.
Color Change Chart

Finishing
Fold piece in half, lining up first and last row.
Using A, attach with long tail to last row, Ch 1, working BLO, sc through both rows in each dc and 5 sc, FO. This creates an open collar. 
Optional: sc in each st, FO. This creates a turtleneck. 
With ends, knot 2 strands (one each of 2 colors from a section next to each other. This creates a v-shape. Rep around until all strand have been knotted. 
Rep Step 4 two more times, or until desired rounds are completed. 
Knot 4 strands together.
Trim ends. A rotary cutter is the easiest option.  
Make the Christmas Crochet Capelet with Creations by Courtney
You may enjoy these patterns too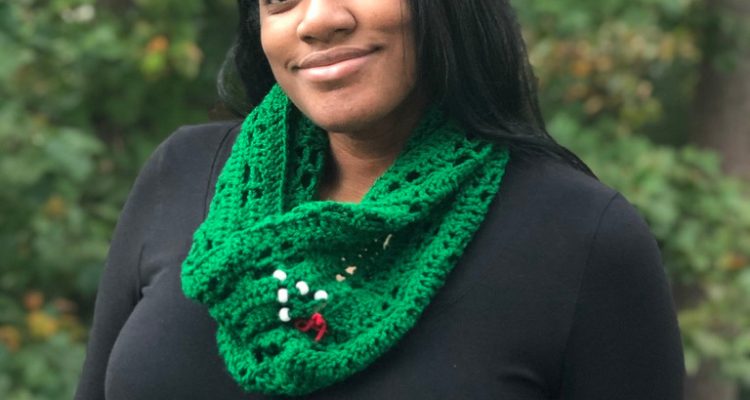 Pin it for Later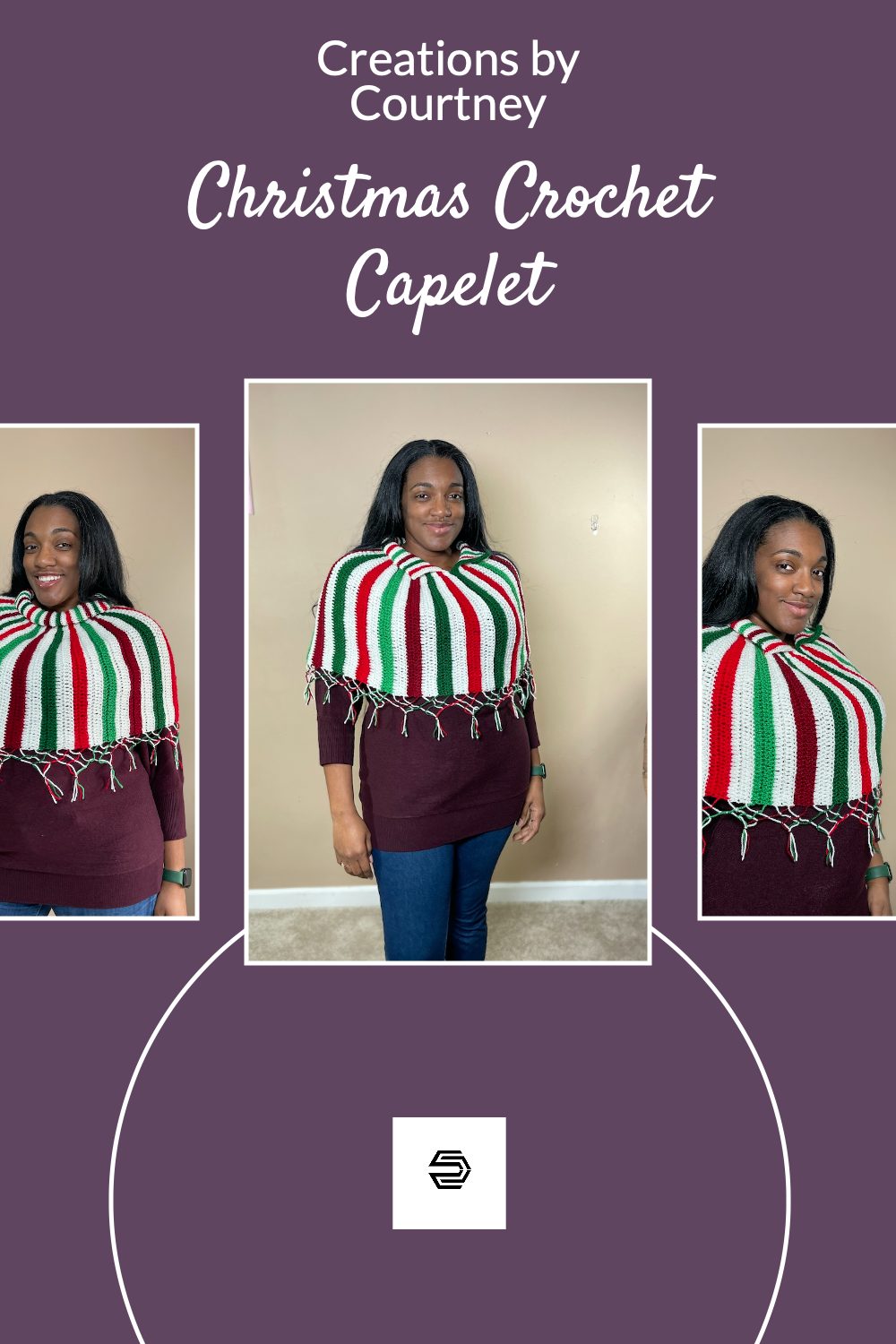 Want to talk about yarn goodness, crochet tips, and exclusive weekly deals? Join my Facebook Group, Creations By Courtney Community.
If we're not hanging out on social media yet, come check me out on Facebook, Instagram and Pinterest.
Join my newsletter for sneak peeks, crochet tips, and more. HERE
Use #CreationsByCourtney on social media when sharing your projects.
This pattern is not to be duplicated or resold, and not to be reproduced commercially. You may sell finished products on Etsy, at farmers markets, and craft fairs, but please credit Creations By Courtney as the pattern's author.