Have you ever wanted to learn how to crochet the perfect triangle shawl? Look no further! You will find Part 1 of the Ultimate Triangle Crochet Shawl Roundup of 15 patterns from your favorite or new to you crochet designers. I have scoured the internet for you to curate an amazing list of free and paid crochet patterns for triangle shawls.
It doesn't matter if you're a beginner or a seasoned crocheter, you'll find something new to learn, from the mesh stitch to puff stitches to intricate lace patterns. You'll learn a few different techniques for crocheting these shawls, as well as creating the same triangle shape in different methods. Get ready to be inspired – you're going to love this roundup of triangle crochet shawls!
*Disclosure: This post may contain affiliate links to products that I use or recommend, and think you will enjoy too. Should you decide to use any such link, I will earn a small commission at no cost to you. Thank you for supporting this small business.
Grab a gradient cake yarn to create a lovely textured shawl with simple pattern repeats.
Photo Credit: Crochet with Frankie Kate
Create this cozy, hooded triangle crochet shawl that mixes post stitches, color changes and tassels.
Photo Credit: Nicki's Homemade Crafts
Create an exquisite triangle shawl with filet crochet. Perfect gift for holidays or a wedding.
Photo Credit: Handmade by Raine
Use the classic picot stitch to create a lightweight triangle crochet shawl.
Photo Credit: Exquisite Crochet UK
Grab your tunisian hook with a long cord, 2 skeins of fingering weight yarn to create a gorgeous striped tunisian triangle crochet shawl.
Photo Credit: Rich Textures Crochet
Enjoy creating a striped crochet shawl in a cozy yarn.
Photo Credit: Stitching Together
Work from the bottom up to create the Tela triangle shawl in an easy repeat.
Photo Credit: bananamoonstudio.com
If you're a fan of fantasy books, make the Alera Triangle Shawl to help transport you to a distant land.
Photo Credit: Toys Lab Creations
Combine lace and puffs for an elegant triangle crochet shawl. Make it smaller or larger by changing yarn weight or subtracting/ adding rows. The crochet pattern is available in US and UK crochet terms.
Photo Credit: Raffamusa Designs
Get ready for a fringe-tastic time while making the Triangle and Cones Lace Shawl. It is sure to keep your focus.
Photo Credit: I Need It Crochet
Create a triangle crochet shawl from one long edge to a point with a beautiful shell pattern. Make it a statement piece by using a gradient yarn.
Photo Credit: Cosy Rosie UK
Get started in making triangle crochet shawls with this free crochet pattern. It is worked from edge to edge.
Photo Credit: Mason Jar Yarn Designs
Whenever the weather transitions, grab this light weight triangle crochet shawl. You can use sport ot sock weight yarn.
Create a great layering triangle crochet shawl with the classic mesh stitch. Guaranteed to work up quickly.
Photo Credit: Make It Crochet
Wear a textured rainbow by using a cake yarn to make this triangle crochet shawl
Check out these pattern roundups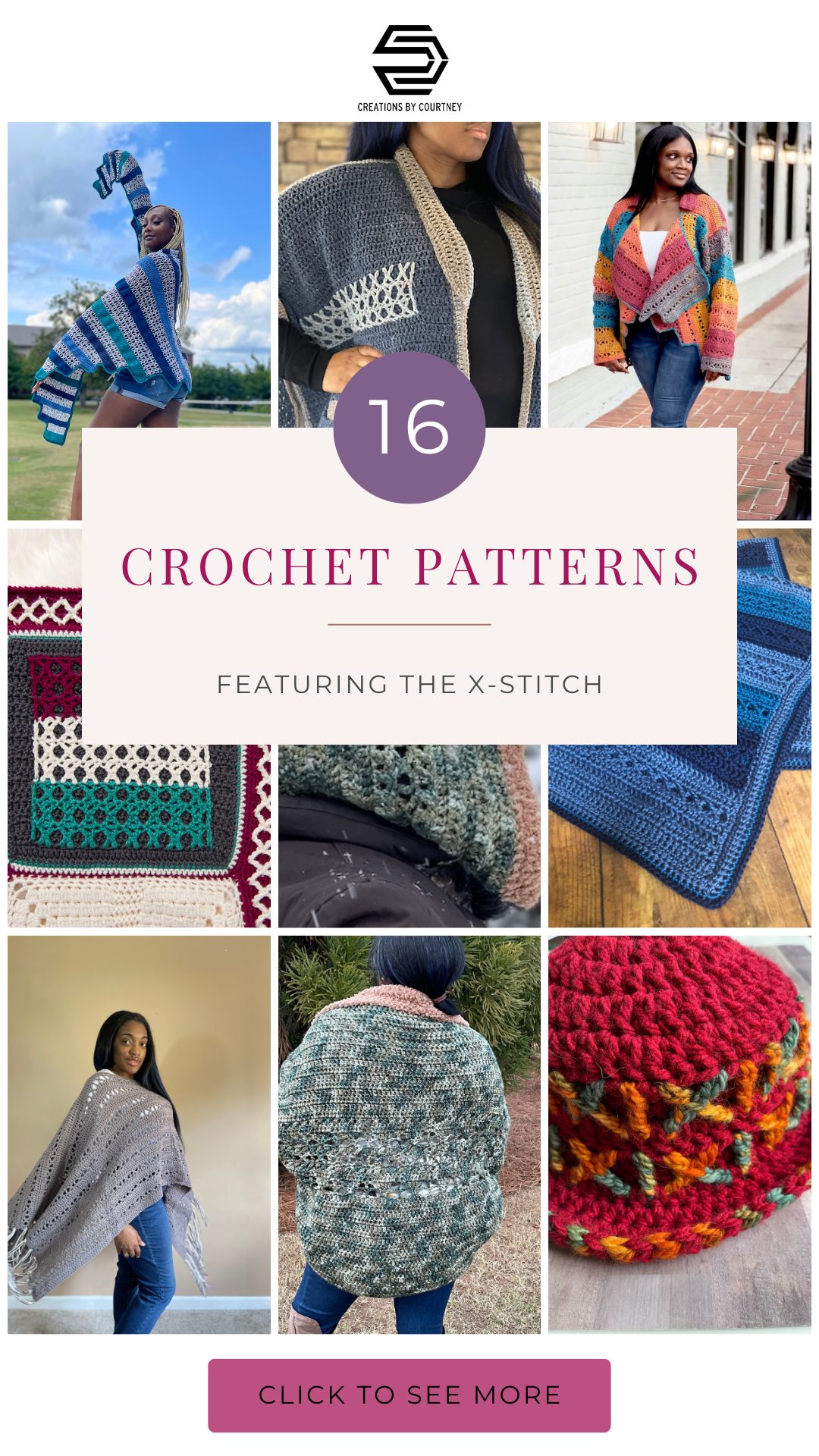 Pin it for Later
If you see too many triangle crochet shawls that you want to make but don't want to start WIP # 8, make sure you save this to Pinterest to go back later when you have time to start WIP #3. ????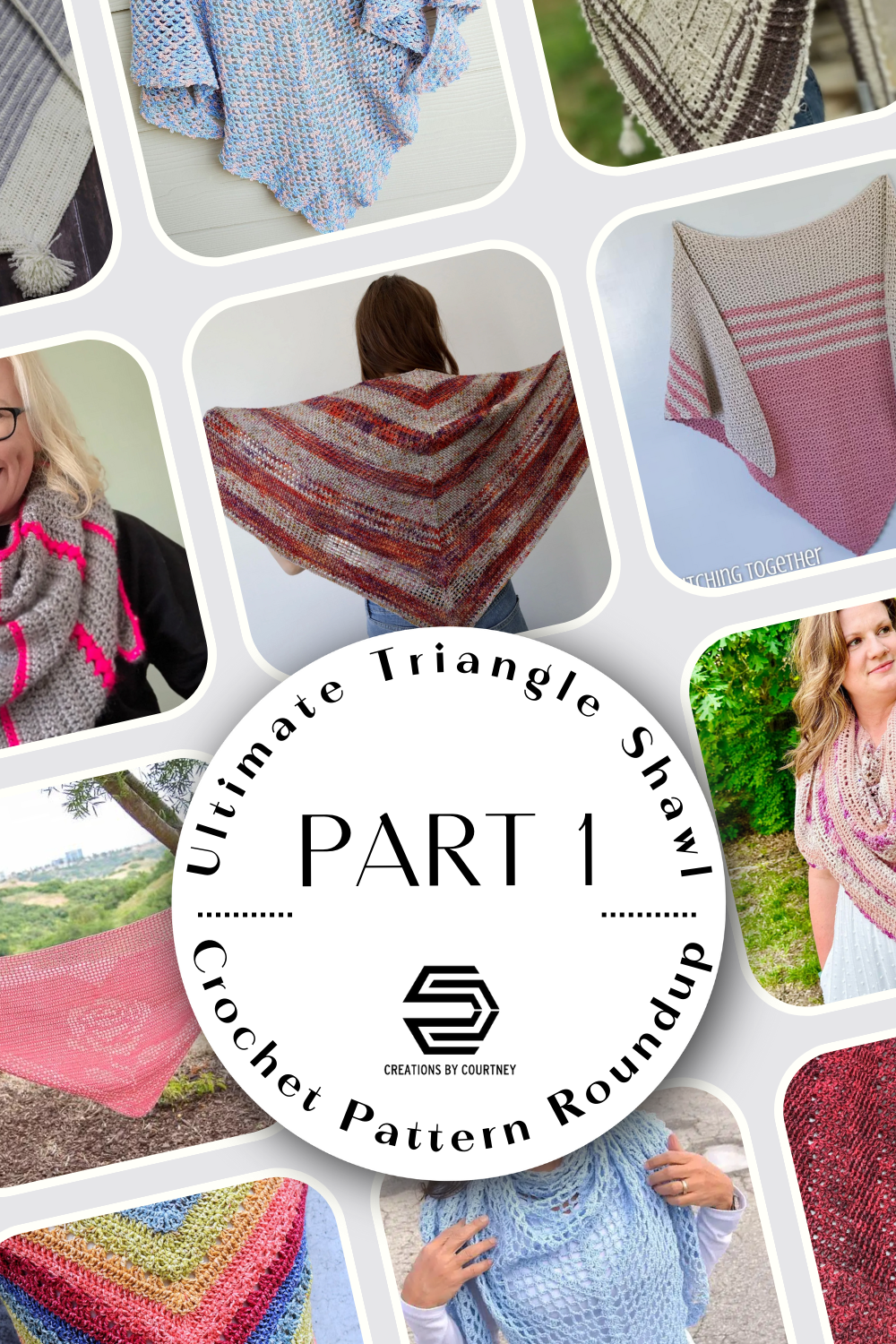 Want to talk about yarn goodness, crochet tips, and exclusive weekly deals? Join my Facebook Group, Creations By Courtney Community.
If we're not hanging out on social media yet, come check me out on Facebook, Instagram and Pinterest.
Join my newsletter for sneak peeks, crochet tips, and more. HERE
Use #CreationsByCourtney on social media when sharing your projects.
©2023 This post is not to be duplicated or resold, and not to be reproduced commercially. Appropriate credit is given to each designer featured, but please credit Creations By Courtney as the pattern's author.