I'm so excited to be hosting my first CAL of 2022 with a tunisian crochet scarf! Why a tunisian crochet scarf? For one, a friend suggested to start simple. Secondly, when a crocheter joins the Creations by Courtney Community on FB, I ask what crochet technique would they like to learn, and tunisian crochet is the most common answer. I love tunisian crochet, and I love teaching others about it. In fact, I hopped on live in the community recently to go over the basics – the different parts of a tunisian stitch, different hooks, and the most common stitches that are first learned.
What is a CAL?
A CAL is a crochet-a-long in which a group of crafters work on creating the same project during a set time. This CAL will have the following schedule: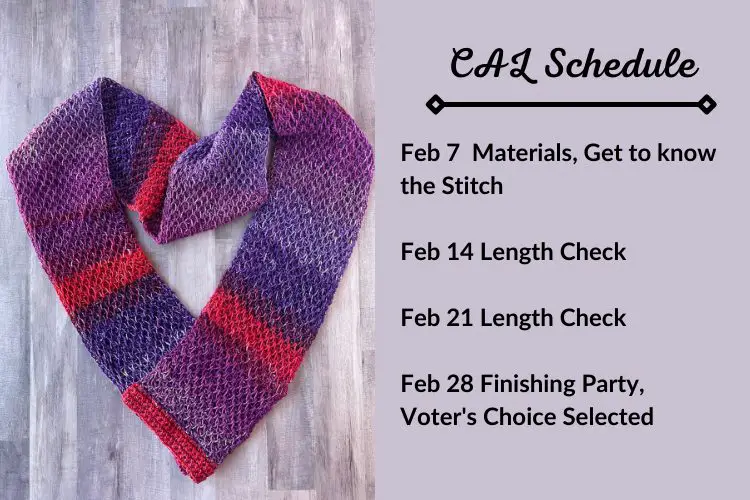 Since one stitch is used for this scarf, each week will be a length check, and then a Finishing Party. It's okay if you're not at the length yet or have gone past the length at the check points. The point is to have fun crocheting together! The fun will happen in the FB group, and there will be posts for each week to share the yarn and hook you've selected, progress pictures and length checks, and then your finished scarves!
To add to the fun, each CAL participant will have a chance to win a pattern of choice from my pattern shop each week. It is super easy to enter by sharing at least one picture to each post for the week.
*Disclosure: This post may contain affiliate links to products that I use, and think you will enjoy using too. Should you decide to use any such link, I will earn a small commission at no cost to you. Thank you for supporting this small business.
Yarn
For my version of the tunisian crochet scarf CAL, I chose King Cole Shine DK, which was provided to me by King Cole Yarn as a North American Brand Ambassador. This is a DK weight yarn with a nice twist that was easy to crochet, and available in 8 colors.
If you have an adequate amount of DK weight in your stash, you can use what you have, but Shine is a lovely yarn with a lovely sparkle. ? If you would like to choose a different DK yarn, here are a few options: Hobbii Horizon, Paintbox Yarns Simply DK, Ice Yarns Simply DK, Loops & Threads Kai, or James C. Brett Stonewash DK.
There are three sizes for the tunisian crochet scarf so you will need the following amounts for each scarf 258, 415 or 1135 yards or 214.9 (411.5,  1037.8) meters. If you would like to make any scarf longer, then you will need more yarn.
Hook
For the hook, you have a few options: a straight crochet hook without or a small thumb rest (you can put a small rubber band on the end to keep the loop from sliding off), an aluminum afghan hook, a straight wood tunisian hook, or an interchangeable tunisian hook. If you choose an afghan or straight tunisian hook, it may feel unwieldy from the length of the hook. A straight crochet hook or interchangeable tunisian hook with an end stopper is what I recommend, if you're newer to tunisian crochet. These hooks are shorter and will more familiar in your hands as you make tunisian stitches.
I chose to use my Furls Crochet Kingsnake tunisian hook, which has a nice pointed tip for inserting the hook under the vertical bars. A second hook recommendation is for WeCrochet's Interchangeable Radiant Tunisian Hook. You can purchase individual sizes with different length of cables, or purchase the set HERE.
Gauge
It would not be right to not address the elephant in the room, gauge. ? I know that it can be a dirty word sometimes amongst crocheters, but it doesn't have to be. By the way, seaming is a dirtier word to me because I don't like it. LOL
Back to gauge, we all know that it is important when the size of the project matters. We're making a tunisian crochet scarf, which means that gauge is not super important but is important, if you want your scarf to match the sizes and yarn amounts given. If you live on the edge, then don't worry about gauge for this project, and make sure that you use a hook larger than what is recommended on the yarn label.
For those that want to follow gauge, here are a few tips, and then check out the short video (Coming later this week) for measuring gauge with the smock stitch.
Use the right kind of hook. A straight hook may offer a looser gauge, and a corded hook may make gauge a bit tighter. It's not fun to make gauge swatches, but it's an opportunity to practice the stitch and find which hook you like best. (We ALL have multiple hooks of a size for this reason. It's totally normal, and just call it a well curated collection, in case anyone raises an eyebrow. ?)
In tunisian crochet, the stitch width is determined by how loose or tight the chain is made during the return pass. The row height is determined by the loops on the hook. If your gauge is short but within an inch, blocking will fix most issues. If there is a significant difference, then it is better to go up at least two sizes in the hook.
When measuring, a gauge square is much easier than a ruler. Always measure in the center of the gauge swatch and not along the edges, especially in tunisian crochet. The first loop (stitch) that remains on the hook tends to loosen as the forward pass is created. To maintain a neater edge, tighten the first loop around the hook after having made at least one other stitch during the forward pass.
MATERIALS
King Cole Yarn Shine DK, #3 yarn (97% premium acrylic, 3% polyester, 310 yds/ 282 m; 3.5 oz/ 100 g): Night Life x 1 (2, 4) skeins or 235 (450, 1135) yds total / 214.9 (411.5,  1037.8) m
US L (8.00 mm) Tunisian hook with cord or size needed to meet gauge 
Scissors
Yarn Needle
Measuring Tape
GAUGE
8 tss2tog x 12 rows = 4" x 4" [10 cm x 10 cm] in pattern
FINISHED SIZES
Size 1: Skinny: 4" wide x 60" long [10 cm x 152.5 cm]
Size 2: Standard: 6" wide x 66" long [14 cm x 165 cm]
Size 3: Super wide: 10" wide x 80" long [26.5 cm x 200 cm]
PATTERN KEY
Ch: chain
Cnr: corner
FO: fasten off
FwP: Forward pass
M: stitch marker(s)
Prev: previous
Rem: remain(s) 
Rep: repeat
RetP: return pass
RS: right side
Sl st: slip stitch
Sc: single crochet
St(s): stitch(es)
Sk: skip
Tss: tunisian simple stitch
Tss2tog: Tunisian simple stitch 2 together
WS: wrong side
YO: yarn over
YU: yarn under
SPECIAL STITCHES & TECHNIQUES
RetP: Ch 1, *(YO, pull through 2 loops); rep from * across
Tunisian simple stitch 2 together: insert hook under next two vertical bars, YO, pull up a loop
Yarn under: pull the yarn toward you and hold it on the hook with a finger while you insert and pull up the next loop
EXPERIENCE LEVEL
Easy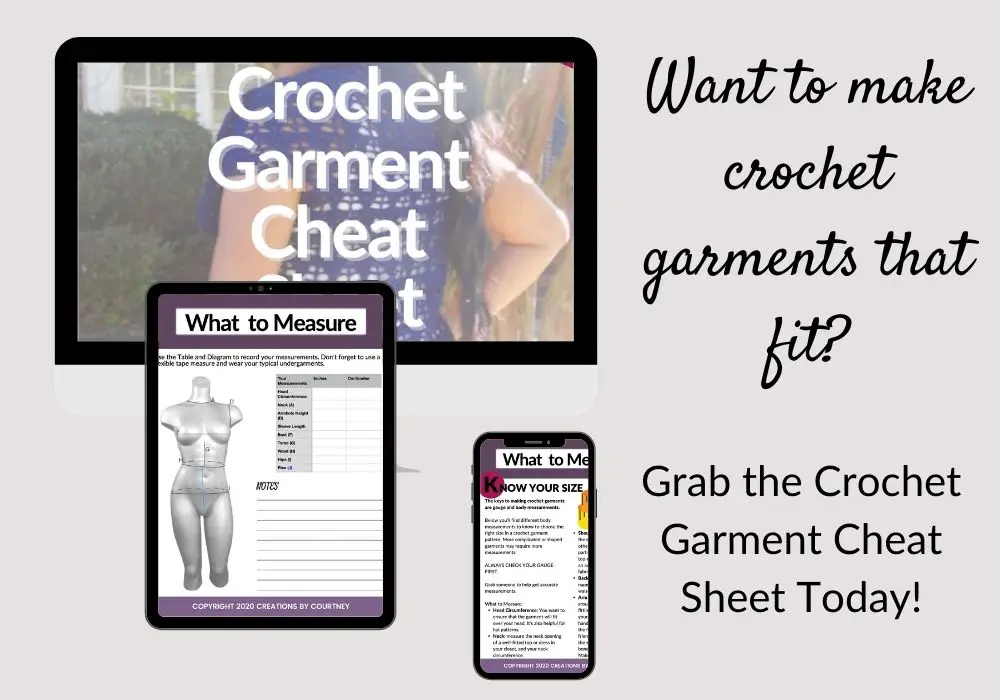 NOTES
Pattern is written in US terms. 
Read the entire pattern before beginning. 
The I Smocking Love You Scarf is made in 2 parts: Body and Edging.
The last st is always worked under both bars.
Tunisian Smock Stitch Tutorial
The Tunisian Smock stitch looks harder than it is. It does require counting every few rows to ensure that a stitch isn't missing. I point out where the stitches may hide in the video tutorial below. Take your time on the first few rows and count those loops on the forward pass and count the pull throughs on the return pass. You'll thank yourself later for counting.
If you're ready to get started after learning the Smock Stitch, click HERE for Part 1 of the I Smockin' Love You Scarf .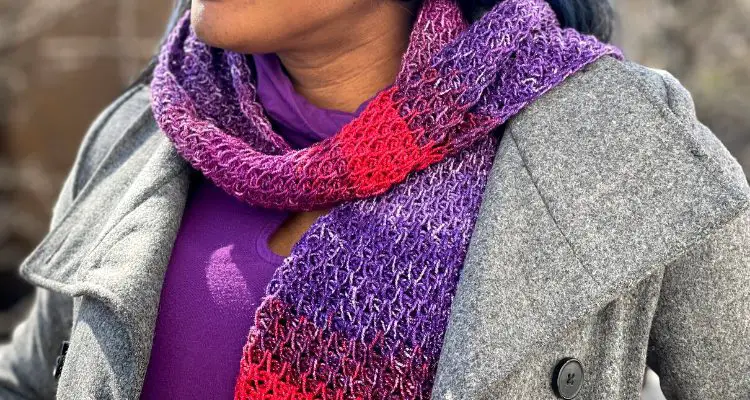 I'm so excited to see what yarn everyone is choosing, and to get to hang out with my yarnie friends!
There will be a dedicated post in the FB group for each week of the CAL. Be sure to use #ISmockingLoveYou and #CreationsbyCourtney when sharing on social media. You might be featured in a story!
And posting a picture in the post enters you into giveaway for a pattern of choice.
Pin it for Later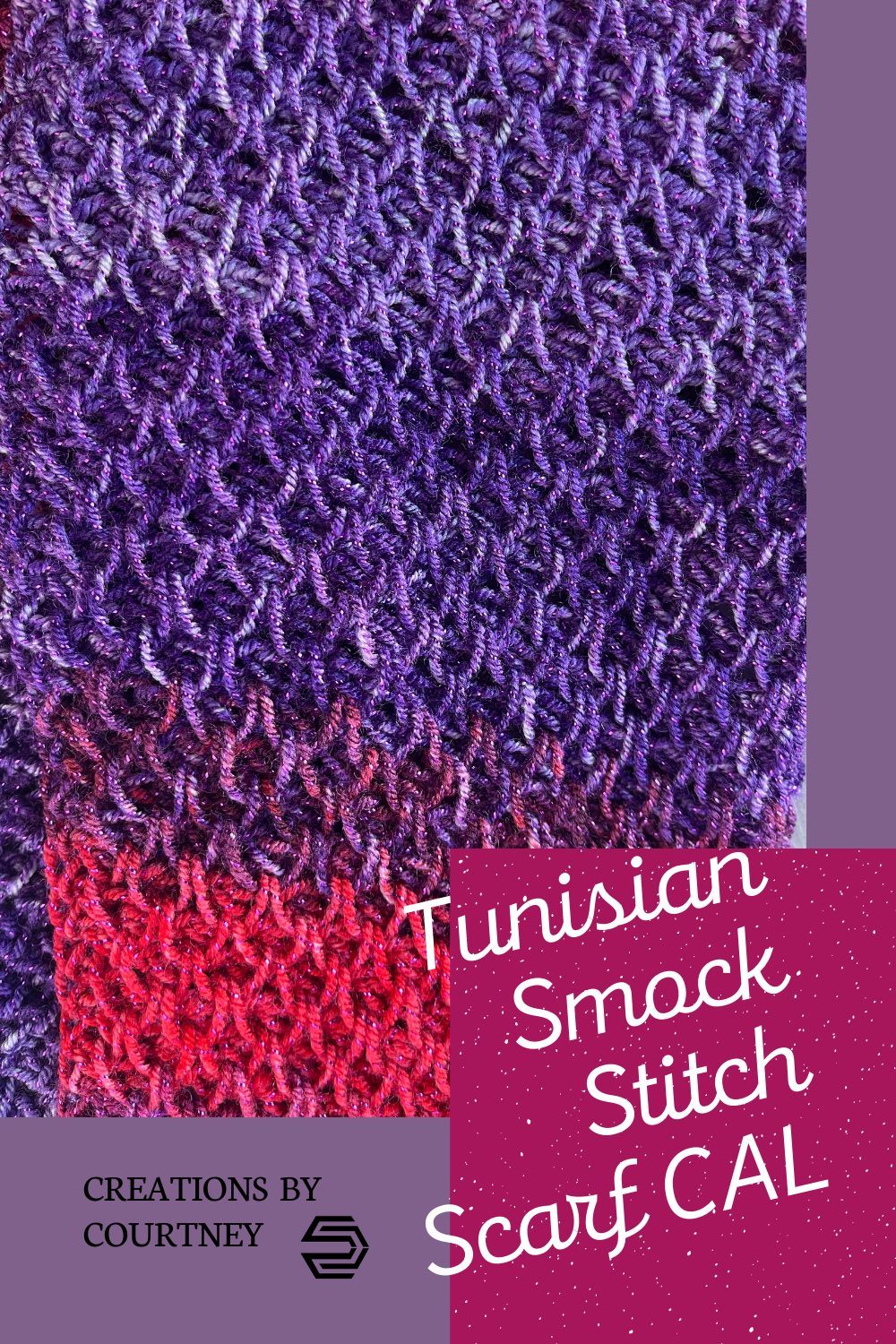 Want to talk about yarn goodness, crochet tips, and exclusive weekly deals? Join my Facebook Group, Creations By Courtney Community.
If we're not hanging out on social media yet, come check me out on Facebook, Instagram and Pinterest.
Join my newsletter for sneak peeks, crochet tips, and more. HERE
Use #CreationsByCourtney on social media when sharing your projects.
This pattern is not to be duplicated or resold, and not to be reproduced commercially. You may sell finished products on Etsy, at farmers markets, and craft fairs, but please credit Creations By Courtney as the pattern's author.