Disclosure: This post may contain affiliate links. This means I received commissions for purchases made through those links, at no cost to you. I only recommend products and services that I have used and/or trust.
The Ashley Hooded Cowl is the perfect accessory for adding warmth and style in a practical manner.
Many other hooded cowls are tall, wide tubes to pull over one's head and neck for coverage, whereas this hooded cowl offers a detachable, shaped hood. ? Yes, a detachable hood! You know you have a favorite coat that doesn't get worn as much because there's no hood for added warmth.
I even surprised myself with the shape of this hood, as it came out so chic, and reminded me of the oversized look on runways, but in a practical size. LOL
This cowl offers AMAZING texture with the half double crochet cluster and Go for Faux Thick and Quick, which was also used in the Ashley Faux Fur Mitts.
More special details about this design is the added warmth you receive with front and back coverage, and button detail to never mess up your 'do again. I can't be the only person that tires of static charged hair from having it pull my hair out from a cowl, right???
Materials
Red Heart Super Saver (100% Acrylic; 364 yds/333 m, 7 oz/198 g skein): White, 2 Skeins
Lion Brand Go For Faux Thick & Quick, super bulky #7, (100% Polyester, 24 yds/ 22m; 4.2 oz/ 120g): Chinchilla, 1 skein
Furls Crochet Streamline Swirl Hook, I/9 (5.50 mm) or size needed to meet gauge
Furls Crochet Streamline Swirl Galaxy Swirl Hook, US N 10 mm
Scissors
Yarn needles to fit yarns
Needle to fit button holes
5 stitch markers
Measuring tape
28mm button, 2
15mm buttons, 5
GAUGE
8 hdc-cl = 4", 10 pattern rows = 4"
SIZES
Front & Back: 12" across the top x 10.25" long
Cowl: 7″ tall x 28″ wide
Hood: 12" tall across back
PATTERN KEY
Ch: chain
sl st: slip stitch
sc: single crochet
hdc: half double crochet
fsc: foundation single crochet
hdc-cl: half double crochet cluster
hdc-cl inc: hdc-cl increase
st: stitch(es)
YO: yarn over
sp: space
sk: skip
edc: extended double crochet
CSEDC: Chainless starting extended double crochet
M: stitch marker
SPECIAL STITCHES & TECHNIQUES
CSEDC: pull up a loop to height of row, holding loop in place and wrap yarn around hook (yarn over), insert hook in first st, YO, pull up a loop, YO, pull through 1 loop (chain made), [YO, pull through 2 loops] twice
Hdc-cl: YO, insert hook into same st as last st made (or first st of the row), YO, pull up a loop (3 loops on hook), YO (4 loops on hook), sk 1 st, insert hook in next st or ch-1 sp, YO, pull up a loop (5 loops on hook), YO, pull through all 5 loops, ch 1
Last hdc-cl: YO, insert hook in same st as last st made, YO, pull up a loop (3 loops on hook), YO (4 loops on hook), do not skip 1 st, insert hook in last st, YO, pull up a loop (5 loops on hook), YO, pull through all 5 loops
Hdc-cl inc: YO, insert hook in same st as last st made, YO, pull up loop (3 loops on hook), YO (4 loops on hook), insert hook in next hdc-cl (do not skip a st), YO, pull up a loop (5 loops on hook), YO pull through all loops, ch 1
Make next hdc-cl in same hdc-cl of last st and the next ch-1 sp 
EXPERIENCE LEVEL
Intermediate
NOTES
Pattern is written US terms.
Read the entire pattern before beginning.
Pattern is worked in 6 sections: Front and Back, Cowl, Back of Hood, Top of Hood, Seaming, and Hood Edging
Beginning ch 2 counts as a part of the first hdc-cl
Beginning ch 1 does not count as a stitch 
Be sure to count every few rows to ensure that you have the same number of hdc-cl. If your number of clusters is off by one, make sure you made the ch 1 after each cluster on the row below.
Be sure to skip 1 stitch when completing every hdc-cl, unless you are instructed to increase or at the end of the row. If you forget to skip a stitch it will alter the total number of clusters. 
Cowl can be shortened or lengthened to your preference by subtracting or adding rows.
Grab your Hooded Cowl from your favorite pattern site below
Pin it for Later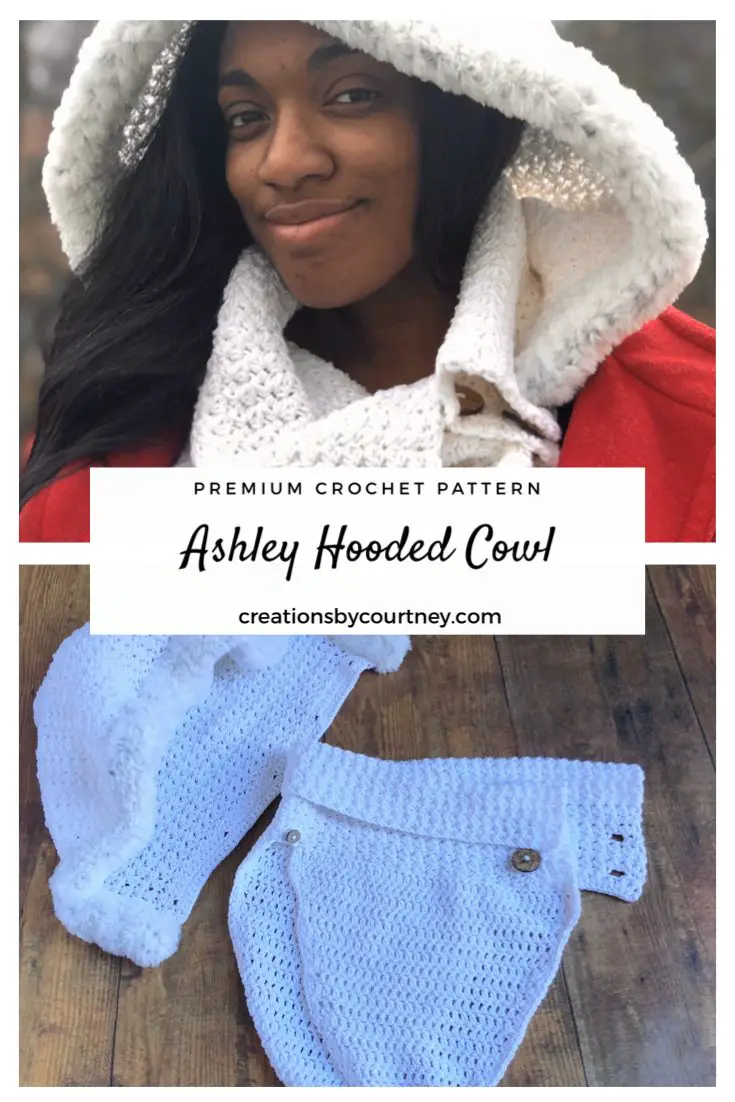 If we're not hanging out on social media yet, come check me out on Facebook, Instagram and Pinterest.
Want to talk about yarn goodness, crochet tips, and exclusive weekly deals? Join my Facebook Group, Creations By Courtney Community.
Join my newsletter for sneak peeks, crochet tips, and more. HERE
Please use #CreationsByCourtney on social media when sharing your projects. Use #hoodedcowl when sharing this project on social media.
This pattern is not to be duplicated or resold, and not to be reproduced commercially. You may sell finished products on Etsy, at farmers markets, and craft fairs, but please credit Creations By Courtney as the pattern's author.