The Kiera Crochet Dress Pattern is perfect for your first attempt at a crochet dress with simple shaping, but interesting enough for an experienced crocheter. With an easy to remember stitch pattern, it works up quickly, and can be customized for the perfect sweater dress fit.
For the adventurous beginner, there are video tutorials to ensure that you have a dress that you'll want to wear all winter long.
The Kiera Crochet Dress is exclusive to Crochet Foundry, Winter 2022 issue, alongside addition size-inclusive garments and accessory patterns. You can purchase a single digital issue, a seasonal bundle, or a yearly subscription. You can even purchase individual patterns from the issue. Click HERE for just the Kiera Crochet Dress.
Single Issue
Seasonal Bundle
Yearly Subscription
Kiera Crochet Dress Video Tutorials
In wanting to ensure that any crocheter that can make single crochet, double crochet, post stitches and decreases, there are four videos that cover starting this crochet dress pattern, shaping from the hips to the waist, creating a sassy opening, minimal seaming, and final edgings for the neck and hem.
How to Style a Crochet Dress
Every person wants to have stylish garments in their closet that can be worn for several occasions. Think capsule wardrobe. I believe that this can be done with crochet and other handmade pieces paired with what you have in your closet or specific shopping trips.
The Kiera Crochet Dress pattern can be one of those capsule pieces!
As a sleeveless sweater dress, it is easy to layer underneath and over with tops, leggings and outerwear, as well as belts and jewelry. Let's start with accessories.
Accessorize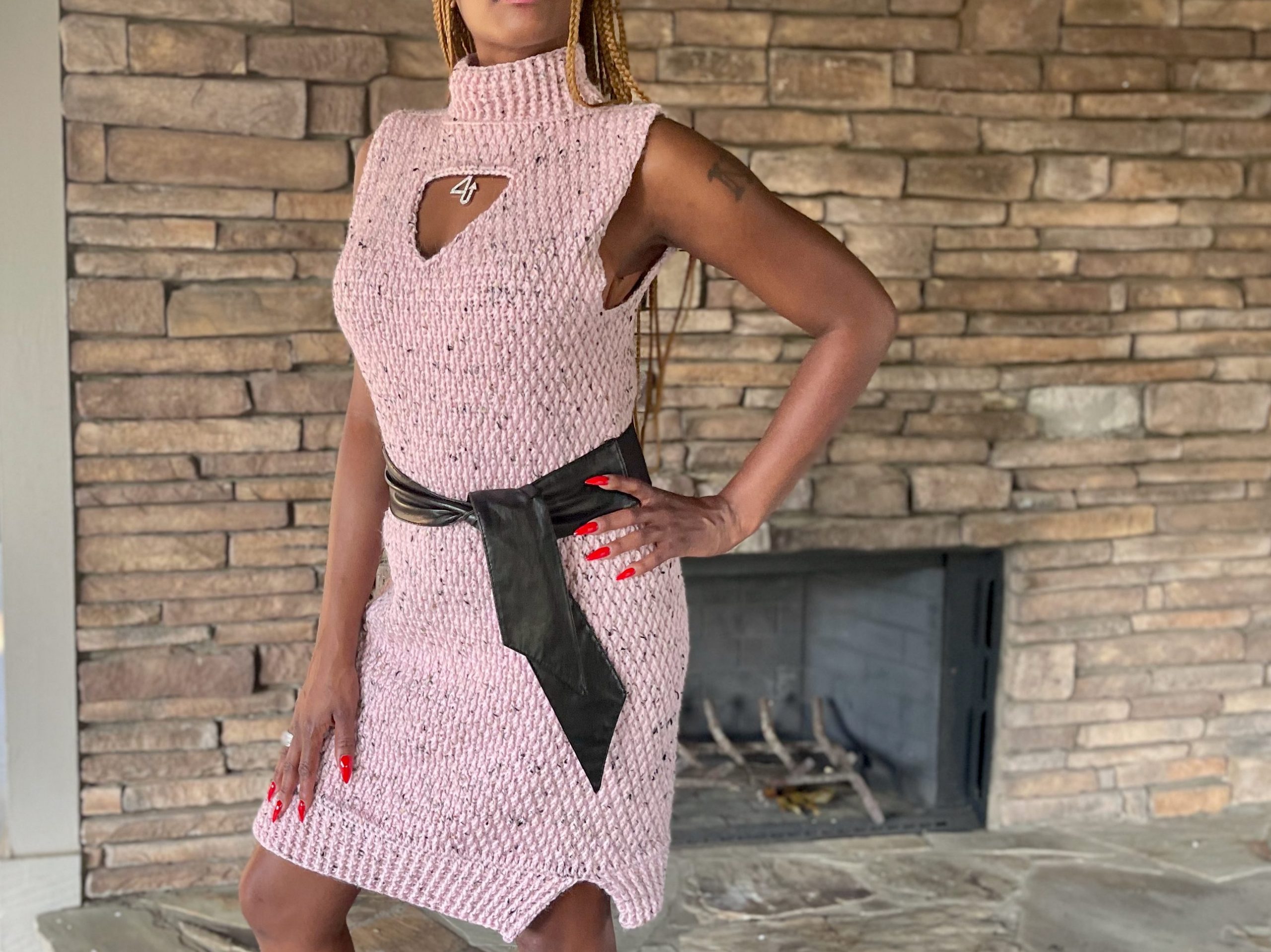 A wide belt is a great way to break up the textured pattern when wearing this dress to the office or out to dinner. Similarly, a thin belt will highlight ones waist, and elongate the look of one's legs.
Again, the lack of sleeves make it easy to wear your favorite chunky bangle, or a stack of thin bracelets. The fun and sassy triangle cutout is perfect for showing off short necklace with a large charm or jewel that can be worn underneath. And if you enjoy stacking necklaces of various lengths, consider a few short ones that fall at the cutout and then longer ones to hang at the breasts or lower.
A Crochet Dress for the Office
Since you know what, many people had to work from home, and continue to work, and others have returned to work in person part and full-time. Any chance to show off your crochet skills should be enjoyed, and the Kiera Crochet Dress features the alpine stitch. This textured fabric means that it is thick and doesn't have a lot of openings that may be found in a garment made in all taller stitches.
Since you will create a solid fabric, you just need to add a collar-less blouse or fitted long sleeve underneath. If you need to or prefer to be modest, choose a fitted long sleeve with a crew neck, and if you don't mind being sassy, choose a v-neck top. Personally, a peasant sleeve or bishop sleeve would be my go to when pairing it with this crochet dress.
If you enjoy wearing suit pieces, grab your single-breasted blazer to throw one before walking in the office doors.
Out around Town
The Kiera Crochet Dress is super versatile because you can head to dinner by pairing it with some high heels, ankle booties or the ever classic Chelsea Boots and a bomber jacket. The splits at the hem make it easy to walk around.
Have some knee length boots? Put those one with a fitted long sleeve underneath, and grab a sparkly clutch to head out dancing with your partner or best friends.
Customize Your Dress for Your Body
This crochet dress pattern includes tips for customizing the fit of the Kiera Crochet Dress. When designing, I was going to keep it simple by not adding any shaping so that it appeared slightly oversized. Luckily, I have amazing friends that I can discuss my ideas with, and one Yarn Bestie made a great point about how she has to make changes in her crochet and knit garments. If your beautiful body tends to require two different sizes for the right fit, then I got you!
You can adjust the shaping to fit your hips, waist and bust, and it's easier than you think! And can you adjust the size of the cutout too. As always, you can adjust the length to fit your height, and adjust the ribbed collar and hem.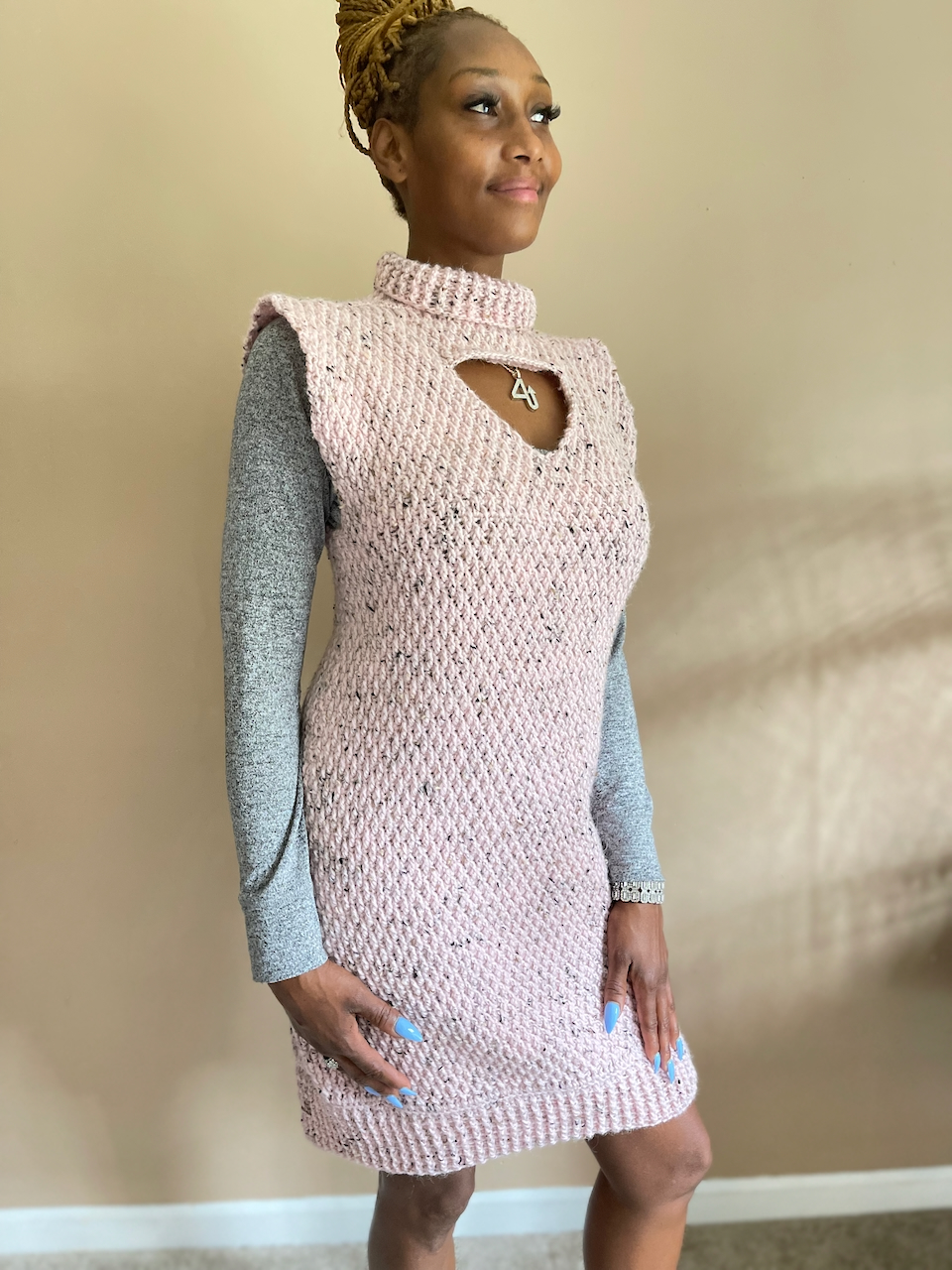 *Disclosure: This post may contain affiliate links to products that I use, and think you will enjoy using too. Should you decide to use any such link, I will earn a small commission at no cost to you. Thank you for supporting this small business.
Yarn
This crochet dress pattern uses Mary Maxim's Natural Alpaca Tweed.
This is a lovely light worsted weight yarn to work with that adds softness, warmth and cooling properties all in one. And who doesn't love a tweed yarn?
The tweed is created by small pieces of natural, undyed alpaca fiber in black, beige and light fawn. There's also a slight halo from the fibers twisted together, and the occasional pieces of hay. I love that you get the luxuriousness of an animal fiber yarn but at an affordable price of man-made fibers.
Here are a few yarn suggestions for substitutes:
Aran Irish Tweed Yarn, 97% acrylic, 3% viscose (205 yds / 113 g)
Woodlands Yarn, 90% acrylic, 10% alpaca (200 yds / 100g)
Glimmer Yarn, 97% acrylic, 3% other yarn (191 yds / 100 g)
Techniques Used
The main texture of this dress is created with the alpine stitch, which is a four-row repeat of single crochet, double crochet and front post double crochet. This is a popular stitch that is easy to make while listening to a podcast or netflixing.
Although this is an easy to memorize stitch pattern, I would suggest using stitch markers in the first stitch of each round to ensure the next round is start in the right place.
This pattern also includes two methods of decreasing for shaping within the body, and creating the cutout, while maintaining the stitch pattern.
If you have avoided using foundation stitches in the round because you don't like having to seam the gap, then definitely put the Kiera Crochet Dress pattern in your queue. You will learn to how to finally join a foundation stitch in the round and remove that slightly inconvenient step.
Join Fsc in the Round Tutorial
MATERIALS
Mary Maxim Natural Alpaca Tweed, worsted weight #4 yarn (77% acrylic, 20% alpaca, 3% viscose; 262 yds / 240 m per 100g skein) in Rose Quartz 

6 (7, 8, 9, 9) (10, 11, 12, 13) balls
1569 (1712, 1902, 2156, 2352) (2572, 2719, 2950, 3177) yards

H (5.00mm) Furls Alpha Olivewood Hook (or hook to obtain gauge)
Tapestry Needle
Scissors
Tape measure
Stitch markers x 4
GAUGE
15 sts by 17 rows = 4" square in pattern
FINISHED SIZES
XS (S, M, L, XL) (2XL, 3XL, 4XL, 5XL)
Based on Hips with 2″ positive ease
36 (38, 42, 46, 50) (55, 57, 59, 64)"
91 (97, 107, 117, 127) (140, 145, 150, 163)cm
Finished Length
33 (33, 33, 34, 34) (34, 34, 35, 35)"
84 (84, 84, 86, 86) (86, 86, 89, 89)cm
PATTERN KEY
Bpdc: back post double crochet
Ch: chain
CSDC: Chainless starting double crochet
Dc: double crochet
Fpdc: front post double crochet
Fsc: foundation single crochet
M: stitch marker
PM: place stitch marker 
Rep: repeat
Sc: single crochet
Sl st: slip stitch
St2tog: stitch 2 together
St3tog: stitch 3 together
St(s): stitch(es)
SPECIAL STITCHES 
CSDC: pull up a lp to row height, holding lp in place, wrap yarn around hook (counts as YO), insert hook in first st, YO, pull up a lp, [YO, pull through 2 lps] twice
Join fsc in round: insert hook through foundation ch or previous fsc, YO, pull up lp (2 lps on hook), insert hook through foundation ch of first fsc, YO, pull through 2 lps, sl st to first fsc to join
St2tog (if next st would be post st): Ch 1 (if at the beginning of a row), YO, insert hook from front to back to front around indicated st 2 rows below, YO and pull up a loop, YO, pull through 2 loops, YO, insert hook in next st, YO and pull up a loop, YO, pull through 2 loops, YO, pull through 3 loops 
St2tog (if next st would be dc): Ch 1 (if at the beginning of a row), YO, insert hook in indicated st, YO and pull up a loop, YO, pull through 2 loops, YO, insert hook from front to back to front around next st 2 rows below, YO and pull up a loop, YO, pull through 2 loops, YO, pull through 3 loops
St3tog: (if next 3 sts would be dc-FPdc-dc) this will be worked the same as a dc3tog, but you will start each dc to maintain the alpine stitch pattern. If your next 3 sts would have been fpdc, dc, fpdc, then place each leg of the dc3tog in the same way as if you were going to work the full st but keep the last lp of each st on the hook.
SKILL LEVEL
Intermediate
NOTES
Pattern is written in US terms.
Read entire pattern before beginning.
The Kiera Crochet Dress is made in 7 parts: Body, Body Continued, Back, Front, First Half of Triangle, Second Half of Triangle and Front Continued, Shoulder and Neck Ribbing, Hem Ribbing.
This Kiera Crochet Dress is worked from the bottom up. Choose the size based on desired fit for the hips.
CSDC can be substituted with ch 3.
The fpdc will always be made around dc 2 rows below and dc will always be made above fpdc 2 rows below. 
It is normal for the fabric to curl while working. 
It helps to place a M around the first st of the current round being worked and the first st of the previous round, and then move the M up each round.
Decreases are made on the RS Rnds. One can use st2tog to decrease as well.
The skipped stitch counts as a decrease in the Body section.
Move the M up each round to mark which stitch to skip. 
Fewer or more increases can be made for desired fit around the bust. 
Ensure there is an odd number of stitches for the Front and Back sections.
St2tog and St3tog are used to maintain the st pattern, and it will vary based on the sts 2 rows below. Use the appropriate combination of dc and fpdc; fpdc and dc; dc, fpdc and dc; or fpdc, dc and fpdc.
Any adjustments to length should be determined before decreasing rounds. Yarn amounts do not include any adjustments in length.
Purchase the Crochet Foundry, Winter 2022 issue ⬇️
You may enjoy these patterns too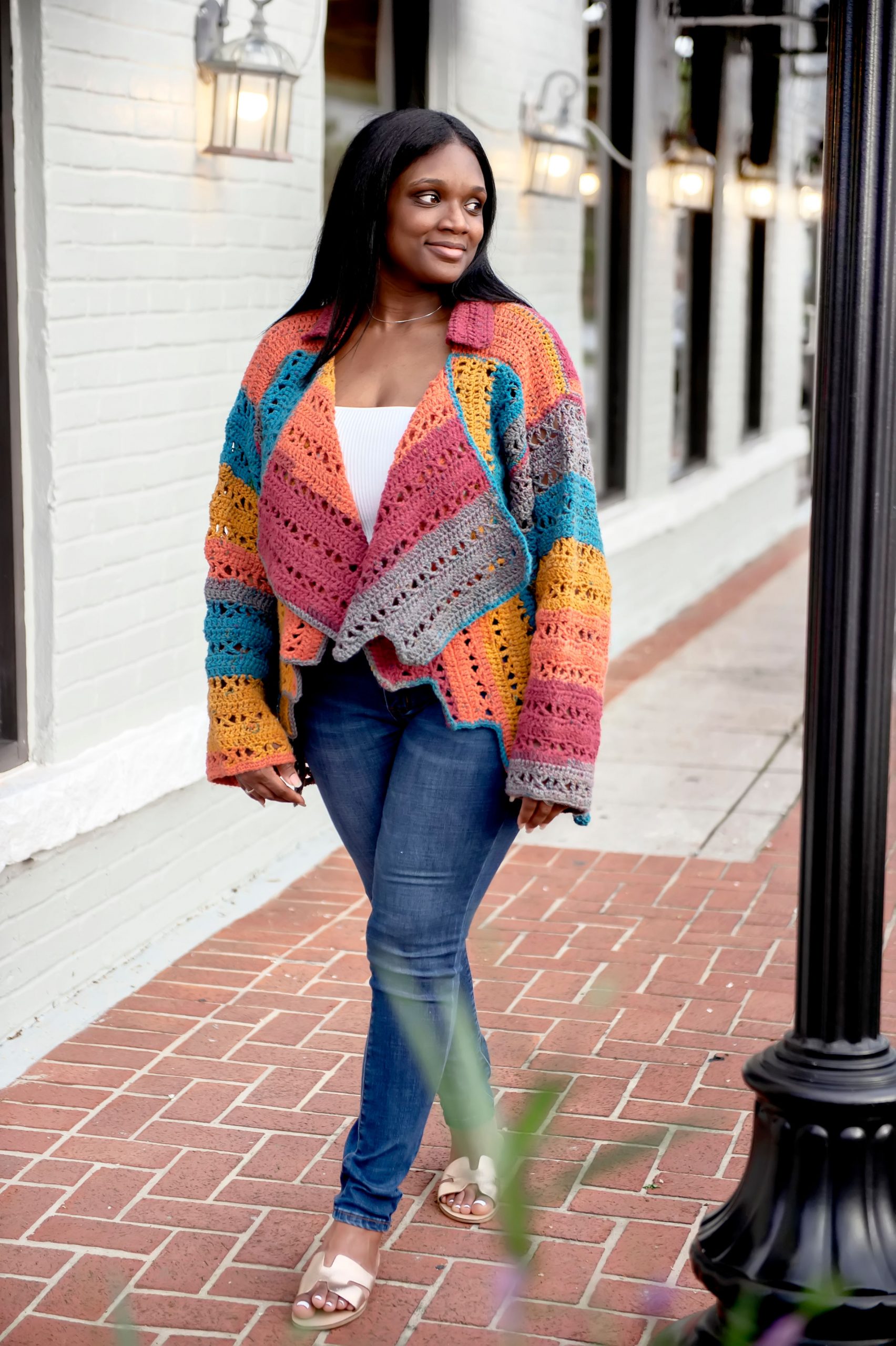 Pin it for Later
Want to talk about yarn goodness, crochet tips, and exclusive weekly deals? Join my Facebook Group, Creations By Courtney Community.
If we're not hanging out on social media yet, come check me out on Facebook, Instagram and Pinterest.
Join my newsletter for sneak peeks, crochet tips, and more. HERE
Use #CreationsByCourtney on social media when sharing your projects.
This pattern is not to be duplicated or resold, and not to be reproduced commercially. You may sell finished products on Etsy, at farmers markets, and craft fairs, but please credit Creations By Courtney as the pattern's author.