The Quinn Crochet Cardigan is the perfect addition to any young lady's closet! Designed by special request by one of my twin daughters, I wanted to make something that is easy to wear throughout the year.
In Georgia, our weather tends to be mild, except for summer, #HotLanta, so this crochet cardigan is perfect for layering. Specifically, the Quinn Cardigan was designed to compliment the Chanel Dress. She chose her initial outfit to be all purple, her favorite color, with a short sleeve top, leggings and multicolor jelly sandals. As a cropped crochet sweater, the Quinn Cardigan is the perfect length and fit to easily pack in a backpack for the little ones that may get cold at school. And with slightly flared, half sleeves, it's stylish and functional.
The crochet cardigan pattern includes instructions for sizes 2 through 16. It features the treble cross stitch to create faux cables that add to the drape of the fabric. As an open front sweater, little fingers have no buttons to fiddle with. Rather than continuing the faux cable on the entire sleeve, it is featured down the center, which prevents little fingers from getting caught when putting on the cardigan.
For a pop of color, the cardigan is outlined in a contrasting color. For the Quinn Cardigan, I chose a lovely teal shade to tie it in with the same color as the Chanel Dress. When the cardigan and dress are paired together, your little one, tween, or teen, has a complete outfit! You can then add their favorite earrings, headbands or scrunchie. My little princess put this outfit together herself… 😻 I think the unicorn headband was the perfect addition. What do you think?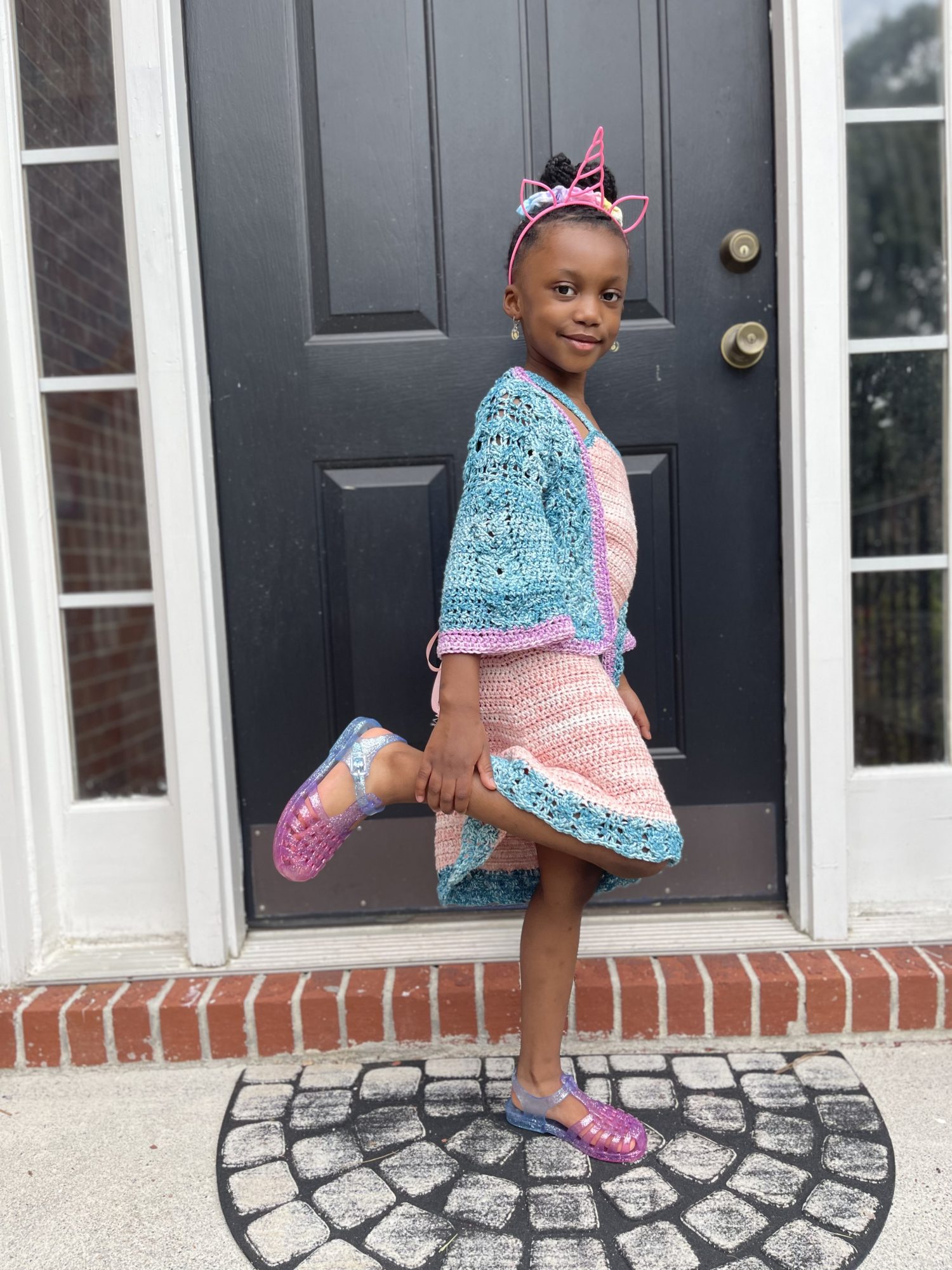 Yarn
For the Quinn Cardigan, King Cole Vogue DK in Petrol and Elderberry were provided to me as one of the North American Brand Ambassdors for 2021-2022. I'm always a fan of a good cotton yarn, and this is a yarn to be a fan of!
As a DK weight yarn, it was easy to work with, minimal to no splitting while crocheting, and didn't shed. Some cotton yarns can shed when loosely plied, but you won't have to worry about that happening with this cotton yarn.
Vogue DK has a lovely color that is somewhat like a denim with white throughout, but works up with an interesting shading that creates a subtle striping effect. This 100% cotton yarn comes in 11 colors: Petrol, Melba, Elderberry, Wisteria, Cardinal, Pale Denim, Egg Blue, Rich Lilac, Cotton Candy, Cool Grey, and Carnation. Each skein offers 113 yards / 103 meters per 1.75 ounces / 50 grams at a reasonable price of $2.76 at Wool Warehouse. If you would like to get some Vogue DK for your stash, find your local stockist!
*Disclosure: This post may contain affiliate links to products that I use, and think you will enjoy using too. Should you decide to use any such link, I will earn a small commission at no cost to you. Thank you for supporting this small business.
MATERIALS
YARN
King Cole Vogue DK (100% cotton, 113 yds/ 103 m, 1.75 oz/ 50 g): 
Color A: Petrol x 3 (4, 5, 6, 6, 7, 8, 9)
Color B: Elderberry x 1 (2, 2, 2, 3, 3, 4, 4)TOTAL: 484 (598, 741, 863, 978, 1152, 1287, 1381)
US 7 (4.50 mm) hook or hook to meet gauge 
Stitch Markers
Scissors
Yarn Needle
Measuring Tape
GAUGE
Approx. 18.5 sts in pattern x 8 rows = 4" x 4" [10 cm x 10 cm]
Picture and Video tutorial: Treble Cross Stitch
FINISHED SIZE(S)
| | | |
| --- | --- | --- |
| Size | Chest Circumference | Final Length without edging |
| 2 | 23" | 10" [19.1 cm] |
| 4 | 25" | 11" [21.6 cm] |
| 6 | 27" | 12" [26.7 cm] |
| 8 | 28.5" | 14" [31.8 cm] |
| 10 | 30" | 15" [38.1 cm] |
| 12 | 32" | 15" [38.1 cm] |
| 14 | 33.5" | 17" [39.4 cm] |
| 16 | 34.5" | 18" [40.6 cm] |
PATTERN KEY
2/2 tr-LC: left leaning 2 over 2 treble cross
2/2 tr-RC: right leaning 2 over 2 treble cross
Ch: chain
Cnr: corner
CSDC: chainless starting double crochet
Dc: double crochet
Fsc: foundation single crochet
FO: fasten off
Hdc: half double crochet
M: stitch marker(s)
Prev: previous
Rem: remain(s) 
Rep: repeat
RS: right side
Sl st: slip stitch
Sc: single crochet
Sk: skip
St(s): stitch(es)
Tr: treble crochet
WS: wrong side
YO: yarn over
SPECIAL STITCHES & TECHNIQUES
2/2 tr-LC: over the next 4 stitches, skip next 2 sts, tr in next 2 sts, working in front of sts just made, tr in each of skipped sts.
2/2 tr-RC: over the next 4 stitches, skip next 2 sts, tr in next 2 sts, working behind sts just made, tr in each of the skipped sts. 
CSDC: pull up a loop that is row height, holding loop in place and wrap yarn around hook (yarn over), insert hook in first st, YO, pull up a loop, [YO, pull through 2 loops] twice
EXPERIENCE LEVEL
Intermediate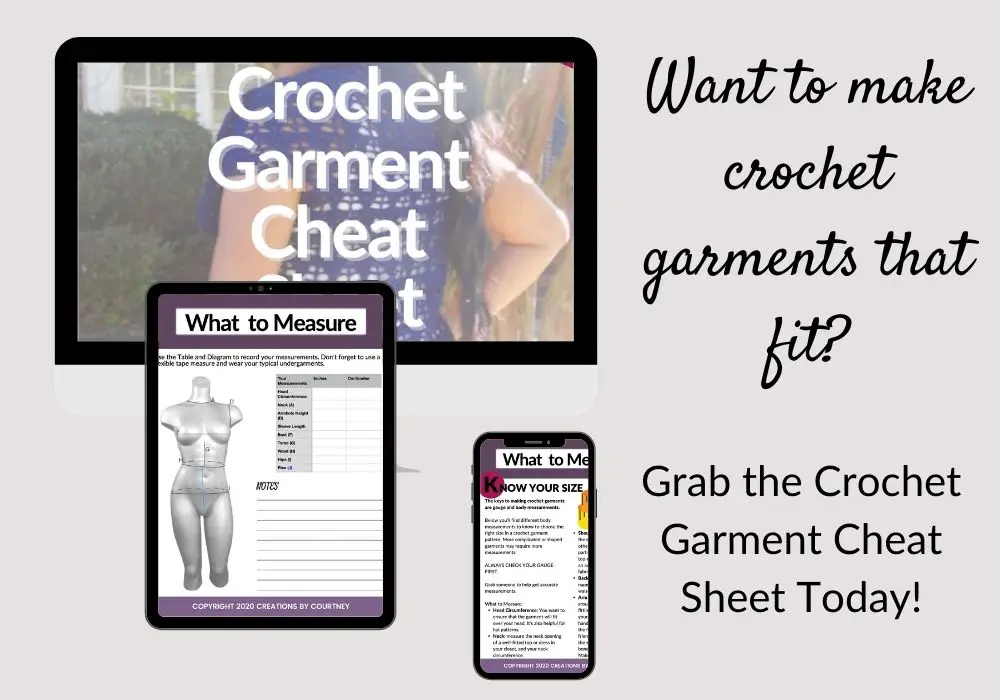 NOTES
Pattern is written in US terms. 
Read the entire pattern before beginning. 
Each size is color-coded to ease of reading.
The Quinn Crochet Cardigan is made in 6 parts: Back, Right Front, Left Front, Seaming, Sleeves, and Edging. 
The Quinn Crochet Cardigan is made in one piece starting at the Back and then creating the Fronts. Refer to Schematic for how the fabric will look before seaming.
Sizing includes 2.5-4" of positive ease.
Choose the size closest to the wearer's chest circumference.
CSDC can be replaced with ch 3.
Ch 1 does not count as a st.
Changes in size are listed in parentheses in the following format Size 2 (Size 4, Size 6, Size 8, Size 10, Size 12, Size 14, Size 16).
If one number is listed, it applies to all sizes.
Any adjustments to the Back length needs to be made to the Right and Left Fronts. Yarn amounts do not include any adjustments.
Purchase the ad-free PDF from your favorite pattern shop. The PDF includes color coding for each size for ease of reading.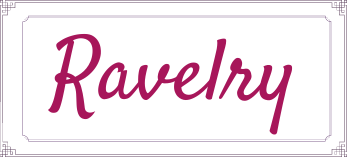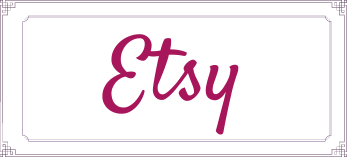 Don't forget to join the Creations By Courtney Community for CALs, crochet tips, and yarnie fun.
You may enjoy these patterns too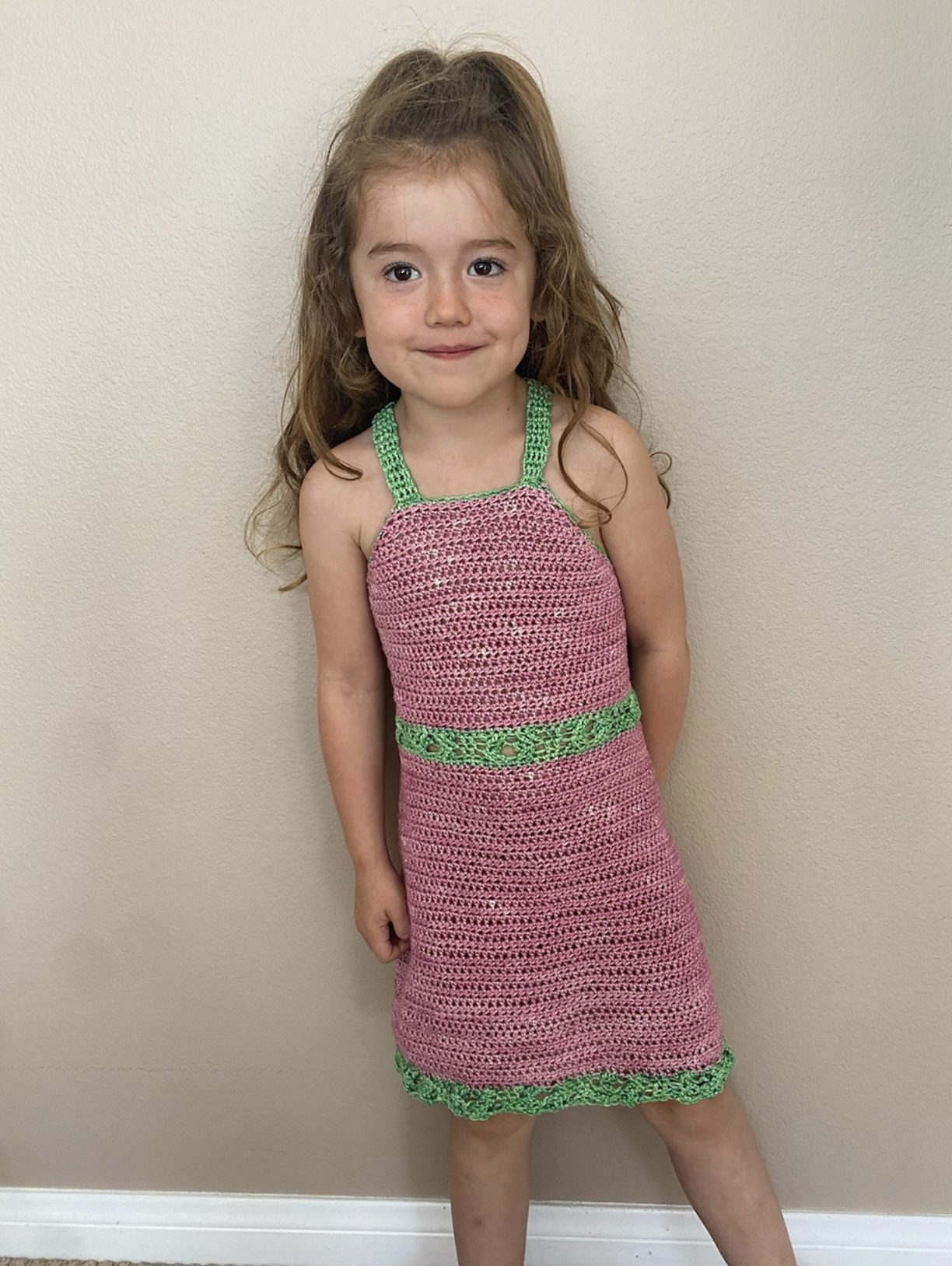 Pin it for Later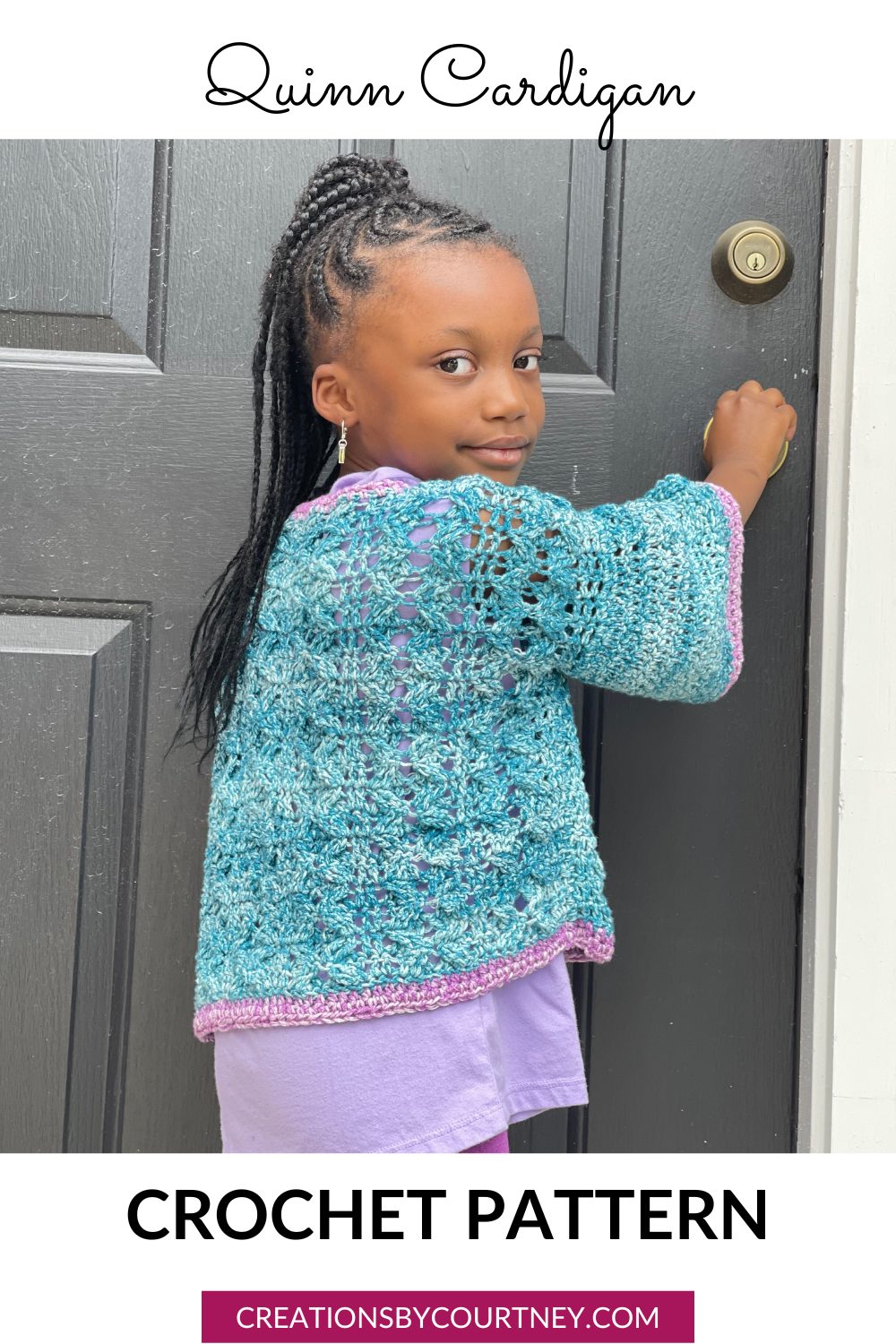 Want to talk about yarn goodness, crochet tips, and exclusive weekly deals? Join my Facebook Group, Creations By Courtney Community.
If we're not hanging out on social media yet, come check me out on Facebook, Instagram and Pinterest.
Join my newsletter for sneak peeks, crochet tips, and more. HERE
Use #CreationsByCourtney on social media when sharing your projects.
This pattern is not to be duplicated or resold, and not to be reproduced commercially. You may sell finished products on Etsy, at farmers markets, and craft fairs, but please credit Creations By Courtney as the pattern's author.