Have you ever made a pair of crochet earrings? No? Well the Coco Earrings is a good place to start working with thread and simple color work!
This free crochet pattern uses four colors, and compliments the Coco Top to make the perfect outfit for dinner or respectfully celebrating Día de los Muertos/ Day of the Dead.
So I have to admit that I have not made crochet earrings in YEARS! And I thought about creating something with the left over yarn to attach to an earring hook, but worsted weight is great for many things, except for earrings.
I made a stop at my local craft store (which I shouldn't do unsupervised ?) to look at the jewelry making supplies after looking through Pinterest and Youtube (again, I don't know much about making jewelry). I learned that many crafters create a motif design or a circular motif/design working out from or towards the center of a hoop. Of course, I had to be me and think of a different shape and not find any supplies in that shape. So I grabbed the largest hoop earrings available (they're so large that no measurement was provided on the package ?), and then wondered over to the embroidery floss section. Boy, there are a lot of colors in embroidery floss! I managed to find the same colors as the Coco Top, and then I wondered through the store some more because, you know, you can't go and not look at everything.
Once I made it back home, I researched some more ideas, such as a flower motif since Marigolds are a big part of the celebration, but I didn't like what I found. So I jumped right in to making the earrings to be mimic the top, once I found my steel hooks. Since there are multiple colors being used, the floss can become twisted, and it helps to untwist after every few rows. Also, each color will be carried along, rather than cutting multiple times.
Here for the Stash Busting Challenge week 2?
The fun starts Wednesday, 4/8/2020!
Click the button below to receive the PDF. Don't forget to use SBCHALLENGE in your cart to get it free until 4/14/2020.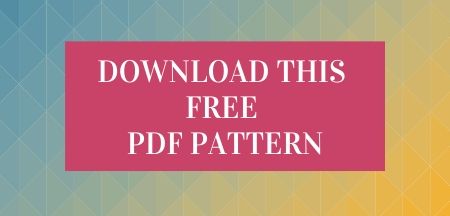 Want more patterns?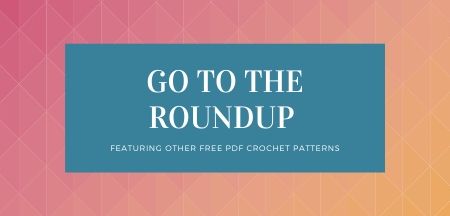 Add to your Ravelry Queue
MATERIALS
DMC Pearl Cotton (100% cotton, 27.3 yd / 25 m, ounces / ~ 5 grams) Color A: Black 310, Color B: Yellow 725, Color C: Purple 550, Color D: Blanc
Hook 2.25 mm
Large Hoop Earrings, approx. 80mm diameter
GAUGE
9 stitches = 1", 8 rows = 1"
SIZE
One Size, 2.25" (5.8 cm) x 2.25" (5.8 cm)
PATTERN KEY
Ch: Chain, sc: single crochet, sl st: slip stitch, st(s): stitch(es), FO: fasten off
EXPERIENCE LEVEL
NOTES
Pattern is written in US terms.
Square is made first, and the second round of edging will be used to attach to hoop.
Change to the new color in the last yarn over of the last stitch.
Each color is carried along each row for the color change. It helps to pull each color tight without scrunching the row.
Grab the PDF
INSTRUCTIONS

Make 2

Ch 17

Row 1: Skip 1 ch (not a st), sc into each ch across –  16 sc

Row 2 – 3 : Ch 1, sc into each st across, turn. Change to Color B in last st. – 16 sc

Row 4 – 5: With Color B, ch 1, sc in next 6 sts; change to Color A, sc in next 4 sts; with Color B, sc in remaining 6 sts, turn. Attach Color C – 16 sc

Row 6 – 15: With Color C, ch 1, sc in next 3 sts; with Color B, sc in next 3 sts; with Color A, sc in next 4 sts; with Color B, sc in next 3 sts; with Color C, sc in remaining 3 sts, turn. FO all colors – 16 sc

Edging

Row 1: Attach Color D in first st of Row 15, ch 1, sc in next 15 sts, 3 sc in next st (corner made), place 1 sc in end of each row, 3 sc in next st (corner made), sc in next 14 sts, 3 sc in next st (corner made), 1 sc in end of each row, 2 sc in last row end, sl st to join, turn.
This round attaches the square to the hoop
Row 2: Ch 1, sc in first st, ch 1 around hoop, sc in the same st (corner made)*sc in each st until corner, (sc in corner, ch 1 around the hoop, sc in corner); repeat from * around, sl st to join, FO.
Finishing: Weave in ends.
Enjoy your new, uniquely handmade earrings!
Thank you for your support! ♥  I invite you to join Creations By Courtney Community for CALs, giveaways, and exclusive deals.
Check me out in the following places: Blog, Newsletter, Facebook, Pinterest, Instagram, Ravelry