This post contains affiliate links. By clicking at these links, I may earn a small fee at no cost to you.
Ok, Yarnie Friends, I've been keeping a secret but today is the day to share some good news with you! 
Some designer friends and I have gotten together for the Second Annual 30 Days of Cozy, where we'll release 30 new free and premium designs over the course of the next 30 days on the Made With a Twist blog.
That's right, a new designer will be featured each day and they'll be sharing a BRAND NEW, NEVER RELEASED design just for you! I can't wait…it's going to be epic! ?
Today's design is incredible, but I know what you're thinking, 30 days is a long time to wait for all these amazing designs… Well I've got more great news for you! Because you're busy and might not want to check back for each new design, you can get the entire bundle of 30+ crochet patterns TODAY in The 30 Days of Cozy Pattern Bundle.
This fabulous bundle is a collection of all 30 crochet patterns PLUS premium upgrades and bonus patterns from some of your favorite bloggers and designers. And it's on sale for a limited time for just $12! Whew! That's 90% off the retail price and a value of over $120 in beautiful, cozy, patterns perfect for sweater weather and holiday gifting. You can not miss it!
I'm so excited to share that my design, X-capade Mobius Wrap, will be included in the bundle, just in time for cooler weather.
CHECK OUT ALL THE AMAZING DESIGNS TO BE RELEASED DURING THIS EVENT AND, DON'T WAIT, DOWNLOAD YOUR BUNDLE TO START MAKING YOUR FAVORITES TODAY!
For those familiar with Creations By Courtney, you'll be familiar with the X-Stitch. I had to bring it back for the 30 Days of Cozy. I designed the X-capade Mobius Wrap so that you can warm and stylish as the weather cools and leaves change colors. Just because the temps drop, doesn't mean your style stops. What's so fun about this design is using a bulky weight yarn and a large hook, so it's a quick project once you get going. I decided to make this one in two complimentary colors to match your fall wardrobe.
When you buy the Bundle, you not only get directions for multiple sizes to perfectly customize your own wrap and the wraps for gift-giving, there's a special bonus design! I could tell you what it is, but what fun is that?? ? Okay, okay, okay! I'll tell you because you're my yarnie friends. It's an Ear Warmer! You can make it in several sizes to match the perfect fitting wrap for the ultimate style this autumn and winter. But the only way to get the X-capade Ear Warmer is to buy the 30 Days of Cozy Bundle
Did you catch the 30 Days of Cozy Bundle last year? If so, you already know the quality and professionalism of each design that Pam includes in the event. Now, you get another chance to add some more absolutely fantastic patterns to your collection and I can't believe they're all included for just $12!
Don't miss out on this limited time offer as these patterns will never be offered at list low price again.
JUST CHECK OUT THE LIST OF DESIGNS INCLUDED IN THE 30 DAYS OF COZY GUEST DESIGNER PROGRAM AND BUNDLE SALE….ALL FOR JUST $12!
And before you go, don't miss out on our Crochet Lover's Giveaway, enter here for your chance to win project bags, a yarn bowl, a selfie light for your phone, and lots of yarn!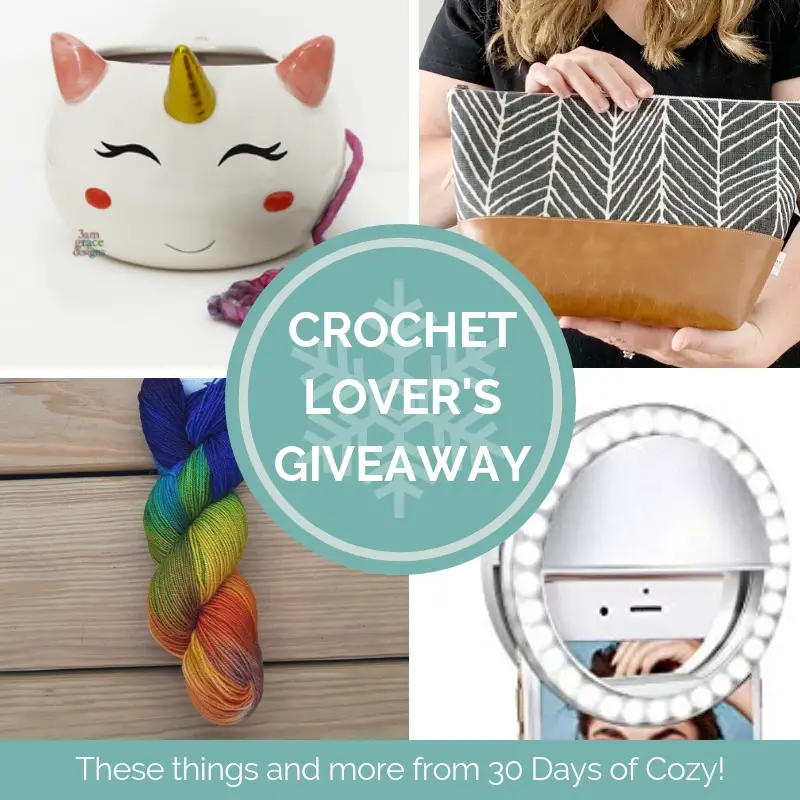 a Rafflecopter giveaway