It's so exciting to be hosting the second Creations by Courtney CAL for the Marielle Mommy & Me Crochet Set!
If you're new to participating in a CAL, let me get you caught up! A CAL is a crochet along in which a group of crocheters all work on the same crochet project. We share pictures of the yarn and hook chosen, progress pictures, ask questions about the stitch or project, and hang out!
I'm hosting the CAL in my Creations by Courtney Community on FB, but if you're not on FB, you can still join in on the fun of the Marielle Mommy & Me Crochet Set CAL! For those that are in the FB group or join the group for the CAL, there will be a featured post each week of the CAL, where you can share a picture based on the post.
If you're not in the FB group, just share your pictures on social media with the following hashtags, #creationsbycourtney and #marielleCAL. As long as you share on social media with the hashtags and tag me (to make sure I see you), this will earn you an entry into the weekly giveaway.
What's the weekly giveaway?
The weekly giveaway is super easy to enter by sharing a picture under the weekly post in the FB group, and using the hashtags and tagging me on social media. Each week, I will randomly draw one winner for a pattern of choice, and for the finishing party this time, there will be one winner for a pattern of choice and one winner for a physical item. I will cover shipping in the US, and if you're outside of the US, the winner can receive a gift card in the same value as the physical item. I'm not spilling the beans yet on what that item will be. ?
YARN
Let's talk about yarn! That's a subject that I never tire of talking about!
For the Marielle Mommy & Me Crochet Set CAL, I chose the new King Cole Cottonsmooth DK, which was provided by King Cole as North American Brand Ambassador. I was so excited to get my fingers in this yarn because I love a good cotton yarn!
King Cole Cottonsmooth DK is 100% mercerized cotton that comes in a 100 gram skein of 200 meters or 218 yards. If you're not familiar with the types of cotton yarn, a mercerized cotton yarn has been pre-stretched, which makes a sturdy fiber for any project type. Cottonsmooth DK is not your average cotton yarn, as it's soft with a slight sheen, and it was a dream to work with! With it being a newly released yarn, you can find some through a stockist or check out the Wool Warehouse. If you purchase from Wool Warehouse, at the time of this writing, it's $6.65, and available in 10 gorgeous pastel and neutral colors. Although, it states to be out of stock, LoveCrafts now lists King Cole Cottonsmooth DK at $8.50 per skein. I think that the yarn will be available soon, as it's a new line, and you can request to be notified once it's available.
For the Marielle Mommy & Me Crochet Set, I chose to use Sun, Latte and Navy, as these colors reminded me of Spring and Easter dresses, as well as transitioning into summer picnics and barbecues. These color are easy to match with many items in many wardrobes to create a classic look.
This yarn created very little fuzz when working and minimal splitting as an S-twist yarn. The softness of this cotton creates amazing drape for the scarf, and was one reason why I chose to make a shorter brim on the hat.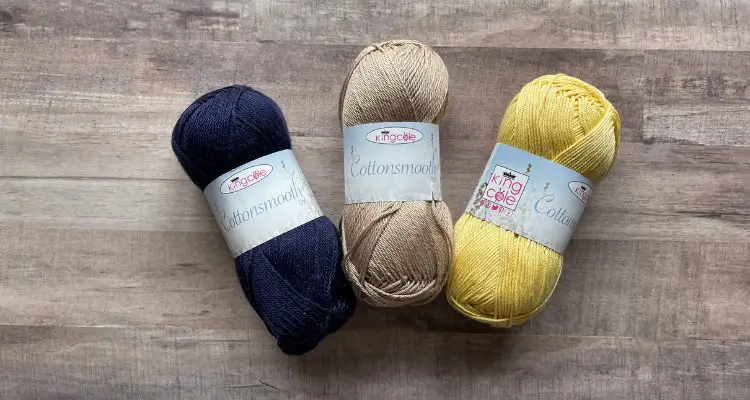 *Disclosure: This post may contain affiliate links to products that I use, and think you will enjoy using too. Should you decide to use any such link, I will earn a small commission at no cost to you. Thank you for supporting this small business.
Hook
I chose to use my Furls Crochet Odyssey hooks, which I choose for most projects. ? I really do love an ergonomic hook with my knife grip. The nickel-plated neck allows most yarns to easily glide when crocheting. If you prefer a hook with some grip, then choose a wood hook. Honestly, Cottonsmooth is such a great yarn to work with, most hooks will pair wonderfully to make the Marielle Mommy & Me Set. One thing to note is to ensure that any hook is smooth, as you don't want any snags from the material (wood, aluminum, plastic, etc) to catch the yarn. Whatever hook, you choose, just check gauge for the hat to ensure a proper fit.
You will need two hook sizes to make the hat. The larger hook will be used for the most of the hat, and the smaller hook will be used for the brim. The larger hook will be used for the scarf, and if you want more drape in the lace, go up in hook size. ?
MATERIALS
King Cole Cottonsmooth DK, #3 (100% mercerized cotton, 218 yds/ 200 m; 3.5 oz/ 100 g) 
Color A: Latte x 2 (2, 2, 2)
Color B: Navy x 1 (1, 1, 2)
Color C: Sun x 2 (2, 2, 2)
Total: 144 yds (just a child size hat) up to 732 yds (Adult and child hats with a scarf)
US G-6 (4.00 mm) hook or size needed to meet gauge
US F (3.75 mm) hook
Scissors
Yarn Needle
Measuring Tape
GAUGE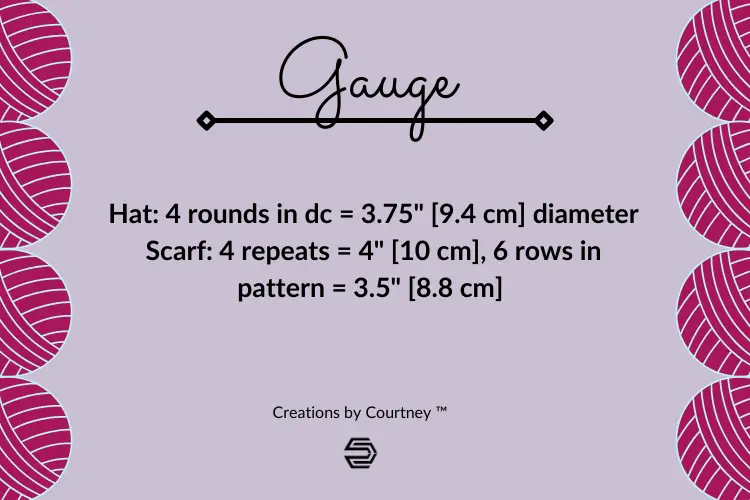 PATTERN KEY
Ch: chain
Cnr: corner
CSDC: chainless starting double crochet
CSTR: chainless starting treble crochet
Dc: double crochet
FL: front loop
FO: fasten off
Fsc: foundation single crochet
Hdc: half double crochet
Hdc2tog: half double crochet 2 together
Prev: previous
Rem: remain(s) 
Rep: repeat
Sc: single crochet
Sc2tog: single crochet 2 together
Sk: skip
Sl st: slip stitch
Sp: space
St(s): stitch(es)
Tr: treble crochet
WS: wrong side
YO: yarn over
SPECIAL STITCHES & TECHNIQUES
CSDC: pull up a loop that is row height, holding loop in place and wrap yarn around hook (counts as YO), insert hook in first st, YO, pull up a loop, [YO, pull through 2 loops] twice
CSTR: pull up a loop to height of row, holding loop in place and wrap yarn around hook twice (yarn over), insert hook in first st, YO, pull up a loop, [YO, pull through 2 loops] three times
EXPERIENCE LEVEL
Easy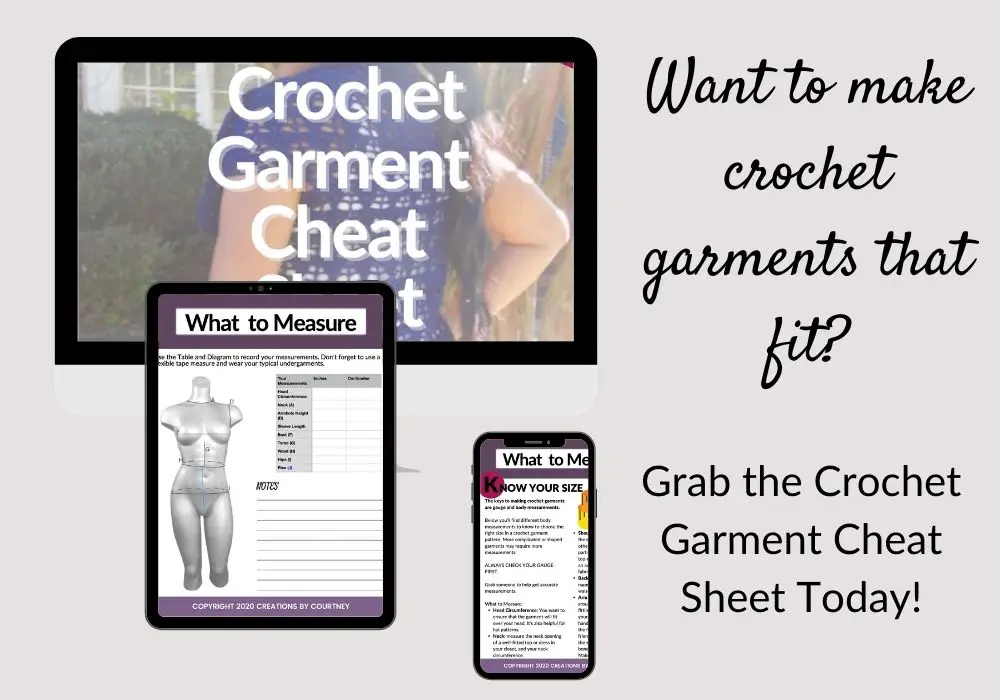 SCHEDULE
APRIL 4: Materials and Get to Know the Stitch
APRIL 12: Part 1 – Hat
APRIL 18: Part 2 – Scarf
APRIL 30: Finishing Party ?
Get ready!
I want you to dive into your yarn stash, or head to your favorite yarn store to get one to three colors of DK, weight #3, yarn, if you're not ordering some King Cole Cottonsmooth.
As stated above, you'll need at least 144 yards total if you're only going to make the child-size hat. If you want to want to make either adult-size hat, you'll need 188 – 207 yards, and approximately 274 yards for the scarf.
I love color in my crochet projects, but if you prefer just one color, definitely choose what you're going to love and enjoy working with.
A video is coming to demonstrate the Marielle stitch, so bookmark this page for the length of the CAL, and save it to Pinterest.
Week 1 will be the official release of The Marielle Mommy & Me Crochet Set pattern! Get your yarn and hooks ready this week.
Week 2: Get a start on your scarf, or keep working on your hats.
Pin it for later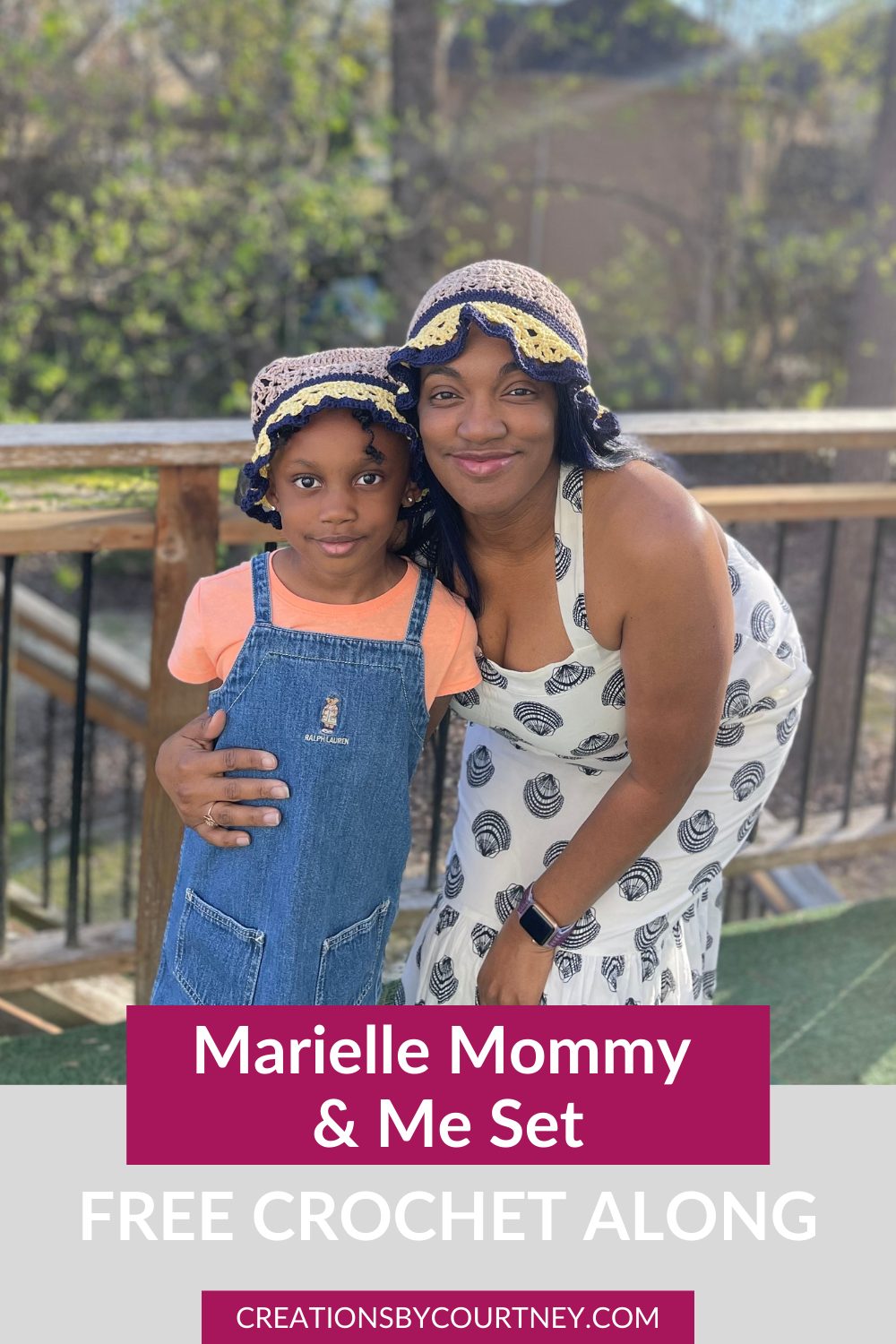 If we're not hanging out on social media yet, come check me out on Facebook, Instagram and Pinterest.
Want to talk about yarn goodness, crochet tips, and exclusive weekly deals? Join my Facebook Group, Creations By Courtney Community.
Join my newsletter for sneak peeks, crochet tips, and more. HERE
Please use #CreationsByCourtney on social media when sharing your projects.
© Creations by Courtney 2022 This pattern is not to be duplicated or resold, and not to be reproduced commercially. You may sell finished products on Etsy, at farmers markets, and craft fairs, but please credit Creations By Courtney as the pattern's author.