It's sooo exciting to announce the release of the Creations by Courtney Canvas Tote Bags! These tote bags are perfect for crocheters, knitters and any fiber artist.
As a fiber enthusiast, crochet designer, and mom of three kiddos, I am on the go on the weekends, and I never leave home without at least one WIP (work in progress). For many years, I carried one of my leather tote bags or some other purse that was large enough to accommodate my personal items, notions pouch and the yarn. Once I got a tablet, my tote or purse needed to be large enough to include that too. I love bags and purses, but they're not always the most practical option.
In expanding Creations by Courtney, I decided to purchase the Silhouette Cameo 4 this past fall, as I had several ideas for fiber related items I could design and make to share with my yarny friends. Once I opened the box, my husband actually began using it first to make hoodies and t-shirts. ? It took me a month (of watching tutorial videos) before I gave it try. After chatting with some of my crochet besties and husband, I decided to move forward with the canvas tote bags.
Canvas Tote Bag Styles
As a person that love bags, I tried several different styles and polled some of the Creations by Courtney Community members to land with four different styles, an extra large heavy canvas tote, a large zippered heavy canvas, a canvas beach tote with rope handles, and a two-tone canvas backpack.
Each tote offers a different form of closure, as there was not just one preference shared when I polled my community. As the thoughtful person that I am, I wanted to offer a few options to capture what many fiber artists are likely to look for in a crochet project bag.
The extra large canvas tote has a velcro closure. Before you scream in horror ? about velcro being too close to your yarn, there is only one piece. Also, this tote is so large that you'll have to really fill it up to put your precious yarn at risk of being caught. Specifically, these are the dimensions, 23" W x 17" H x 6" D with 26" handles. I would consider getting this tote to hold smaller sewn and decorative project bags, and carrying for a visit to the farmer's market and a yarn crawl.
The canvas beach tote has a magnetic closure, which is one of my favorite types of closure for a WIP bag, AND rope handles. Who doesn't love the boho and fancy look of rope handles on a tote bag, especially on a project bag? The canvas beach tote also includes an interior zippered pocket that is large enough to hold notions, a small wallet or your smart phone. The dimensions are 17" W x 13" H x 4" D with 26" handles.
The zippered canvas tote is likely to become a fast favorite because it can be completely closed and includes a front zippered pocket. You no longer have to worry about watching a yarn ball roll away if your bag is accidentally knocked over. Similar to the canvas beach tote, the front zippered bag is a generous size for holding notions and your phone. This is a large project bag for carrying enough yarn for a sweater or lapghan with the following measurements, 18" W x 14" H a 4.5" D with 20" handles.
I love the ease of carrying a backpack, so I had to include an option that could be personalized. The two-tone canvas backpack is larger and thicker than the popular drawstring project bags that can be found at a LYS and big craft stores. Specifically, this backpack measures 14" W x 18" H x 2" D. The canvas straps are a width that makes it more comfortable to wear if you're on the go, and want to carry a garment project or a few smaller projects.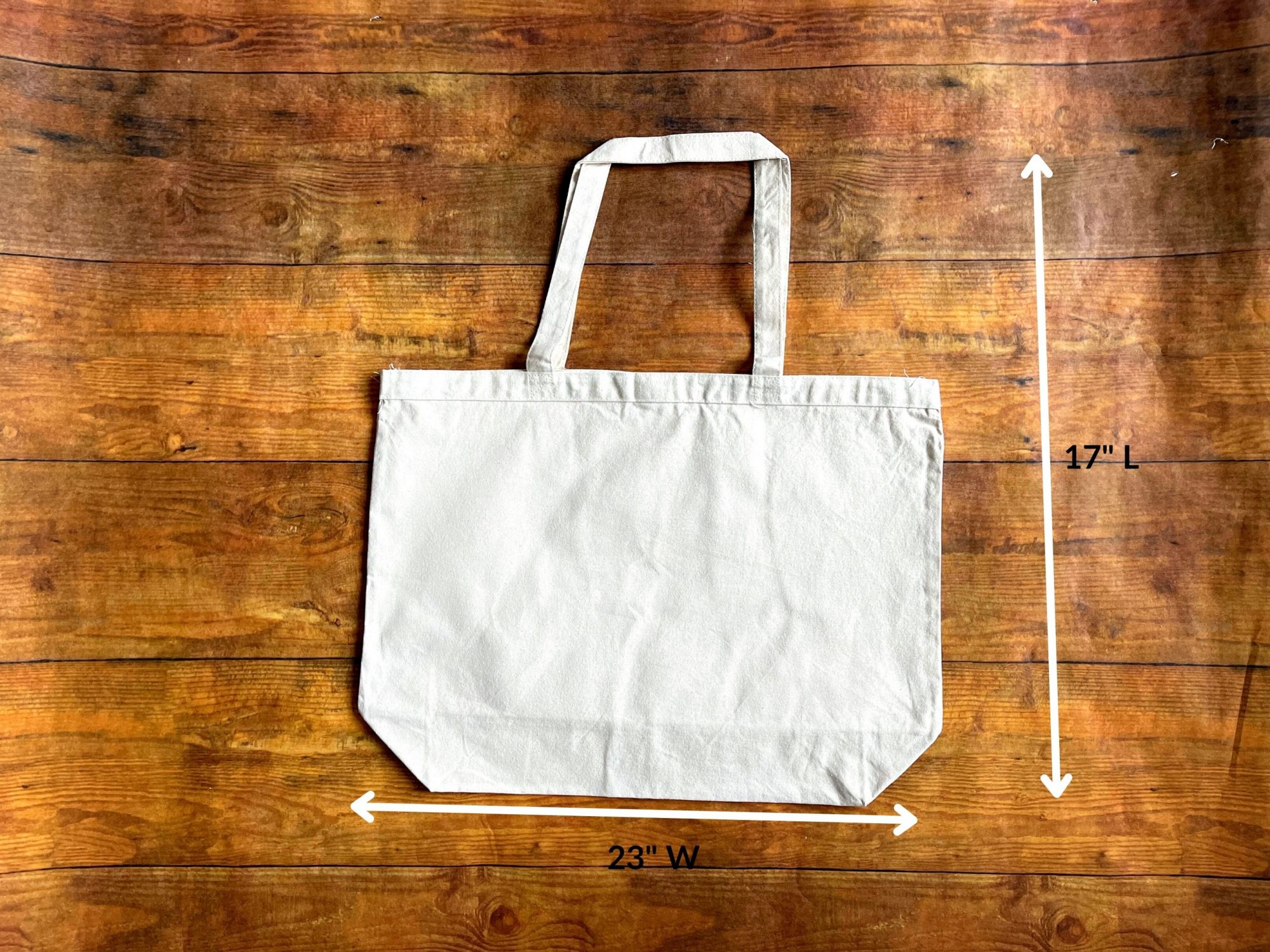 Designs
Have you ever been struck by so much inspiration that you feel overwhelmed?
I felt this in trying to decide how to design the tote bags because there are so many familiar fiber sayings and puns. To prevent decision fatigue, there will be three designs to start with: "one more skein," a heart-shaped yarn ball with a crochet hook with personalization, and a yarn ball with a crochet hook with personalization. I want my fellow fiber enthusiasts to proudly show off their love for fiber with the option to have their name or their crochet nickname. Yes, I see you hobbyist and craft fair maker extraordinaire!
Can't you imagine the joy upon your crochet besties' faces when gifting them a personalized project bag? Is there a better way to show support for their hobby or business? I don't think so!
For personalization, I am starting with one script font that makes every name look rather elegant! I do have to limit the characters to 18, as too many may not fit and look too small. I want every fiber friend to absolutely love their project bag, and show it off. ?
Each design is created with premium vinyl that will last indefinitely, as long as you take care of your canvas tote bag. This means that it is machine washable, and best to flip inside out, and I would not recommend dragging the bag on the ground…
How do I get a personalized Canvas Tote Bag?
I'm so glad that you asked!
Each canvas tote bag will be available in the Creations by Courtney Etsy Shop with the option to choose one of the three designs. When you place an order, take note that each item is made to order. This means that Creations by Courtney will make your personalized canvas tote bag after the order has been placed. I am still working full-time in my practice, so items will be batched as often as possible to be placed in the mail within 10-14 business days. I appreciate your understanding and patience, as I add this new adventure to the mix while keeping up with my three kiddos and husband.
Share with your family & fiber friends!
Thank you for supporting my small business! I appreciate every share and "add to cart."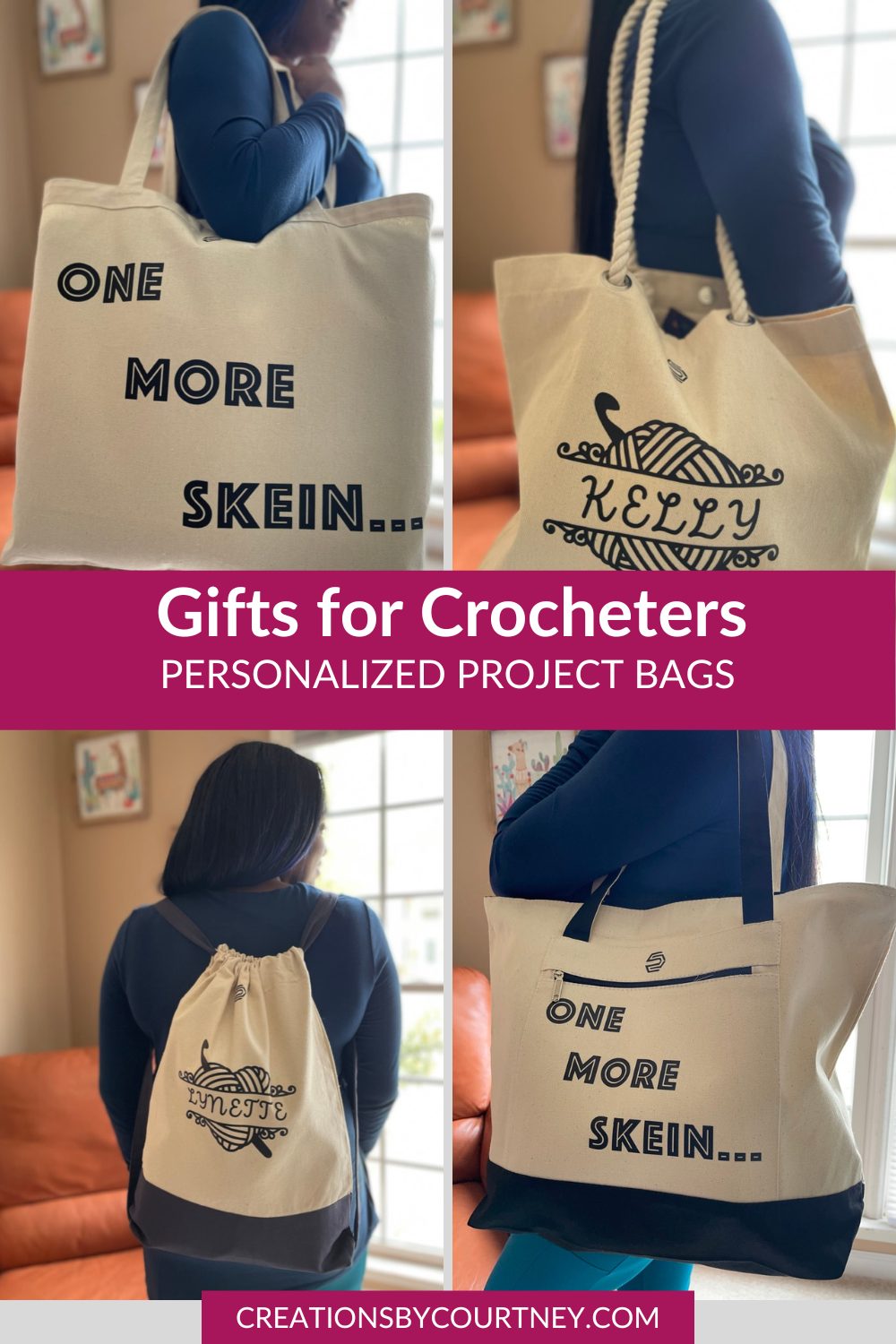 Check out the crochet patterns too!
Don't forget to check out the variety of size-inclusive garment and accessory patterns, and crochet tutorials while visiting creationsbycourtney.com