Are your hands cold most of the day, and you don't want to be THAT person wearing gloves inside?
If you're like me, then you will really like the Chunky Fingerless Gloves!
*All blog posts contain ads or an affiliate link. If you decide to make a purchase, I earn a small amount, which allows me to continue to provide more free crochet patterns, and you still get a great deal.
This design was inspired/motivated by the fact that I could not control the temperature in my office, and I was losing feeling in my fingers. Brrrrr! So I needed a reasonable solution that allowed me to continue my work while keeping my hands warm.
Yes, I know there are bajillion options out there for fingerless gloves, but how many only use 94 yards of yarn?? Yes, only 94 yards of yarn! For both gloves! You are not seeing things!
Like I was saying, I wanted some fingerless gloves, so I went stash diving to come up with one skein of Loops & Thread Chunky Woolike.
Have you used this fabulous yarn yet from Michaels' exclusive line? It's a super soft acrylic and nylon blend that gives a slight sheen, squishiness and stretch that works great for gloves, hats, or cowls. (The first time I used this yarn was to make the Triple Lux Cowl, a pattern by All About Ami and wanted a less expensive alternative to Lion Brand's woolspun that didn't have wool).
While visiting a new city, I just had to visit a LYS (local yarn shop) where I found a 7.00mm hook, and I just had to use my new hook with some squishy yarn, and the Chunky Fingerless Gloves were born!
This is an easy pattern that is great for experienced crocheters who are looking for a practical, quick project, but also for beginners that want to practice and experience the versatility of foundation stitches.
As always, you have the option to purchase an ad-free PDF for a small fee from My Shop or Ravlery Store.
These gloves pair well with the Chunky Cowl and Collar. Make both today, and up your winter style game!
*This pattern was tested by Crystal and Carrie for accuracy. If you happen to find an error, let me know.
Let's get to the pattern
Materials Needed:
Woolike Chunky, 85% acrylic, 15% nylon, or any category 5 weight yarn (94 yds, 4.4oz)
Size 7.00mm hook, or size needed to obtain gauge
Needle
Scissors
Level: Advanced Beginner
Gauge: 8 stitches x 5.1 rows= 3"x 3″
Abbreviations Used:
sc: single crochet
st(s): stitch(es)
sk: skip
dc: double crochet
ch: chain
First-dc: first double crochet- sc, ch 2
Rsc: reverse single crochet
Fsc: foundation single crochet
Note: Pattern is written in US terms
Pattern begins
Right Hand
Round 1: 20 Fsc, bring ends together, sl st to join, turn.
Round 2: ch 1, sc in each st around, sl st to join, turn.
Rounds 3-6: First-dc, dc in each st around, sl st to join, turn.
Round 7: First-dc, dc in next 4 sts, ch 3, sk 3 sts (thumb hole made), dc in next 13 sts, sl st to join, turn.
Round 8: First-dc, dc in each st and ch, sl st to join, turn.
Round 9-10: First-dc, dc in each st around, sl st to join, turn.
Round 11: ch 1, rsc around, fasten off and pull end from front to back to join. Weave in end.
Cuff
Flip over the glove to join yarn on Round 1
Round 1: ch 1, sc around, sl st to join (20sc)
Round 2-3: First-dc, dc in each st, sl st to join
Round 4: ch 1, rsc in each st around, finish off like before
Thumb hole
Round 1: Attach yarn with a sc in first skipped st, 2 sc, rotate glove in order to evenly stitch 2 sc in the side of the next dc, 3 sc in bottom of ch-3 space, 2 dc evenly spaced along the side of the next dc, sl st to join (10 sc)
Round 2: ch 1, sc in each st around, sl st to join
Round 3: sl st in each st around, finish off
Left Hand
Repeat Rounds 1-6
Round 7: First-dc, 12 dc, ch 3, sk 3 sts, 4 dc to end, sl st
Round 8-11: complete the same as right hand
Follow the same instructions for Cuff and Thumb hole to finish the Left Hand
Additionally, I invite you to sign-up for my email newsletter, and follow me on social media for more crochet and yarnie goodness!
Newsletter: http://eepurl.com/cJh_2j
Facebook: https://www.facebook.com/creationsbycourtneyllc
Pinterest: https://www.pinterest.com/cbycourtney
Instagram: http://www.instagram.com/creationsbycourtneyllc
Ravelry: http://www.ravelry.com/designers/courtney-w-of-creations-by-courtney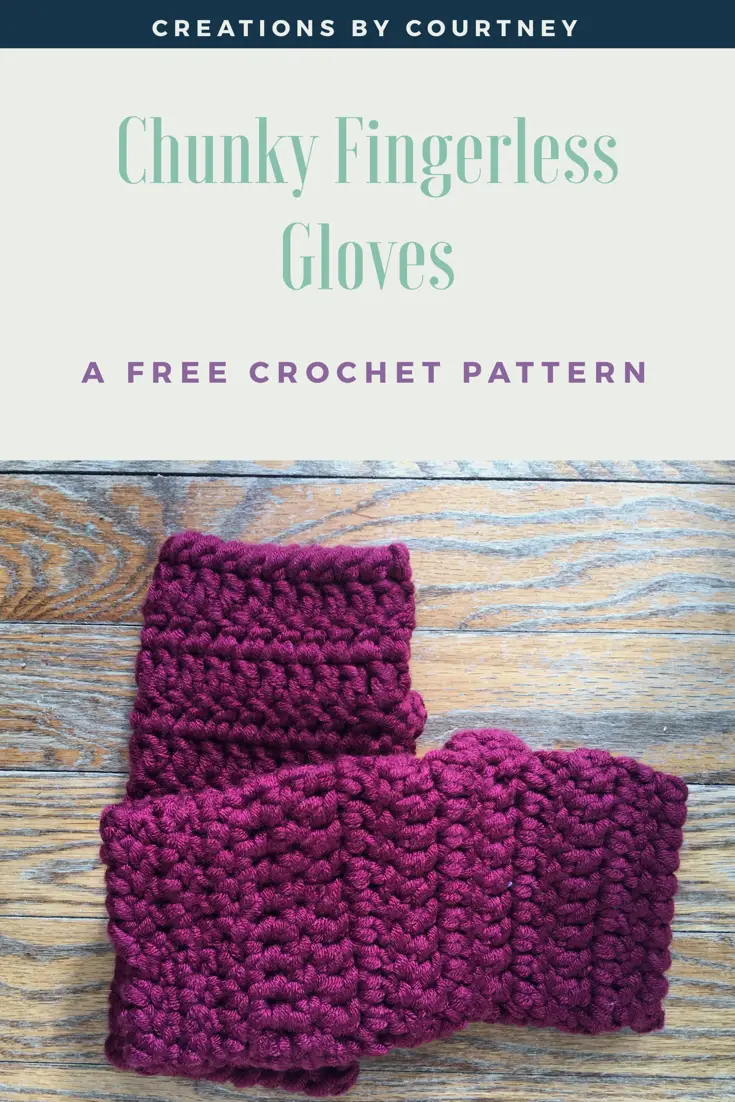 SaveSave
SaveSave
SaveSave
SaveSave
SaveSave
SaveSave
SaveSave
SaveSave
SaveSaveSaveSave
SaveSave
SaveSave
SaveSave