Welcome to the first free crochet along of 2023 with Creations by Courtney!
This crochet along is for the Xcapade Cardigan, a size-inclusive crochet pattern with a unique shape and straightforward construction. It looks complicated and is sure to receive lots of compliments for the wearer.
Why a crochet along?
A crochet along is when a group of individuals work on the same project within a defined time frame. It is an opportunity for community by interacting in a shared space, such as a Facebook group or online chat, to share one's progress, and ask questions to receive timely answers. Also, it is a great way to meet fellow crafters that have the same interest within the wide variety of a craft. More specifically, you have a chance to hang out with cool fiber artists that enjoy handmade fashion as much as you do.
How will the crochet along work
The Xcapade Cardigan crochet pattern includes written instructions for 8 sizes, XS/S to 5X, that is over 20 pages in length with schematics. A crochet along is fun and not meant to be stressful, so we are going to hang out for eight weeks to make this crochet cardigan.
Each section/ week of the crochet along will focus on a different part of the pattern at a pace that will leave a week at the end for finishing, in case anyone falls a little behind. I get it! It's the beginning of the new year, and everyone is adjusting. ?
A schedule with dates and sections from the pattern is listed below. This blog post will get updated on the listed dates with a link to the next section. On the sections pages, you will find the instructions for all sizes and picture or video to ensure that you are having some stitchin' fun!
There may be a few scheduled lives on Facebook, Instagram or YouTube. I will be honest that I have to refresh my skills on going live on Facebook and I have yet to go live on YouTube. Whatever I figure out, I will let you know. ?
Make note that the crochet along is free during the event, January 2 to February 26, 2023, but the instructions will be removed, and the Xcapade Cardigan will return to being a premium pattern only.
Also, all participants will have a chance to purchase an updated format of full pattern at a deep discount during the crochet along. In order to get the discount, you will need to signup for the crochet along list, as the code will be sent out by email only.
What will be learned
I love being able to teach a new crochet stitch or technique within a crochet pattern, and many patterns testers will attest that they've learned when working with me. My hope is for you to learn and fall in love with the x-stitch like I have, and feel more confident making foundation stitches. They are a super handy set of stitches that can be used within a pattern and not just the first row or round. The X-stitch has been a favorite stitch for a few years, and you can find a tutorial HERE.
During this crochet along, you will learn:
The x-stitch, crossing and connecting treble stitches
Using foundation double crochet to start the pattern, create the unique shaping of the cardigan body, and create the arm openings.
Learn how to make a chainless starting treble crochet
Have fun with simple color work, depending on the yarn you choose.
Xcapade Cardigan Schedule
Get Ready: Yarn amounts per size and gauge information, January 2nd-6th
Section 1: Body Piece 1 with Edging, January 7th-18th
Section 2: Body Piece 2 with Edging, January 19th-30th
Section 3: Attaching Body Pieces and Shoulders, January 31st – February 4th
Section 4: Collar, February 5th -8th
Section 5: Sleeves, February 9th-18th
Finishing: Catch up and finish to enter the giveaway by February 26th
How to participate
Signup for the Xcapade Cardigan CAL newsletter to know when the next section is available.
Join the Creations by Courtney Community Facebook Group
Get your materials together. The list is provided below. ⬇️
Add your project to Ravelry.
Add the schedule to your calendar with reminders.
Bookmark this page so you you can stay updated.
You'll return to this page throughout the CAL to be directed to the next section.
As you work, post progress pictures on Facebook and instagram with the tag #XcapadeCardigan #CreationsbyCourtney #CBCCAL
Supply List
Yarn
For the Xcapade Cardigan, a worsted weight #4 will be used. The original sample was created with Caron Big Cakes, which has since been discontinued by Yarnspirations, but some cakes can be found at a local Michaels store or online shops. Rather than risk not purchasing enough or from different dye lots, any similar striping cake yarn or remnants of worsted yarn from your stash can be used to create a color crochet cardigan. If you prefer a muted palette, then you can choose two colors to alternate along the body or a color blocking between the body and sleeves of the cardigan.
You will need up to 3200 yards for the largest cardigan. The specific amounts for each size will be listed under the Get Ready information.
*Disclosure: This post may contain affiliate links. When you complete a purchase with any of the provided links, I earn a small commission at no cost to you. I only share products that I love and use myself.
Here are a few yarn options:
Mainstays 100% Acrylic > Purchase from your local Walmart
Red Heart Super Saver
US I/9 (5.5 mm) or hook needed to meet gauge. I'll be using a Furls Crochet Hook.
Notions: stitch markers x 4-6, scissors, yarn needle
Optional: Blocking boards and pins for flattening the corners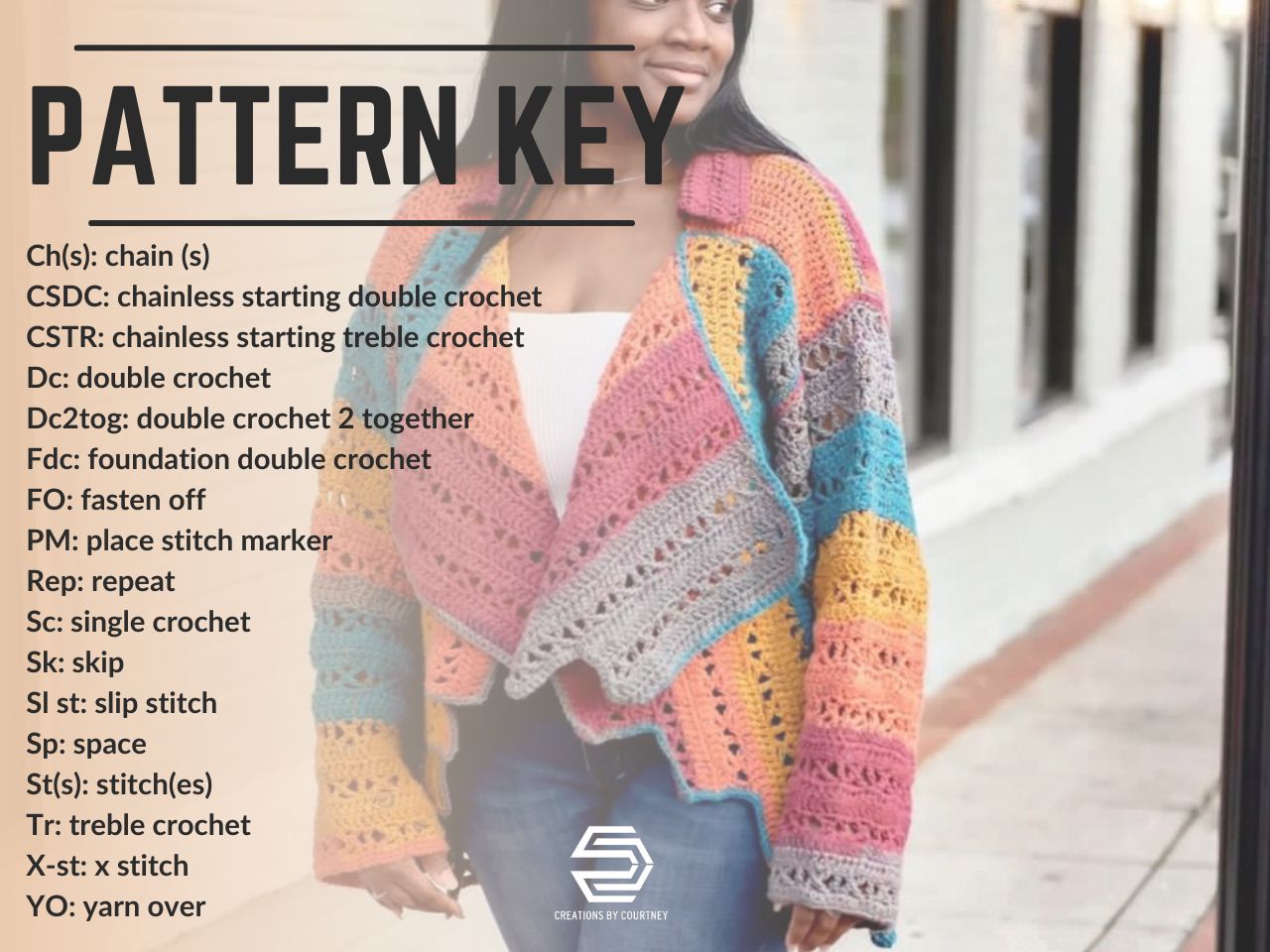 SPECIAL STITCHES & TECHNIQUES
CSDC: pull up a loop to the height of the stitch, holding loop, yarn over (YO), insert hook in first stitch, YO, pull up a loop, yarn over, [pull through 2 loops] twice
CSTR: pull up a loop to height of row, holding loop in place and wrap yarn around hook 2 times (yarn over), insert hook in first st, YO, pull up a loop, [YO, pull through 2 loops] three times
X-St: each X-St is followed by a treble as follows – YO 2 times, insert hook in next stitch, YO, pull up a loop (4 loops on hook), YO, pull through 2 loops (3 loops on hook), YO (4 loops on hook), skip next 2 stitches, insert hook in next stitch, YO, pull up a loop (5 loops on hook), [YO, pull through 2 loops] four times, chain 2, YO, insert hook from right to left under two loops in center of the X (not under the legs of the X), YO, pull up a loop, [YO, pull through 2 loops] twice. Complete a standard treble crochet in the next st [YO 2 times, insert hook in next stitch, YO, pull up a loop, (YO and pull through 2 loops) three times].

The X-St as written will cover 5 stitches of the row below. The first leg of the X will be in one stitch, two stitches are skipped, and the second leg of the X is placed in the next stitch (4th stitch). The treble crochet is placed in the next stitch (5th stitch of row below). 
Yarn amount per size
The original sample was made with a striping cake yarn, so it did the heavy lifting for the color work. The following yarn amounts are provided for the total yardage. If you're choosing to use two colors, I would suggest splitting the amount in half. If using more than one color, some math will need to be done to determine how much of each color.
S: 1130 yards / 1033.3 meters
M: 1316 yards / 1203.4 meters
L: 1604 yards / 1466.7 meters
XL: 1862.5 yards / 1703.1 meters
2X: 2355.4 yards / 2153.8 meters
3X: 2461 yards / 2250.3 meters
4X: 3042 yards / 2781.6 meters
5X: 3121.2 yards / 2854 meters
Gauge
I can almost hear everyone groan as I say, "Don't forget to make a gauge swatch."
I know that making a gauge swatch is not fun but it's sooooo important when making a sized item. You don't want to spend WEEKS making something that can't be worn or gifted because it came out too small or too large.
** Always make the gauge a few inches | centimeters wider and taller than pattern gauge. Never measure gauge on the edge of the swatch. The most accurate measurement is in the center of the fabric away from the edges.
UPDATE: For the Xcapade Cardigan, there are two gauges to check for:
14 sts x 6 rows in pattern = 4″ x 4″ | 10 cm x 10 cm
To check gauge, use the following instructions:
Row 1: 26 fdc, turn
Rows 2: CSDC in first st or ch 3, dc in each st, turn. 26 dc
Row 3: CSTR in first st or ch 4, *x-st across, turn. 6 tr, 5 x-st
Row 4-5: CSDC in first st or ch 3, dc in each st, turn.
Rows 6-11: Rep Row 3-5
Measure stitch per inch and multiply by 4. If your gauge rounds up to 16 dc = 4″ / 10 cm, then you're good to go! Use a smaller hook if you have 14 or less stitches, and use a larger hook if you more than 16 stitches per 4″ / 10 cm.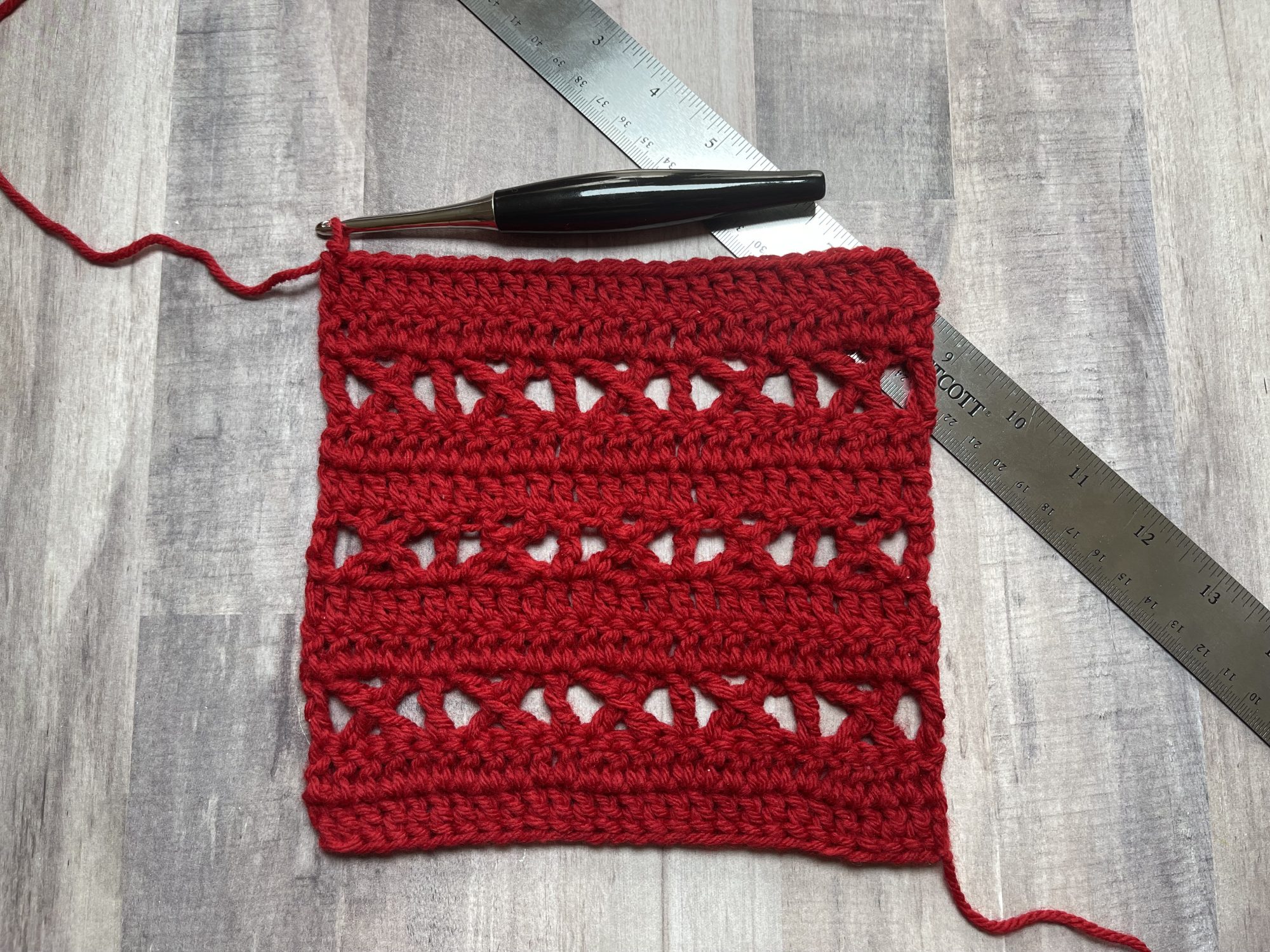 Need a little help with gauge?
Instructions for the X-capade Cardigan Crochet Along
Sections 1 and 2: Body Piece 1 and Edging 1/7 and Body Piece 2 and Edging, 1/19
Section 3: Shoulders and Construction, 1/31
Section 4: Collar, 2/5
Section 5: Sleeves, 2/9
Section 6: Finishing, 2/19
If we're not hanging out on social media yet, come check me out on Facebook, Instagram and Pinterest. 
Want to talk about yarn goodness, crochet tips, and exclusive weekly deals? Join my Facebook Group, Creations By Courtney Community.
Join my newsletter for sneak peeks, crochet tips, and more.  HERE
Please use #CreationsByCourtney on social media when sharing your projects.
This pattern is not to be duplicated or resold, and not to be reproduced commercially. You may sell finished products on Etsy, at farmers markets, and craft fairs, but please credit Creations By Courtney as the pattern's author.