The Fiber Focused GA Retreat was soo needed!
When was the last time that you attended a fiber retreat? 
Thanks to the pandemic, my last venture to a fiber event was May 2019 for Stitches United. Although I only attended the market, it was nice to see all of the vendors and help with the KnitChat classes.
The first annual fiber Focused Georgia Retreat happened August 27 to the 29th. I knew it would be fun but had no idea how much fun was in store. Channy of Channypeascorner (you need some of her enamel pins in your life) hosted an amazing event that was three days of fiber, learning, and connection. 
Where to start with telling you about this amazing weekend?
The first day was for a check-in on Friday evening, where we were greeted by a smiling Channy and our swag bags. We received not one but three swag bags full of yarn and goodies over the weekend. After introductions, it was Sip N Stitch time, which gave us all a chance to talk, knit or crochet and grab dinner. For some attendees, including myself, it was my first time seeing these ladies in person that I've befriended or have admired through social media. We had music, laughter, and games and prizes. And how could I forget being surrounded by yarn, enamel pins, and project bags by the vendors. It was so hard to not fill my trunk with all of the gorgeous yarns.
I know! I know! You want to hear about the swag bags!
The first bag is the fabulous fiber and flair tote. It is amazing! This is a custom bag that was designed for the retreat with a unique fabric lining in each one, magnetic closure, four interior pockets, three exterior pockets that are perfect for showing off an enamel pin collection, and a fourth outer pocket perfect for holding knitting needles. Inside our Flair Tote, we received our name tag with a custom lanyard, a queen of yarn key ring, a custom wooden tag from Heart & Spirit, some swish yarn from WeCrochet, custom cotton minis from BzyPeach, a compact mirror, and knitting needles from Fuzzy Goat.
The second swag bag was a wonderful tote bag from WeCrochet. This had an amazing Lodge Key tag made by DK Graham. If you don't know DK Graham, I need you to hop over to her Etsy Shop and see her amazing work right now! Within the bag, there was a ridiculous amount of goodies, including stitch markers from Monarchy Threads. I love the one that looks like a gummy bear. We also received fall leaves and a flower stitch marker from ila Quinn Designs, a custom enamel pin for the retreat, a dope pair of earrings by Designs by Yasman, custom project tags by Savlabot Handmade. 
Wait, there's more! 
The WeCrochet tote included Tuff Puff and Chroma by WeCrochet, an entire hank of yarn by Jilly and Kiddles, minis from Queen City Yarn and Mitchell's Creations, a fabric tray perfect for holding stitch markers by Yarn & Whiskey. Honestly, I didn't find everything in the bag until I dumped the bag at home. LOL Stash Stash including the cutest vinyl sticker, and we all had a t-shirt to wear. It felt like being at a family reunion with the matching shirts, and I loved it. 
I mentioned that they were three bags right?
The third bag was received Saturday morning and including all of our class supplies! Within this bag was a pom-pom maker, a set of ergonomic crochet hooks, a crochet hook case, stitch markers, another Fiber Focused GA Retreat sticker with stitch markers and a yarn needle, a needle felting kit with roving wool, and all the materials needed to make a scrapbooking page.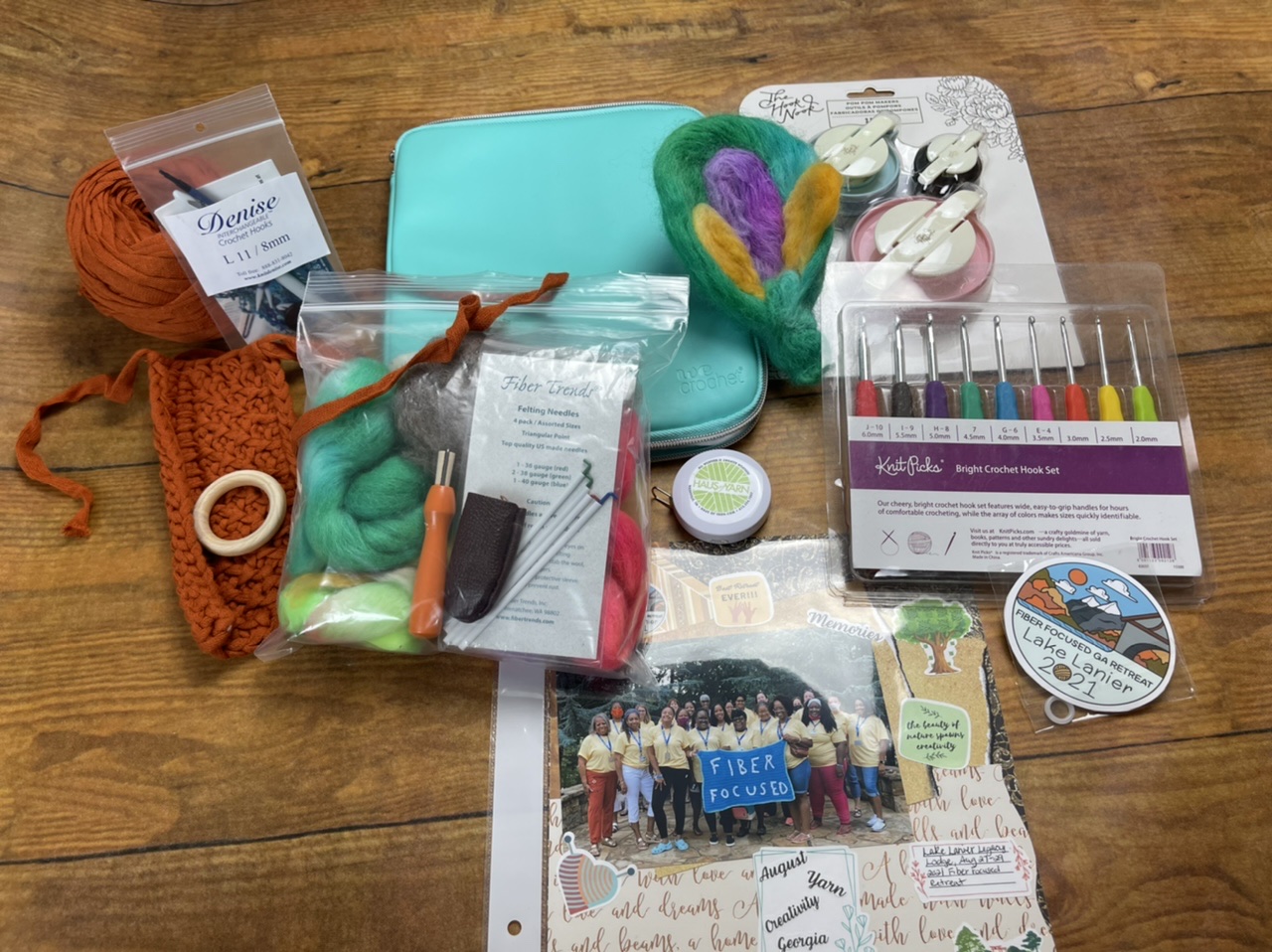 Let's Learn!
For the classes, we learned tips for making the perfect pom pom in different sizes with BzyPeach, making a tunisian crochet cloth with The Purple Crochet, an intro to doll making with My Kinda Thing, some Pillow Talk with Skein Game, needle felting with Jaime of Fiber Parts Shop, using scraps to make a garment with Queen City Yarns, and making a scrapbook page.
I enjoyed all of the classes, especially the tunisian crochet and needle felting! I had no idea what I was doing with needle felting but I'm ready to learn more and get the fancy tools with multiple needles. What do you think of my Ferngully leaf?
It was great to end the Fiber Focused GA Retreat learning how to use scrap yarn to make a variety of projects, and the idea of a CAL/KAL was born in preparation for the next retreat in the spring… We also made a scrapbook page with the group photo and custom stickers. This took me back to when I tried scrapbooking in college and grad school. I even pulled an all nighter to make a scrapbook as a graduation gift for a dear friend. I don't recommend doing that. ?

I have to be honest, I am not a morning person, but I woke up before 7 AM to drive to the lodge each day for this retreat. That's how much I love fiber and yarn, crochet, connecting with other fiber enthusiasts, and everything that comes with fiber.
Overall, the Fiber Focused GA Retreat over delivered, and I'll be counting down the days for the next one, as soon as it's announced. The only complaints are that the room was hot, even for my cold-natured self, and parking was challenging as multiple events were happening at the same time.
So I've told you before I'm a yarn enabler, so be prepared for the eye candy. I hope you decide to support one or a few of these small businesses. I bought from each one, except for Fiber Parts Shop, but I plan on showing up for the grand opening on September 18-19, 2021. ?
Below is a list of all of the amazing sponsors and vendors that made the Fiber Focused GA Retreat extra dope!
*Disclosure: I earn a few dollars when you use the provided affiliate links.
VENDORS
SPONSORS