I'm excited to introduce the first ever Creations by Courtney crochet Scavenger Hunt! This is a fun event where everyone can be a winner.
The rules to play are as follow:
You will have ONE WEEK to complete the scavenger hunt via the form. If you log in with a Google account, it will save your progress.
The scavenger hunt will close at 11:59pm EST on Friday, October 14, 2022.
Click the image below with CarlRoy, the orange alpaca to access the scavenger hunt form.
Start at the home page to begin completing each task. Read carefully, as some items require more than one pattern to be listed in the response. All answers can be found somewhere on Creations by Courtney's blog.
Once all items have been completed, submit your form.
What you receive for playing:
Every participant will receive two coupon codes via email (you will be added to the Creations by Courtney newsletter, and can unsubscribe at any time). One coupon code will be to save 25% off any pattern or ebook in my Ravelry or Etsy shops, and the second code will be for 15% off any of the available Canvas Tote Bags in my Etsy shop. All codes expire end of day October 31, 2022. Please do not share the codes with anyone, instead share this post with your fiber friends so that they can have a chance to entered in the drawing.
One Grand Prize Winner will be selected from the submitted responses to win an ebook of choice, A Guide for Creating Crochet Garments that Fit, or Five Uses for Foundation Stitches.
Each participant that submits all correct responses will be entered in a drawing to receive ONE pattern of choice. Ten names will be chosen at random.
All winners will be selected Saturday, October 15th.
I hope that you enjoy playing and getting to know a little bit more about my crochet designs.

Pin or Bookmark this page
Remember you will have ONE WEEK to answer each item, so save this page to comeback as often as you need to answer each item to be entered in the drawings for the grand prize for an ebook, and to be one of ten winners of a pattern of choice.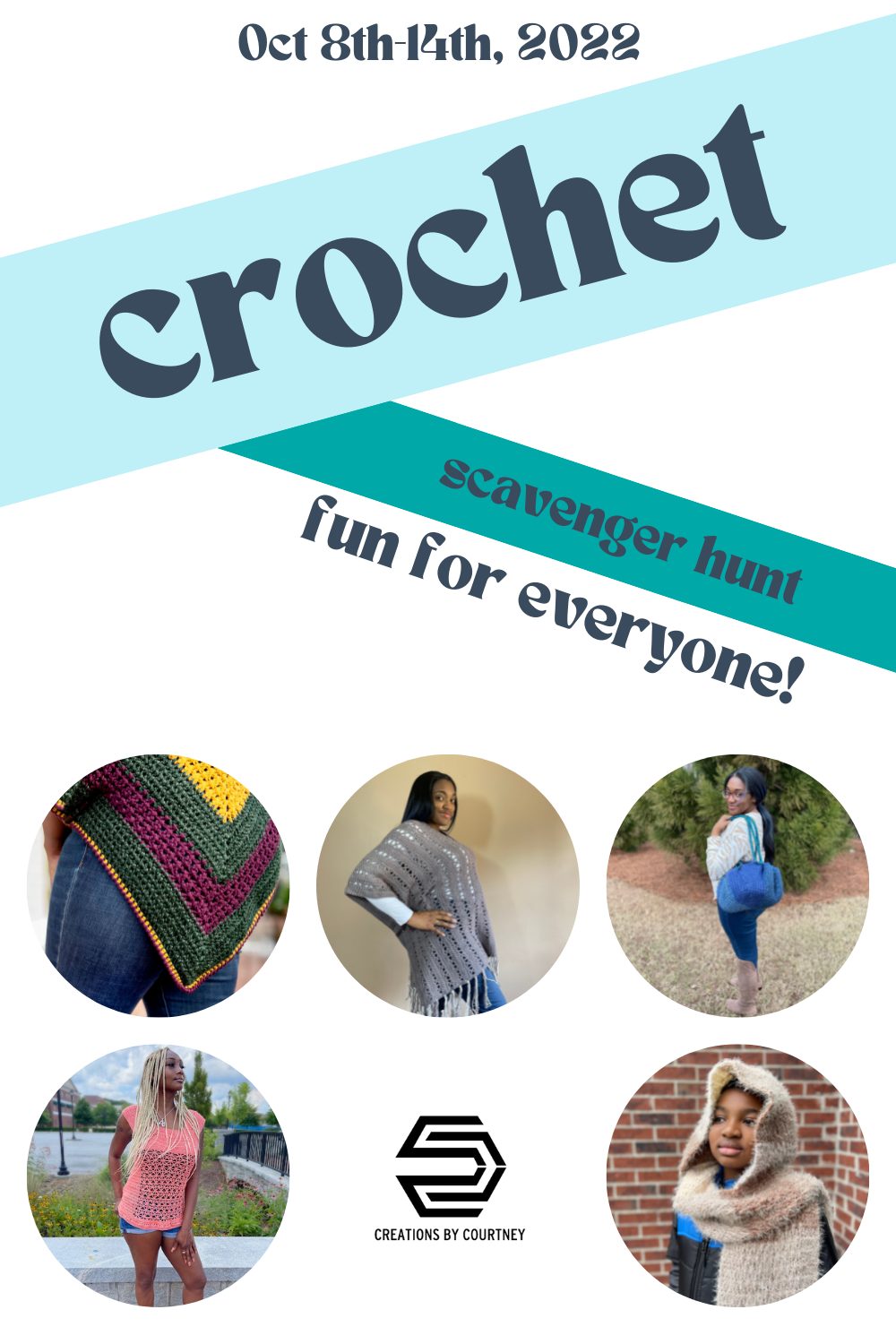 Want to talk about yarn goodness, crochet tips, and exclusive weekly deals? Join my Facebook Group, Creations By Courtney Community.
If we're not hanging out on social media yet, come check me out on Facebook, Instagram and Pinterest.
Join my newsletter for sneak peeks, crochet tips, and more. HERE
Use #CreationsByCourtney on social media when sharing your projects.
©2022 This post can be shared on all social platforms, and but credit Creations By Courtney as the game host.